TV Jones
Super'Tron Bridge Pickup - Chrome
---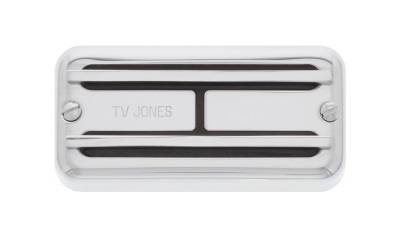 or from
$32
CDN/mo
Clear Classic Tone with Smooth Sustain

The TV Jones Super'Tron is a replica of the original early 1960's solid steel prototype design. It is very similar to the TV Classic, but with steel blades instead of pole screws. The blades provide a larger magnetized surface area, producing greater inductance. The resulting tone retains the TV Classic clarity, but with a bold and full broadband punch. The bridge position is great for a thicker, in your face statement, while the neck position is known to be smooth and clear. Even great for jazz. With gain, the neck position can really sustain. A popular combination is a TV Classic Plus bridge, and a Super'Tron neck.

Bridge: Blades are milled with a radius for superior string-to-string balance in the weaker bridge position.
DC Resistance: 4.80K | Inductance: 2.64H

Neck: Made with flat blades to keep the tone clear and warm
DC Resistance: 4.0K | Inductance: 1.8H

Tone/Characteristic:
Warmer and less aggressive than the mid 1960s Gretsch Super'Trons (with laminated blades). Great choice for finger picking, jazz, punk, blues... This design, in the neck position, was loved by Chet Atkins according to Paul Yandell.

Universal Mount
The TV Jones Universal Mount with Clip System ships with 2 wood screws, compression rubber, 2 humbucker screws with springs and clips. Rings for suspending pickup sold separately.

*Ships with 4 conductor wiring - ready for standard 2 conductor hook-up.
There are currently no questions for this product.
There are currently no reviews for this product. Be the first to write one!