Oxford University Press
The Band Teacher's Percussion Guide - Hoffman - Text
---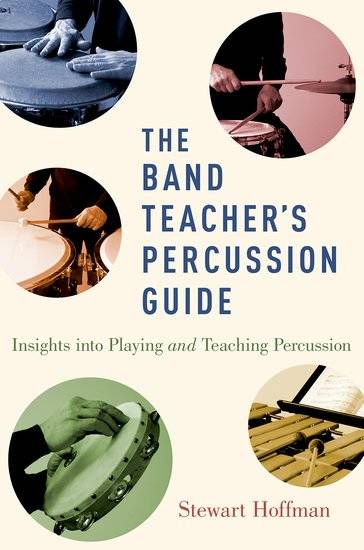 Insights into Playing and Teaching Percussion
Author: Stewart Hoffman
Format: Book
Version: Band Text
The Band Teacher's Percussion Guide: Insights into Playing and Teaching Percussion
is an essential practical resource for instrumental music teachers and band directors. Author Stewart Hoffman, a Juilliard-trained percussionist, performer, private instructor, and former classroom teacher, offers a comprehensive yet accessible and clearly written handbook to help set teachers and students alike firmly on the road to classroom success. In this book, he presents a thorough foundation in snare drum, timpani, keyboard percussion, drum set, and auxiliary and Latin percussion techniques. More than this, he provides practical advice on curriculum and methodology, packing page after page with teaching tips developed through decades of experience.
For educators and band directors who want to learn more about percussion instruments and playing techniques, refine their percussion-teaching skills, or set the classroom stage for a more effective and rewarding teaching experience,
The Band Teacher's Percussion Guide: Insights into Playing and Teaching Percussion
will be a valued resource for discovering:
keys to effective evaluation
how to plan a percussion program and select percussionists
recommended instruments and mallets; repair and maintenance guidelines
lifts and levels, a system that leads students to greater control and a more relaxed snare drum technique
technical exercises for all main and accessory percussion instruments
easily referenced summaries of points to focus on when practicing
guidelines for teaching jazz, Latin and rock drumset
"An exceptional, comprehensive work ... The material is well-organized and clearly presented."
- Morris Lang
, New York Philharmonic, emeritus
"An indispensable teaching tool for high school music teachers who teach beginning percussion students. The pages are packed full of useful information and long awaited insights which will help integrate young percussionists into a successful and rewarding band program."
-
David Friedman
, University of the Arts, Berlin
"This book will both deepen percussion techniques for band directors and refresh teaching concepts for the percussionist-studio teacher."
- Ruth Cahn
, Senior Instructor in Percussion, Eastman Community Music School
Table of Contents:
Introduction
Part 1: Getting organized

1.1 Selecting Your Percussionists
1.2 Planning Your Percussion Program
1.3 Challenging the Beginning Percussionist

Part 2: The Snare Drum

2.1 Introduction: The Snare Drum
2.2 Holding the Sticks
2.3 The Relaxed Stroke
2.4 Working with the Rebound
2.5 Lifts and Levels
2.6 The Rudiments: Flams, Paradiddles, Drags and Four-Stroke Ruffs
2.7 Sticking
2.8 Snare Drum Rolls
2.9 Evaluating Snare Drum Performance

Part 3: The Drum Set

3.1 Introduction: The Drum Set
3.2 Drum Set Techniques
3.3 Jazz Drumming
3.4 Latin Drumming
3.5 Rock Drumming
3.6 Drum Solos and Fills

Part 4: The Mallet instruments

4.1 Introduction: The Mallet Instruments
4.2 Holding the Mallets: The Two- and Four-Mallet Grips
4.3 Playing Mallet Instruments
4.4 Sight Reading on Mallet Instruments
4.5 Evaluating Mallet Instrument Performance

Part 5: The Timpani

5.1 Introduction: Timpani
5.2 Playing Timpani

Part 6: Auxiliary Percussion

6.1 Introduction
6.2 Concert Bass Drum
6.3 Suspended and Crash Cymbals
6.4 The Tambourine
6.5 The Triangle and Sleigh Bells

Part 7: Latin Instruments

7.1 Introduction to Latin Percussion
7.2 The Conga Drum
7.3 Other Latin Percussion

Part 8: Instrument Storage and Maintenance

8.1 Storing the Instruments
8.2 Replacing and Tuning Drum Heads
8.3 An Overview of Percussion Inventory and Instrument Maintenance

Percussion Inventory and Repair Checklist
Appendix A Exercises
Appendix B Book Recommendations
Index
There are currently no questions for this product.
There are currently no reviews for this product. Be the first to write one!