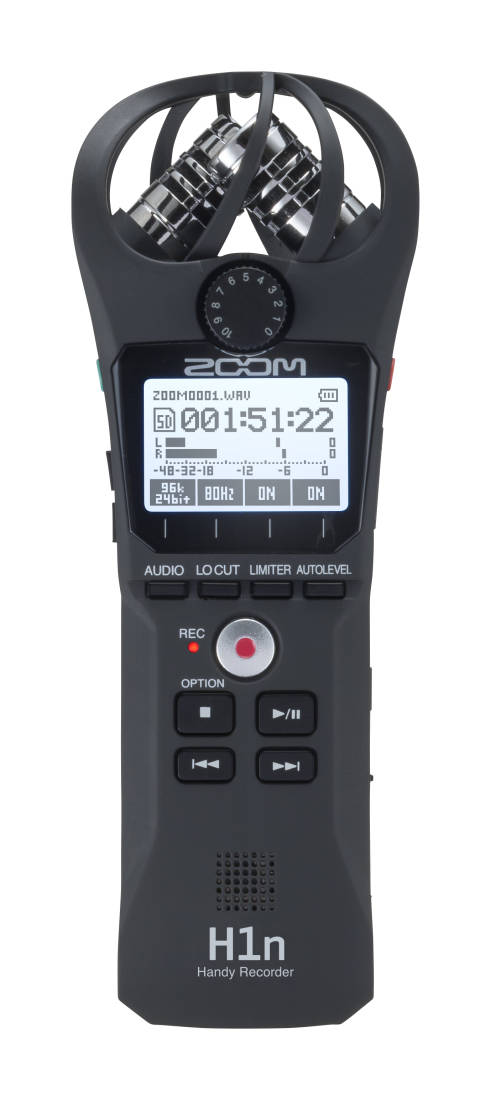 Additional Photos: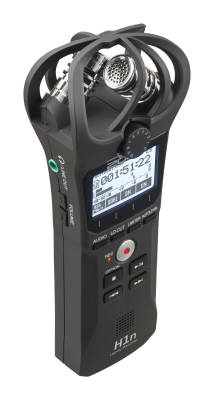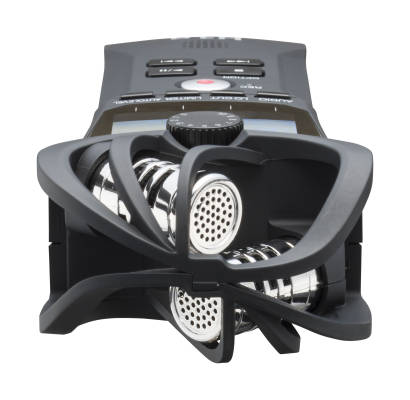 Product Videos :
YouTube Video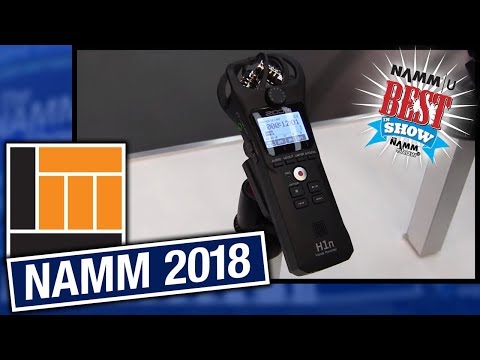 or from
$24
CDN/mo
Creators everywhere are using Zoom Handy Recorders to capture sound and sample audio like never before. The new H1n is the "next" take-anywhere recorder for every creator's gear bag.

The H1n's X/Y microphones capture high-quality stereo sound, supporting up to 24-bit audio at sampling rates of 44.1, 48, or 96 kHz in WAV and various MP3 formats. With the H1n, the user experience is redesigned. One-touch button controls make it simple to record songs, audio-for-film, lectures, podcasting, and more. And its new monochromatic 1.25" LCD display is easy to read even in the brightest lighting conditions. An advanced onboard limiter offers distortion-free signal up to 120 dB SPL, cleanly recording the loudest of bands. A low-cut filter also helps eliminate pops and unwanted low frequency rumble. The overdub function lets you add layers of audio, allowing for richer and fuller sounding recordings. The H1n's Playback Speed Control lets you transcribe music, interviews and other types of recordings without altering pitch. You can also set the H1n to auto-record, pre-record, and self-time, making sure you always capture the moment.

An 1/8" stereo mic/line input lets you record with your external microphones or other sound sources, and supplies plug-in power (2.5 volts). Connect headphones via the 1/8" headphone output with dedicated volume control. You can also use the H1n's built-in speaker to listen to your recordings. The H1n's USB port provides a digital output of the stereo mix and allows data to be sent to and from your computer. It also allows the H1n to be used as a USB microphone and a microSD card reader.

Features:
• One-touch button controls
• 1.25" monochrome LCD display
• Intuitive menus for easy operation
• Stereo X/Y 90 degree microphones handle up to 120 dB SPL
• Stereo 1/8" Mic/Line In mini phone jack
• Stereo 1/8" Phone/Line Output jack with dedicated volume control
• Limiter button for input signal up to 120 dB SPL
• Playback Speed Control, Voice Emphasize Filter, and Stereo Bounce functions
• Auto-Record, Pre-Record, and Self-Timer functions
• Supports up to 24-bit/96 kHz audio in BWF-compliant WAV or a variety of MP3 formats
• Tone generator for filmmaking use with DSLR and video cameras
• Records directly to *SD and *SDHC cards up to 32 GB
• Micro USB port for data exchange to and from computer and use as an audio interface
• Runs on only 2 standard AAA alkaline, Lithium, or NiMH rechargeable batteries, or AC adapter (AD-17)
• Up to 10 hours of operation with alkaline batteries

*Does not include SD card.
Youtube video product demo
There are currently no questions for this product.
3.235.188.113
CCBot/2.0 (https://commoncrawl.org/faq/)
Works great for me
0 of 0 customers found this review helpful
Product Experience
I own it
Closest Store
London North, Ontario
Sure there are better more robust recorders out there but at this price can't be beat. This is a portable recording unit with good mikes so it picks up sound, that's what it's supposed to do. Use a stand or tripod and If you know nothing about recording use your cell phone instead. Mine is 3 years old now and never a problem. Realistic sound but stereo omni pattern means it picks up everything around it, like the guy jabbering or coughing next to you. Of course I'm careful not to drop it, just like I'm careful with other mikes.
Posted by

Robert

on

Mar 17, 2022
Use your mobile phone instead
1 of 1 customers found this review helpful
Product Experience
I own it
Closest Store
Toronto (Bloor St.), Ontario
I own this, had the previous version but at close to $200 including tax you'll be sorry you didn't spend another $100 and get something more robust. good luck getting a recording that doesn't have sound transmission from the cheap plastic case, even mounting it on a mic stand results in noise transmission coming through the mount on the case. Bought a Tascam because i got fed up with this. And don't drop it. the battery cover will break off and the only fix is duct tape.
Posted by

Jay

on

Aug 21, 2021
Recorder seems fine, but not what I thought I bought
3 of 3 customers found this review helpful
Product Experience
I own it
Closest Store
Cambridge, Ontario
The recorder seems fine ... no issues, really, with the technology.

Very disappointed with what I received though. I paid for new, but suspect I got either a demo/open box or returned model. Certainly some minor 'wear' on the plastic case. Package wasn't sealed, batteries were already in the recorder AND pretty much dead (lasted one test recording). The instructions were soiled with, I suspect, coffee or soda.

Been shopping at this L&M for years, always spot-on with service and quality. A bit disappointed with this one experience.

Curbside pickup ... you're in your car and off you go, so you don't get that counter experience where you can ensure what you're getting is a new product.
Posted by

Cam

on

Apr 14, 2021
Response from Long & McQuade
Please contact the store about this. Perhaps they can exchange.
Noisy, Cheap build, Excellent Mics
0 of 0 customers found this review helpful
Product Experience
I own it
Closest Store
Vancouver, British Columbia
I bought this while on a budget and travelling to record music demos and language. The quality of the stereo microphones is a very nice feature, however, I found I rarely use it due to how noisy it sounds whenever you touch the unit or controls due to the very cheap plastic build. The battery also seems to last about 30 minutes. I went back to using my iPhone. I believe the higher priced models are excellent as I have used those. Maybe with a tripod it would not be so noisy.
Posted by

anonymous

on

Feb 22, 2021
Great backup recorder
7 of 8 customers found this review helpful
Product Experience
I own it
Closest Store
Ottawa, Ontario
I purchased this model when an inadvertent drop killed my Zoom H5 (no kidding, a 1 foot drop on newly installed carpet killed it completely, with no obvious external breakage) as a backup model while my main was being repaired. Neat little recorder, decent built-in microphones, but squeaky enclosure and buttons. Very handy tripod mounting underneath allows for easy mounting options!
Posted by

Alex

on

May 8, 2018