May is Drum & Percussion Month at Long & McQuade!
During the month of May, enjoy:
12 month 0% financing* in-store on all drum and percussion related purchases over $999, or 6 month 0% financing online via Uplift**
Special pricing (Prices in blue are preview prices only and will come into effect on May 1, 2023)
Discounted rental rates on featured drum and percussion products
Half Price Rental Day on Saturday, May 13th! This applies to all new rentals of drum and percussion products. One month maximum.
Plus, click here to check out our awesome Drum Month contests!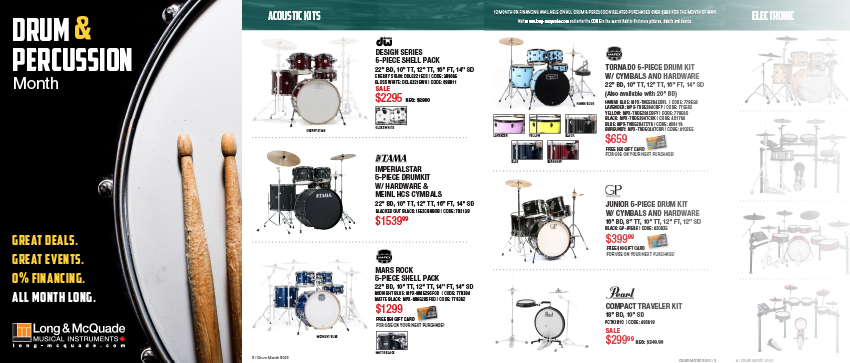 *In-store financing provided by Long & McQuade
**Online financing provided by Uplift. 0% APR available to qualified applicants on 3 & 6 month terms from May 1 to May 30, 2023 on all drum & percussion purchases $999 and above. Based on a purchase price of $999 you could pay a down payment of $148.09 today, followed by 6 monthly payments of $148.09 at 15% APR for a total repayment amount of $1,036.61 ($999.00 in principle and $37.61 in interest). Well-qualified applicants may be eligible for 0% APR. Actual terms are based on your credit score and other factors and may vary. Not everyone is eligible. Applicants are subject to approval by Uplift Canada. Privacy Policy. Terms of Use. Address: 410 Adelaide Street West, Suite 220, Toronto, Ontario M5V1S8.
---