Sorry, this item is not available for purchase
Gear Hunter
PreSonus - STUDIO-68C Audio Interface
SKU: 707155
Model: STUDIO-68C
Serial: SC6E19100453
Quantity Available: 1
Condition: Used
---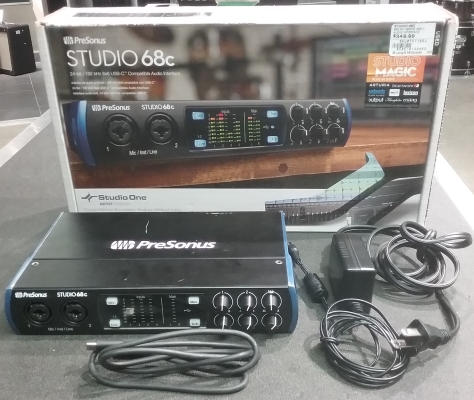 ---
Description
***INCLUDES POWER SUPPLY, USB CABLE, AND ORIGINAL BOX. SOFTWARE BUNDLE NOT INCLUDED!***


Studio 26C
Professional quality for small and mid-sized studios
An excellent choice for small bands, producers, and small and mid-sized studios, the Studio 68C 6-in, 6-out, USB-C audio interface records at up to 192 kHz. You get two mic/line/instrument and two mic/line inputs, all with PreSonus XMAX mic preamps, plus DC-coupled line outputs and MIDI I/O. A complete, all-in-one recording studio, the Studio 68C comes with PreSonus award-winning Studio One Artist music production software for macOS and Windows and is backward compatible with USB 2.0 and 3.0 connections.
The 6-in, 6-out Studio 68C audio interface features USB-C computer connectivity and includes 2 combo mic/instrument/line inputs and 2 combo mic/line inputs with +48V phantom power for condenser mics, plus S/PDIF digital I/O. All four 1/4-inch TRS, line-level outputs are DC coupled, enabling them to send control voltages. A Cue Mix A/B function lets you toggle between two mixes while monitoring through headphonesperfect for DJs and to listen in on a performers monitor mix. The Studio 68Cs built-in MIDI interface enables connection to a keyboard, sound module, or control surface.
Superior Sound
The Studio 68C operates at up to 192 kHz for ultra-high-definition recording and mixing. High-quality converters on every input and output and PreSonus professional-grade XMAX mic preamps deliver incredibly high headroom, deep lows, smooth highs, and a rich overall sound.
Features
Input/Output
* Simultaneous I/O up to 6 inputs/6 outputs (4x4 at 192 kHz)
* 2 mic/instrument/line inputs with XMAX Class A mic preamps
* 2 mic/line inputs with XMAX Class A mic preamps
* 2 balanced TRS main outputs
* DC coupled for sending control voltages
* 2 balanced TRS line outputs for monitor mixing
* DC coupled for sending control voltages
* 1 stereo headphone output
* MIDI In/Out
* Stereo S/PDIF digital I/O
Meters, Controls, and Features
* Direct monitoring
* Cue mix A/B (for headphone output)
* Front-panel level controls for main outputs
* True +48V phantom power for condenser microphones (global)
* 6 ladder-style LED level meters (4 input, 2 main output)
Digital
* USB-C port (USB 2.0)
* 24-bit resolution
* 44.1, 48, 88.2, 96, 176.4 and 192 kHz sampling rates
Physical
* Road-rugged construction with all-metal chassis and metal knobs
Specifications
General
Sample Rates: 44.1, 48, 88.2, 96, 176.4, or 192 kHz
Converter Resolution: 24 bit
Converter Dynamic Range: 114 dB
Converter Dynamic Range: 114 dB
Microphone Inputs
Maximum Level: +16 dBu (balanced, min gain)
Gain Range: 80 dB
Frequency Response: 20 Hz - 20 kHz (0.15 dB, min gain, 48 kHz)
Dynamic Range: 114 dB (A-wtd, min gain)
THD + N: 0.007% (1 kHz, -1 dBFS, min gain)
EIN: -130 dBu (max gain, 150Ω, A-wtd)
Input Impedance: 1.6 KΩ
Phantom Power: +48 VDC (10 mA per channel)
Line Inputs
Maximum Level: +22 dBu (balanced, min gain)
Gain Range: 40 dB
Frequency Response: 20 Hz - 20 kHz (0.15 dB, min gain, 48 kHz)
Dynamic Range: 113.9 dB (A-wtd, min gain)
THD + N: 0.007% (1 kHz, -1 dBFS, min gain)
Input Impedance10 kΩ
Instrument Inputs
Maximum Level: +15 dBu (unbalanced, min gain)
Gain Range: 80 dB
Frequency Response: 20 Hz - 20 kHz (0.1 dB, 48 kHz, min gain)
Dynamic Range: 114.7 dB (A-wtd, min gain)
THD + N: 0.012% (1 kHz, -1 dBFS, min gain)
Input Impedance: 1 MΩ
Line Outputs (Mains)
Type: 1/4" TRS Female, DC Coupled
Maximum Level: +18 dBu (balanced)
Frequency Response: 20Hz - 20kHz (0.2dB, unity gain, 48 kHz)
Dynamic Range: 109 dB (A-wtd)
THD + N: 0.001% (1 kHz, -1 dBFS)
Line Outputs (3/4)
Type: 1/4" TRS Female, DC coupled
Maximum Level: +18 dBu (balanced)
Frequency Response: 20 Hz - 20 kHz (+/- 0.2 dB, unity gain, 48 kHz)
Dynamic Range: 109 dB (A-wtd)
THD + N: 0.0015% (1 kHz, -1 dBFS)
Headphone Outputs
Maximum Power: 150 mW/channel (56Ω load)
Frequency Response: 20 Hz - 20 kHz (0.2 dB, 56Ω load, 48 kHz)
Dynamic Range: 107 dB (A-wtd, 56Ω load)
THD + N: 0.002% (1 kHz, -1 dBFS, no load)
Impedance Working Range: 32Ω to 300Ω
Physical
Height: 1.75" (44 mm)
Width: 9" (229 mm)
Depth: 5.5" (140 mm)
Weight: 2.4 lbs (1 kg)