Gear Hunter
Behringer - ULM202USB Digital Wireless Mic System
SKU: 448808
Model: ULM202USB
Serial: S190300337AQE
Quantity Available: 1
Condition: Used
---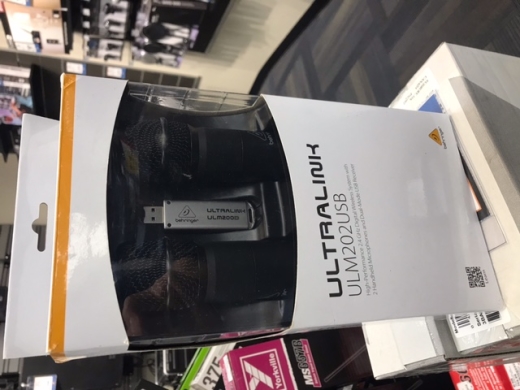 Buy From Store
Ship from Store
Pick Up in Store
Customer responsible for any shipping charges.
---
Description
High-Performance 2.4 GHz Digital Wireless System with 2 Handheld Microphones and Dual-Mode USB Receiver

Features:

* Package of 2 ULM200M handheld microphones and ULM200D dual-mode USB receiver
* High-quality microphone capsule for dedicated vocal applications
* Ultra-compact USB receiver with dual mode analog/digital audio interface
* Digital 2.4 GHz wireless connectivity offers superior sound quality
* Maximum range 120 m
* Automatic pairing for easy and intuitive setup
* Integrated volume up and down buttons on handheld microphone
* Panic mute feature on microphone
* Receiver powered via USB interface
* Auto-sensing of analog or USB digital audio connection
* 2.4 GHz ISM band operation allows license-free use on a worldwide basis

Behringer's new and affordable ULTRALINK ULM Series USB Wireless Microphone Systems give you the freedom to work the room to your heart's content, without the hassle and restriction of cables underfoot. Highest-quality sound is provided by the dynamic hand-held mic thanks to its built-in transmitter, which operates in the license-free 2.4 GHz range. And because the receiver can be connected directly to your PC/Mac computer's USB port, you can record directly into your favorite DAW application.

Easy-to-operate Volume Up and Down buttons on the microphone body let you get your volume just right, on the spot. And should you accidentally wander into the "Feedback Zone", there is also a handy Panic Mute function that engages when you press and hold the Volume Down button.