Gear Hunter
Bose T8S Tonematch Mixer
SKU: 524518
Model: T8S
Serial: 77802Z21700140AE
Quantity Available: 1
Condition: Demo
---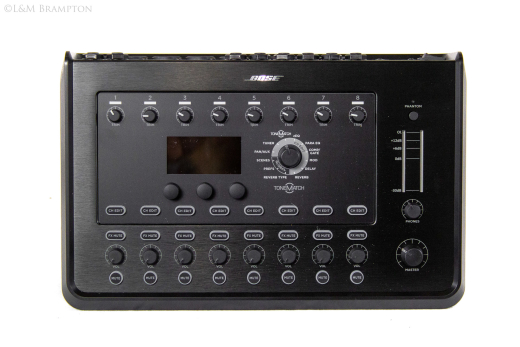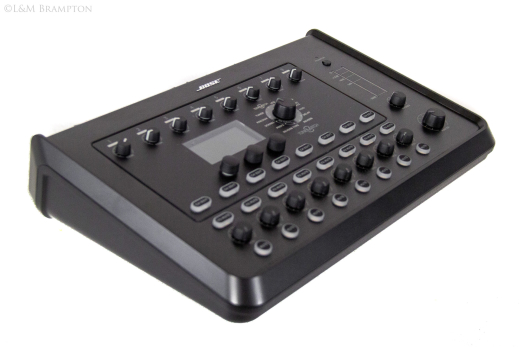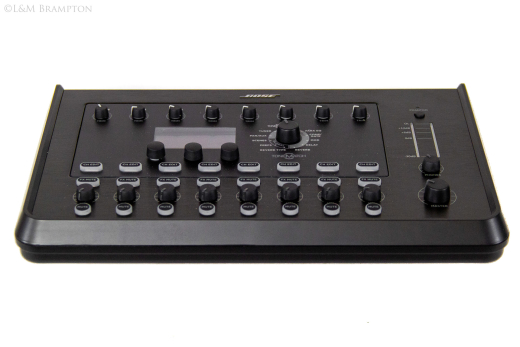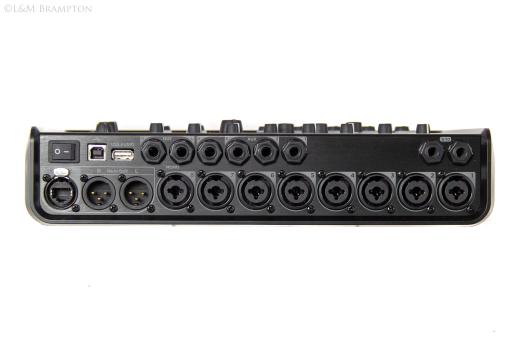 Buy From Store
Ship from Store
Pick Up in Store
Customer responsible for any shipping charges.
This product may not come in original packaging.
---
Description
***Photos are of serial number 77802Z21700140AE - Taken by the team at L&M Brampton

Socials, Sale Details, Giveaways, Lessons and Even More Deals!

Take control of your music with the T8S ToneMatch mixer, a compact 8-channel interface designed for performers. Engineered with a powerful DSP engine and intuitive user control, the T8S offers studio-quality EQ, dynamics and effects. Sound great with integrated BoseToneMatch processing and zEQ, especially when connected to a Bose L1 or F1 system for full end-to-end tonal control. Play confidently on stage with the rugged T8S using its tactile controls, easy-to-read LED display and scene recall. The T8S, a true performers companion.

KEY FEATURES

Powerful Audio Processing


Updated, studio quality effects with advanced digital audio processing


High quality effects include compressor, limiter, de-esser, noise gate, chorus, flanger, phaser, tremolo, delay and reverb


Bose ToneMatch processing for natural sounding vocals and instruments


zEQ focuses the sound of ToneMatch presets for effective adjustments on the fly


Independent ToneMatch, EQ, dynamics and effects per channel


Dedicated reverb on Aux 1 send and a global shared reverb for use across all channels


Master output EQ helps compensate for venue acoustics


Full end to end tonal optimisation when used with Bose L1 and F1 systems
Seamless Live Control
The T4S/T8S integrates with your performance using illuminated, tactile controls and indicators for spontaneous sound adjustments, even on dimly-lit stages. Jump into settings with the fast-learning, intuitive control interface. Additional features like tap tempo delay, built-in chromatic tuner, master out EQ, and recallable scenes makes it easy to be ready to play. The T4S/T8S is the ultimate on-stage companion for performing artists.
High-Density Connectivity
For its size, the stereo T8S mixer gives you unprecedented connectivity with control. Eight main channels feature high-quality audio preamps with XLR-combo jacks for microphones or instruments, and switchable phantom power. Additionally, the T8S offers four Aux sends, two Aux inputs, USB-A and -B for USB drive playback or PC/Mac interfacing, and a dedicated headphone jack, and balanced 1/4" TRS and XLR stereo outputs.
Convenient Gig-Ready Features
Rugged and ready to go, the T8S includes a protective magnetic cover and a bottom insert allows you to use standard mounting accessories to keep the T8S within reach. Also includes a universal power supply.
TECHNICAL SUMMARY
* 8x Combo XLR-1/4" mic/line inputs
* 2x Aux inputs
* 4x Aux sends
* 1/4" TRS and XLR analog stereo outputs
* Dedicated headphone output
* USB A and B for drive playback or PC
* Front-panel output meters
* Protective magnetic cover
* Universal power supply
* 214 x 311 x 83 mm (D x W x H)
* 8.4" x 12.25" x 3.25"
* 1.9 kg | 4.1 lbs