Sorry, this item is not available for purchase
Gear Hunter
Denon PRIMEGO
SKU: 726281
Model: PRIMEGO
Serial: A12009245304892
Quantity Available: 0
Condition: Used
---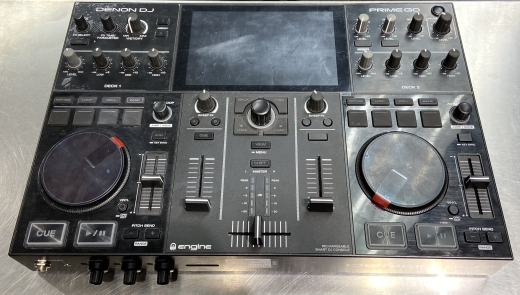 ---
Description
2-Deck Rechargeable Smart DJ Console with 7-inch Touchscreen
Experience the power of the PRIME SERIES in an ultra-portable, standalone 2-channel smart DJ console. Throw PRIME GO in your backpack, prep your DJ sets on the road, then rock up to any gig or event with a no-compromise DJ workflow and feature set. Powered by the lightning-fast ENGINE OS platform, PRIME GO shares the same ultimate touchscreen interface experience as its bigger PRIME 4 brother, but adds a rechargeable lithium-ion battery to provide extreme portability. Take advantage of PRIME GO's built-in WiFi capability too and stream music standalone, with no laptop needed, giving you access to TIDAL's 60+ million songs to add to your playlist prowess!
Touch and Feel Your Music
PRIME GO's 7-inch touchscreen gives you a high-definition, multi-gesture experience, just like using your smartphone or tablet. Navigate your collection, finger-swipe to load tracks, instantly search through large music libraries and even rearrange your playlists and songs easily just on the screen itself. Change things up by flipping your waveform playback view from vertical to horizontal and also select and monitor a number of other essential DJ workflow features at the touch of a finger.
Music, Non-Stop
Access and play your digital music using PRIME GOs USB and SD inputs. Choose to keep a large capacity SD card 'always-in' and available as a mini-hard drive, or execute easy DJ hand-offs with the USB port for a fellow DJ. Want to record your DJ set for an important gig? No problem; PRIME GO has you covered, able to record directly to any connected media source connected to it, even the one youre playing from.
Standalone Music Streaming - Anywhere
Using your mobile data or either a venue's WiFi or wired internet connection, you can stream music from TIDAL with its catalog of over 60+ million songs, just using PRIME GO and with no laptop needed. Never be caught out again for that elusive song request, having literally the world's music, exclusive playlists and curated content at your fingertips! More exciting streaming partners will be available soon.
Make a Great Connection
You shouldnt have to compromise on pro-grade audio and connectivity, just because your DJ gear can fit in a backpack. PRIME GO is the world's best, ultra-portable no-compromise unit for any event. It features Denon DJ's renowned 24 bit/48kHz pristine audio quality and enough rear panel pro-connectivity to cover everything from a house party, a mobile gig, club or even mainstage event. Add PRIME GO's StagelinQ connection into the mix and you'll be ready for creating easy and dynamic lighting and video shows too, with SoundSwitch and Resolume control.
Craft Your Mix
PRIME GO has all the creative, hands-on features and power you'd need for any style of DJing. With 2 channel line faders, crossfader, capacitive touch jog-wheels and expressive 3-band EQ, you can shape and blend your audio to sonic perfection. Take the music into another dimension using PRIME GOs assignable beat-FX module, in-line Sweep FX and Filter for added audio manipulation.
Take Your Sounds Further
PRIME GO will inspire even the most dextrous and creative energies inside your DJing mind. It brings dual-bank (2x4) ultra responsive trigger pads for hot-cue juggling, looping and beat rolls, plus a class-leading timestretch and key shift/sync feature to radically change a songs tempo and musical key - 'Open-Format' DJing just got a whole lot more exciting, and easier!
Dual Microphone Power
Accept no sacrifice of your line faders, with PRIME GO's dual independent, level controlled mic channels, both with XLR (1/4-inch combo) inputs. Double-up with a DJ partner or bring that enthusiastic bride or party-animal into the show, using the handy talkover feature so you can get on with the serious business of 'fun'! PRIME GO has both a mini and full size headphone jack input for those nights when you might...just might, forget your cable adapter!
Powered by ENGINE OS
PRIME GO has Denon DJ's ENGINE OS under the hood to take care of lightning fast operations during your DJ performance. With continuous firmware upgrades keeping you empowered with the newest, forward-thinking features, ENGINE OS will keep your music flowing expressively. ENGINE PRIME librarian software (Mac/PC) is your music library and set preparation tool which syncs your other music collections, including iTunes, Serato DJ, Traktor and Rekordbox™. Using just PRIME GO (yes, you got it, no computer needed), you can also import a full Rekordbox™ collection direct from a media source, internally analyzed (including playlists, hot cues and loops) within the unit itself.
NEW
, April 2022 - Engine DJ version 2.2 for Desktop and OS is here delivering new features and plenty of fixes and improvements to DJs. Leading the charge is the new Active Loop feature which enables users to set up to 8 Active Loops on either Desktop or direct on Engine DJ Hardware. FX Control has been expanded for Numark Mixstream Pro users and Metronome comes to the Desktop.
GET 3 MONTHS FREE SOUNDCLOUD GO+
Denon DJ & Engine OS are offering 3 MONTHS FREE access to SoundCloud's Go+ account! SoundCloud Go+ gives you offline and ad-free listening to everything from mainstream releases to DJ sets and remixes.
To claim, simply visit
DenonDJ.com
, click on 'Account' to register your product today.
Key Features
* Fully-featured, backpackable 2-deck smart DJ console
* 7-inch HD touchscreen with gestures
* Rechargeable lithium-ion battery for up to 4 hours of unplugged performance
* Built-in Wi-Fi and wired internet connectivity for music streaming
* Dual-bank performance pads for triggering hot-cues, loop and roll
* No-compromise, pro-grade audio and connectivity
* RCA aux input for media players, tablets and phones
* Capacitive-touch jog wheels
* Internally analyze music files & Rekordbox™ collections direct from USB
* Standalone Track Preview
* Assignable FX module, 3-Band EQ and Filter/Sweep FX
* (2) dedicated XLR (1/4-inch combo) mic inputs with EQ/Level/talkover
* USB and SD media source inputs
Technical Specifications
Frequency Response: 20Hz 20kHz +/- 1dB
Dynamic Range: > 109dB (A-weighted)
Signal-to-Noise Ratio: > 92dB (A-weighted)
Headroom
Aux: > 15dB
Mic: > 20dB
Outputs: > 15dB
Channel Separation: < -88dB (1kHz, unity)
THD
Aux: < 0.01% (1kHz, unity)
Micophone: < 0.02% (1kHz, unity)
Analog Input
Aux: +15dBV (maximum) 0dBV (unity)
Microphone: -40dBV (unity) -54dBV (minimum)
Analog Output
Master, Balanced: +18dBu (maximum) +4dBu (unity)
Master, Unbalanced: +15dBu (maximum) 0dBu (unity)
Booth: +18dBu (maximum) +4dBu (unity)
Headphone Output: < 40mW
Connections
Audio Outputs
(2) XLR outputs (master left/right, balanced)
(1) RCA output pair (master left/right, unbalanced)
(2) 1/4" (6.35mm) outputs (booth left/right, balanced)
(1) 1/4" (6.35mm) stereo output (headphones)
(1) 1/8" (3.5mm) stereo output (headphones)
Audio Inputs
(1) RCA input pair (line-level, unbalanced)
(2) XLR+1/4" (6.35mm) inputs
Other
(1) USB port (for USB drives)
(1) USB port (to computer)
(1) Ethernet port
(1) power adapter input
Power
Connection: DC, Center Positive
Voltage: 19V 3.42A
Consumption: 30W (maximum)
Dimensions (width x depth x height): 16.2" x 10.8" x 2.1" (411 x 274 x 53mm )
Weight: 8.11 lbs. (3.68kg)