Sorry, this item is not available for purchase
Gear Hunter
Mackie - BIG KNOB PASSIV
SKU: 496873
Model: BIG KNOB PASSIV
Serial: 4781000bpne0557
Quantity Available: 0
Condition: Used
---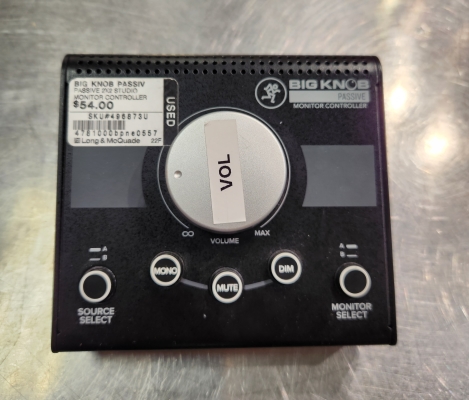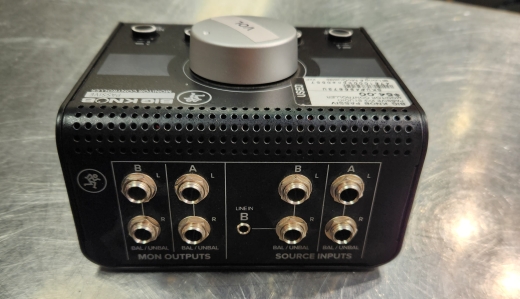 Buy From Store
Pick up at the store only. Contact Mississauga Ontario
This product may not come in original packaging.
---
Description
Compact and affordable, Big Knob Passive offers a rock-solid monitor control solution, allowing users to choose between two sources, two monitors and control it all with one Big Knob. Its no-power-required passive design ensures pristine sonic integrity for any home studio application or for integration into a large studio or group of editing suites.

Big Knob will now become the nerve center for your studio with the addition of the high-resolution goodness of an Onyx recording and playback solution. Alternatively, if you are looking for excruciatingly simple volume control/monitor switching, the Big Knob Passive delivers at an amazing price.

* Simple 2x2 monitor controller
- Choose between 2 sources and 2 monitor pairs
- Classic Big Knob volume control
- Mono, mute and dim functions

* Pristine audio quality
- Passive audio path with no power supply needed

* Sturdy "Built-Like-A-Tank" design

Details:

PRO SOURCE AND MONITOR SELECTION
The Mackie Big Knob has proven itself for more than a decade as the go-to monitor controlling solution for project and professional studios. The all-new Big Knob family takes the best of this classic workflow, delivering the right solution for the modern studio.

PREMIUM ONYX RECORDING/PLAYBACK
Both the Big Knob Studio and Big Knob Studio+ offer high-resolution USB interfacing (with resolutions up to 192 kHz), featuring dual Onyx mic preamps, delivering an ultra-wide 60 dB of gain range and award-winning sound quality.

FLEXIBLE INTEGRATION
The expanded Big Knob lineup offers models with unique feature sets and I/O to suit a huge range of applications. Features like dual headphone outs, a dedicated amp-driven studio out, a true cue mix and more ensure Big Knob will fit right into your studio or workspace.