Gear Hunter
JHS Pedals - 3-Series Overdrive
SKU: 740439
Model: JHS 3 OVERDRIVE
Serial: 20877312
Quantity Available: 1
Condition: Used
---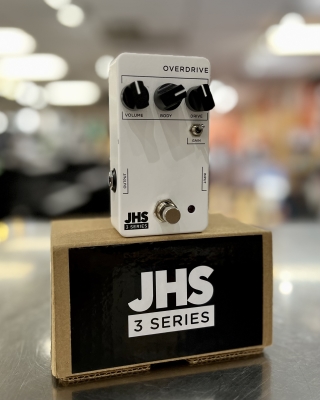 Buy From Store
Ship from Store
Pick Up in Store
---
Description
*** EXCELLENT CONDITION ***
- Minor paint chip on left edge (see image)
- Comes with original box

The JHS Pedals 3 Series is a collection of pedals designed to give you affordability and simplicity without compromising quality. Each 3 Series pedal has three simple controls and one toggle that offer a wide range of sounds, perfect for beginners and professionals alike. The JHS Pedals 3 Series will inspire your playing and help you explore new sounds at a totally approachable price point.

The JHS Pedals 3 Series Overdrive offers a wide range of overdrive sounds - anything from boost and transparent low gain, to huge amp-like medium overdrive sounds. The simple knob functions give you control over the Volume, Body (or EQ), and Drive. The Gain toggle gives you a choice between more saturated and compressed or more open and crunchy dynamics. This switch plays a big part in how the pedal responds to your playing and touch as a player.

The JHS Pedals 3 Series Overdrive runs on 9V DC Negative Center power and consumes 12mA (power supply sold separately), and cannot be powered by batteries.

Size (L x W x H): 4.42" x 2.38" x 1.22"