Sorry, this item is not available for purchase
Gear Hunter
Epiphone - Hummingbird Studio
SKU: 382598
Model: EEHBFCNH
Serial: 21101312260
Quantity Available: 1
Condition: Used
---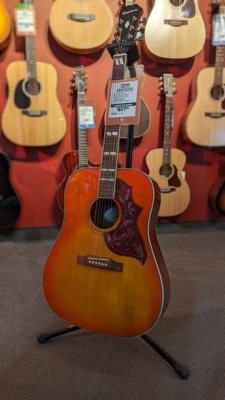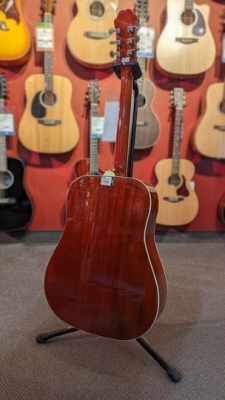 Buy From Store
Pick up at the store only. Contact Joliette Quebec
This product may not come in original packaging.
---
Description
La guitare acoustique-électrique Hummingbird Studio actualise le modèle classique des années 1960 avec une table en épinette massive, un manche et un corps en acajou, des mécaniques d'accord Grover® Rotomatic® à rapport d'engrenage 18/1, un filet traditionnel, une plaque protectrice classique Hummingbird et un système électronique Fishman™ Sonitone™.

Introduite pour la première fois en 1960, la Hummingbird à pans carrés est rapidement devenu un classique grâce à Keith Richards des Rolling Stones, qui en a utilisé une pour la rythmique sur les premiers succès des Stones tels que « Satisfaction », « Play With Fire » et « Under My Thumb » Il y a également de nombreuses photos classiques de Keith utilisant ce modèle lors des séances d'enregistrement des albums « Exile on Main Street », « Goats Head Soup » et « Sticky Fingers ». Aujourd'hui, la Hummingbird est toujours une guitare acoustique de choix pour des guitaristes rock comme Noel Gallagher, Sheryl Crow et Kid Rock lorsque se fait sentir le besoin d'une guitare rythmique dotée d'une action douce et d'une superbe sonorité boisée pleine de caractère.

La Hummingbird Studio acoustique-électrique peut à elle seule animer un groupe entièrement acoustique ou être au centre d'une soirée grâce à sa sonorité douce et équilibrée. Grâce au système de micros Fishman™ Sonitone™, la Hummingbird Studio peut être branchée et être à sa place sur n'importe quelle scène.

Caractéristiques

Table d'harmonie : épinette massive
Corps : acajou sélectionné
Manche : acajou sélectionné
Profil de manche : SlimTaper™ en « D »
Touche : pau ferro
Rayon de la touche : 12 po
Tige de manche : réglable
Filet : table d'harmonie : 7 plis ivoire et noir, dos : 3 plis ivoire et noir
Repères de touche : parallélogramme en imitation de nacre
Diapason : 628 mm (24,75 po)
Frettes : 20, moyennes-larges
Sillet de tête : 43 mm (1,68 po)
Chevalet : de type « Belly » inversé
Sillet de chevalet : de type compensé
Plaque protectrice : de forme et à illustration Hummingbird
Quincaillerie : nickelée
Mécaniques d'accord : Grover® Rotomatic, rapport d'engrenage 18/1
Système électronique
Micro sous sillet : Fishman™ Sonicore™
Réglages : volume et tonalité Fishman™ Sonitone™ montés dans la rosace
Préamplificateur : Fishman™ Sonitone™


The Hummingbird Studio Acoustic/Electric updates the 60s classic with a solid spruce top, mahogany neck and body, Grover® Rotomatic® 18:1 ratio tuners, traditional binding and historic Hummingbird pickguard, and Fishman™ Sonitone™ electronics.

First introduced in 1960, the square shouldered Hummingbird quickly became a classic thanks to Keith Richards of The Rolling Stones, who used a Hummingbird for rhythm on early Stones hits like "Satisfaction," "Play With Fire," and "Under My Thumb." There are also many classic photographs of Keith using a Hummingbird on sessions for Exile on Main Street, Goats Head Soup, and Sticky Fingers. Today, the Hummingbird is still a go-to acoustic for rockers like Noel Gallagher, Sheryl Crow, and Kid Rock when they need a rhythm guitar with smooth action and superb woody tone that's full of character.

On its own, the Hummingbird Studio Acoustic/Electric can drive an all-acoustic band or be front and center at a picking party with its sweet, balanced tone. Now with the Fishman™ Sonitone™ pickup system, the Hummingbird Studio can plug-in and hold its own on any size stage.


Specifications
Top - Solid Spruce
Body - Select Mahogany
Neck - Select Mahogany
Neck Profile - SlimTaper™ "D" Profile
Fingerboard - Pau Ferro
Fingerboard Radius - 12"
Truss Rod - Adjustable
Binding: Top: 7-ply Ivory/Black, Back: 3-ply Ivory/Black
Fingerboard Inlay - pearloid parallelogram
Scale - 24.75" / 628mm
Frets - 20 Medium Jumbo
Nut - 1.68" / 43mm
Bridge - reverse belly
Saddle - compensated
Pickguard - Hummingbird Shape with Hummingbird artwork
Hardware - nickel
Machine Heads - Grover® Rotomatic 18:1
Electronics
Under Saddle Pickup: Fishman™ Sonicore™
Controls: Fishman™ Sonitone™ Soundhole mounted Volume and Tone
Preamp: Fishman™ Sonitone™