Gear Hunter
NEVE 1073LB EQ 500 SERIES
Quantity Available: 1
Condition: Used
---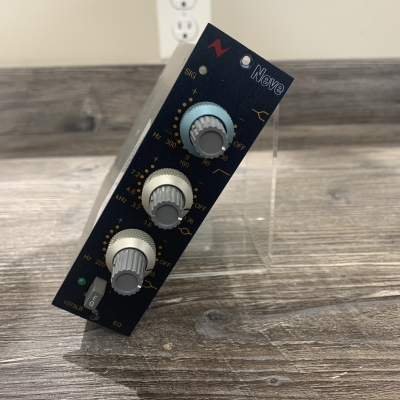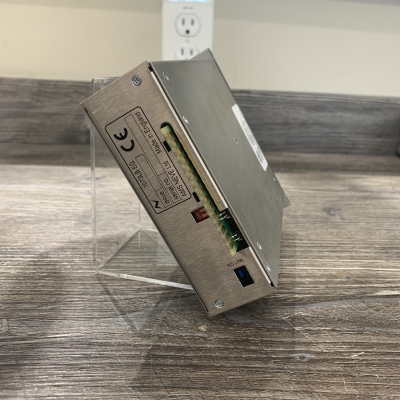 Buy From Store
Ship from Store
Pick Up in Store
Customer responsible for any shipping charges.
This product may not come in original packaging.
---
Description
*1 of 2 available*

The Neve 1073LBEQ captures the iconic sound of the original Neve 1073 EQ circuit in a compact 500-series module. With three bands of big, punchy EQ, the 1073LBEQ instantly adds a familiar lush sound to any recording. When partnered with the Neve 1073LB preamp, these two devices perfectly recreate the sound of the world's most famous preamp right in your lunch box.

THE SOUND OF YOUR FAVORITE RECORDS
Ever since its release in 1970, the Neve 1073 has been the go-to preamp and EQ combo for engineers, producers and musicians in search of that classic analog sound. From pop to rock to hip-hop and more, the iconic sound of the Neve 1073 can be heard on countless hit records over the last 50 years. Ideal for adding warmth and depth to vocals, guitars, and acoustic instruments of all kinds, the 1073LBEQ is the perfect solution for audio professionals looking for a compact, versatile EQ with a classic sound.

CLASSIC CONTROLS
The Neve 1073LBEQ features the same EQ design as the original preamp model. The high shelf EQ is fixed at 12 kHz, and ideal for bringing acoustic recordings to life with a silky-smooth brilliance. The midband is perfect for carving out space in busy mixes and adding warmth and grit to instruments with fixed frequencies at 360 Hz, 700 Hz, 1.6 kHz, 3.2 kHz, 4.8 kHz and 7.2 kHz. The low band is perfect for fattening up tracks with tight, punchy lows using fixed frequencies at 35 Hz, 60 Hz, 110 Hz, and 220 Hz. Clean up your low end with a dedicated high-pass filter, selectable at 50 Hz, 80 Hz, 160 Hz and 300 Hz.

ALL NEW FEATURES
The new 1073LBEQ is equipped with a signal presence LED and Neve's innovative Audio Processing Insert design. The 1073LBEQ can be modified to work as an insert when paired with an 1073LB mic preamp module. With a simple modification and an included cable, you can connect the 1073LBEQ to the 1073LB for a traditional preamp, EQ, output signal path.

FEATURES:
Legendary 3-band EQ design
When integrated with 1073LB preamp, the combination is 100% discrete and = genuine 1073 mic pre/EQ
Rotary controls provide accurate adjustment of the 1073 3-band EQ and High Pass Filter
Signal presence LED illuminates green from a level of -25 dB and red from a level of +24 dB
Switch for EQ IN/OUT function, with LED indication
Electronically balanced classic Neve circuits used in Line Input and Line Output stages for standalone module use. These stages are bypassed and the 1073LBEQ module is 100% discrete when combined with the 1073LB mic preamp
Audio Processing Insert design allows the audio to/from the1073LBEQ module to be inserted into the audio path of an existing 1073LB (modules must be fitted in the same rack)
High frequency concentric knobs perform two functions: HF shelf control and High Pass Filter control
Fully screened module packaged in Mu-metal case eliminates stray electromagnetic fields from Lunchbox PSU or other module types
The 1073LBEQ provides the legendary sound of Neve in a remarkably simple format. A Line level input feeds an electronically balanced EQ circuit with 3-bands of adjustable EQ and a High Pass filter, which can easily be switched in/out. The output is also an electronically balanced Line level output. A signal presence LED and Neve's clever Audio Processing Insert design is also integrated into the module.

The 1073LBEQ can be modified to work as an inserted process with an existing 1073LB mic pre module. A modification is required inside both units and a cable, which is supplied with the 1073LBEQ module, is needed to connect the LB mic pre to the LB EQ. The result of this is a genuine 1073 mic/pre input -> EQ -> output audio path when in this mode. Revolutionary!

This mono unit is the perfect solution for studios and audio engineers looking to bring in the very essence of the Neve 1073 EQ sound to their portable racks.

Note: The Neve 1073LBEQ will not work with the A Designs 500HR 2 Slot rack or the Empirical Labs EL500 2 Slot 500 Series Rack.