Sorry, this item is not available for purchase
Gear Hunter
Yorkville - YSM5-2
SKU: 771112
Model: YSM5-2
Serial: ysm522070268
Quantity Available: 1
Condition: Used
---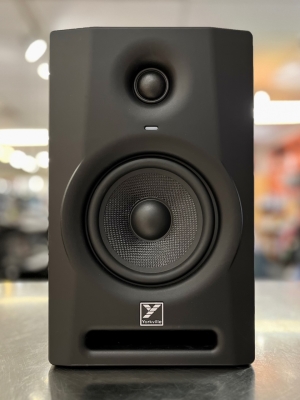 Buy From Store
Pick up at the store only. Contact Scarborough Ontario
This product may not come in original packaging.
---
Description
*** EXCELLENT CONDITION ***
- Only 3 months old!

Yorkville Sounds YSM SERIES II Powered Studio Monitors are engineered to deliver the uncompromising clarity your mixes demand. Designed with project and professional studios in mind, the YSM5-2 has been developed to be the best sounding monitor in its class.

The YSM5-2 features 1-inch black-silk diaphragm neodymium dome tweeters. These tweeters blend seamlessly into the specially designed low diffraction wave guide which is integrated into the front baffle. The wave guide edges perfectly couple the tweeter with the woofer, reducing sonic anomalies normally created by their proximity. The fibre reinforced composite cone woofers have also been designed to perform with sonic excellence, providing a wide dynamic range at all levels. Integrated DSP is utilized to deliver transparent signal processing and bi-amplification has been optimized for each driver. The woofer and tweeter have been perfectly time aligned to eliminate any phase irregularities usually associated with 2-way designs.

Features
* 5-inch low frequency driver; 1-inch silk dome tweeter
* Balanced XLR and 1/4- inch TRS inputs
* Unbalanced RCA input
* High and low frequency adjust controls
* Built in HF and LF limiters
* Volume control

Specs
Model: YSM5-2
Active or Passive: Active
Power: 50 Watts
Biamp / Configuration: Yes / Two Way
Max SPL: 105 dB
Frequency Response (Hz +/- 3dB): 50Hz-22kHz
Crossover Frequency: 2.1 kHz

HF Driver(s): Neo Soft dome, Ferro Fluid
HF Program Power: 15 Watts
HF Dispersion (H x V): 60°
HF Protection: Therm, Over voltage, Clip

LF Driver/s: 5-inch composite
LF Program Power: 35 Watts
LF Protection: Therm, Over voltage, Clip

HF Amplifier Type: Class D
HF Distortion: 0.015
LF Amplifier Type: Class D
LF Distortion: 0.01%
LF Processing: Integrated DSP

Cooling Scheme: Convection

Power Cable: Included
Power Switch: Back, with LED on Baffle
Power Consumption (typ/max): 60W

Inputs - 1/4-inch Jacks: 1
Inputs - XLR: 1
Inputs - RCA: 1
Input Sensitivity (Vrms Sine): 1.2
Level Controls: 1
EQ Controls: 2
LED Indicators: power on front

Enclosure Materials: MDF
Baffle Material: MDF/ABS
Covering / Finish: Textured Vinyl

Dimensions (DWH xbackW): 24.13 x 19.05 x 29.21 cm / 9.5 x 7.5 x 11.5"
Weight: 11 lbs / 5.0 kg

*Sold individually.