Music Lessons
Private and group instruction in a wide variety of instruments, including acoustic & electric guitar, piano, drums, vocals, orchestral strings, brass, woodwinds and so much more! Registration Request
Long & McQuade Music Lesson Centre
We offer private one-on-one lessons custom-tailored to the needs and goals of the individual student as well as a variety of group lessons. Our students range from children just beginning their journey in music, to those prepping for university, from young adults who just like to sing to seniors who enjoy music and the social aspect. We offer affordable rates and a wide variety of lessons but more importantly, we are a home for anyone who loves music and wants to explore it.
Private online or in-person music lessons with with Long & McQuade's skilled professional instructors make learning easier.

Learning to play in a supportive creative environment makes learning fun!

Our convenient lesson times accommodate even the busiest schedules.

RCM examination preparation, student recitals and group performance opportunities for interested students.

Affordable rates.

No registration fees.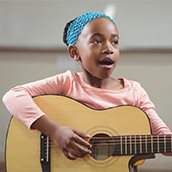 Guitar Lessons
Acoustic, Electric, and Bass Guitar
Learn to play a wide variety of musical styles including rock, jazz, blues, pop, finger style and classical guitar or bass with one of our skilled instructors. Whether you're learning to play as a new beginner, studying to upgrade technique for professional purposes or just wanting to have fun learning at your own pace, lessons are structured to suit your needs.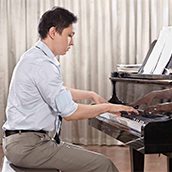 Keyboard Lessons
Piano & Electronic Keyboard
Whether learning popular repertoire, or following the graded Royal Conservatory curriculum, students will benefit from "one on one" lessons with our professional instructors. Students are able to select a program of theory, technical studies, improvisation and performance tailored to suit their goals.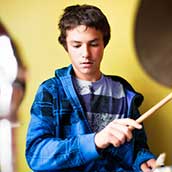 Drum Lessons
Drums (Kit) and Percussion
Our professional instructors teach beginner students the rudiments of music theory, stick control and drumming patterns. Drummers of every level will work to improve their rhythm and technique, covering a wide range of styles.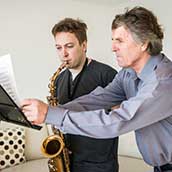 Brass & Woodwind Instruments
Trumpet, Trombone, Saxophone, Clarinet, Flute and more!
Students involved in school band programs will find that one on one lessons with our instructors are a great way to improve their reading skills and technique, making for a more rewarding band experience. Other students choose to play a brass or woodwind instrument for the personal satisfaction it provides.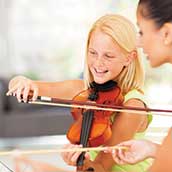 Orchestral Strings
Violin, Viola, Cello & Double Bass
Long & McQuade's skilled instructors work with each student on their artistic and technical development as they learn their craft. Understanding expression, style and technique makes playing a stringed instrument an enjoyable experience. Students can study a wide range of musical genres from classical and popular, to traditional fiddle music.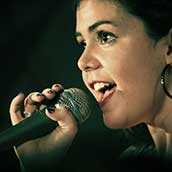 Vocal Lessons
Our highly trained and experienced vocal instructors will help students develop proper vocal technique and musicianship while working on material that is suitable and relevant to the individual student. Learning to sing is a great way to express the music from within.
Group Instrumental Instruction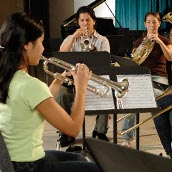 Group study provides the opportunity to develop individual musicianship and ensemble playing skills in an enjoyable, socially interactive environment. Contact your nearest Long & McQuade Music Lesson Centre to find out more about group lessons.
Rock Skool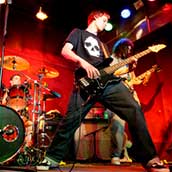 Experience the thrill of rehearsing and performing in a Rock Band! Students gain skills in rhythm and lead guitar, bass, drums, percussion, keyboards and vocals under the guidance of experienced instructors. Popular and contemporary rock standards are rehearsed while you learn about lighting techniques, sound and stage set up. A performance at the end of each session is a showcase of young talent. Contact the nearest location for more information about this popular program.
Summer Lessons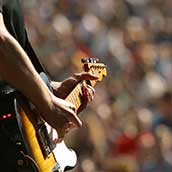 Our Music Lesson Centres are open year round. For some students and families, the more relaxed pace of the summer is the best time to start lessons, or to continue learning. As well, our special interest summer music programs offer a variety of instructional and fun classes. Contact the location nearest you for more information.