Vancouver - Guitar Lessons
368 Terminal Avenue
Vancouver, British Columbia, V6A 3W9

---

Lesson Centre: Phone or Text (604) 682-5215
Store Phone: (604) 734-4886
Fax: (604) 736-4321

Lesson Centre Email: vancouverlessons@long-mcquade.com
Store Email: vancouver@long-mcquade.com

Lesson Centre Hours
Monday: 1:00pm - 9:00pm
Tuesday: 1:00pm - 9:00pm
Wednesday: 1:00pm - 9:00pm
Thursday: 1:00pm - 9:00pm
Friday: 1:00pm - 9:00pm
Saturday: 10:00am - 6:00pm
Sundays: 12:00pm - 5:00pm
**Extended lesson hours on Sundays from 10-6pm beginning March 1st, 2020**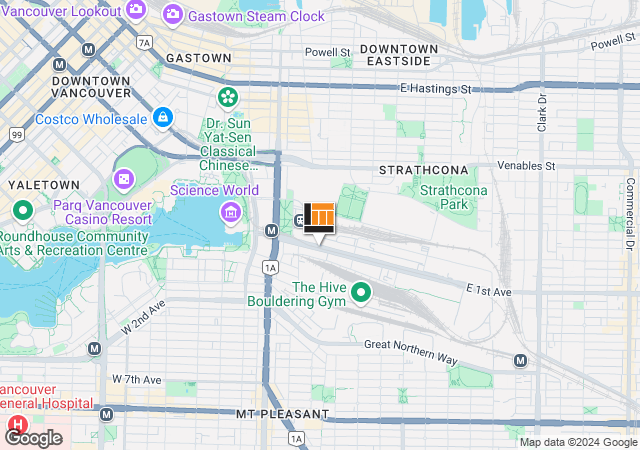 This Location Offers:
Private Lessons
Group Lessons
For dates and information on group classes, please contact the lesson centre directly.
Rock skool
Group theory
Just sing with tresor
Young music explorers (orff)
Chamber music
Group drum class
Flute ensemble
Our Guitar Teachers:
show all
Aaron Grant
(Guitar, Bass, Pop Piano, Ukulele, Mandolin, Accordion, Ableton)
Aaron has played in several cover bands on guitar, bass, drums, and vocals. He has toured the world with Juno award winner "Lights", and also the Billboard chart-topping group "Neon Trees". Aaron studied Jazz at Vancouver Island University in Nanaimo and his rate is $25 per half hour.
Brian Poulsen
(Guitar)
As well as being a faculty member for the Guitar Workshop Plus program at Quest University and UBC, Brian has been a featured guitar seminar instructor at various North American Universities, including Loyola Marymount in LA, Concordia University in Texas, and Seattle Pacific University. His rate is $26 per half hour lesson.

Caralyn Taylor
(Voice, Guitar, Piano)
Caralyn Taylor is an experienced performer and dedicated teacher with a passion for music that swings. Graduating with a BMUS in Jazz studies she teaches voice, guitar, piano, theory, songwriting and arranging. Specializing in rock, pop, jazz styles for all ages and levels, Caralyn likes to teach singers how to accompany themselves on piano and/or guitar while they sing. Her rate is $27 per half hour.

Jim McLaren
(Guitar, Bass, Piano)
Jim holds a Ba. of Education from University of Lethbridge with a minor in Music Education. He has been teaching since 2000 and is well versed in bass, jazz, pop piano, songwriting and music theory. Jim also plays keyboards for the Canadian rock band Incura and has toured much of the world. His rate is $26 per half hour.

Jovana Golubovic
(Guitar, Piano, Voice)
Jovana has a diploma in Guitar and Composition from VCC, and has attended Somatic Voice Work Level one. She has been an active studio musician and songwriter for over a decade. Jovana enjoys working with beginners, and is also fluent in Serbo-Croatian and conversational French. Her rate is $25 per half hour.

Michael Ferraro
(Guitar)
Michael Ferraro has studied at Musicians Institute in Los Angeles and has more than 6 years teaching experience. He is well versed in Rock, Pop, Jazz, and folk style guitar and is comfortable teaching students of all ages and experience levels. Mike has developed his own musical career with his band, Candelora. He has released two albums that he showcased and toured across North America. His rate is $25 per half hour.

Parker Woods
(Guitar, Bass, Ukulele)
Parker Woods is an innovative composer and guitarist within Vancouver's Jazz and Creative music scenes. He holds an undergraduate degree in Jazz Studies from Capilano University and 7 years of professional experience teaching and performing in a wide variety of genres. As an educator, Parker encourages his students to grow not only as guitarists but as musicians by developing improvisational and composition skills as well. His rate is $25 per half hour.

Ruel Morales
(Guitar)
Ruel Morales is an active performer, session player and educator with over 15 years of professional experience. He holds a B.Mus. from UBC, majoring in Classical Guitar Performance. While classically trained in guitar and piano, Ruel is also fluent in blues, jazz, rock, pop, fingerstyle, folk, composition & theory. Ruel performs as a solo 7-string fingerstyle/loop artist, as part of several wedding ensembles and with a rock band. As a dedicated teacher, he has supported several students to achieve gold medal awards from the RCM. Ruel supports his students to achieve their goals through personalized lessons and inspires them to explore a wide spectrum of guitar styles to find their playing niche. His rate is $26 per half hour.

Sebastian Chamney
(Guitar, Bass, Ukulele)
Sebastian is a professional guitar player and teacher who has recently graduated with a Bachelors degree in Jazz and Contemporary Guitar from VCC. Sebastian is well versed in rock, blues, metal, funk, pop, and jazz and is capable of performing and teaching within all of these genres. His rate is $25 per half hour.
Troy Zackowski
(Guitar, Bass)
Troy is a certified recording engineer and completed a Berklee transfer diploma in Music Production and Composition. He also has a diploma in Advanced Music Production from NIMBUS. Strong in rock styling as well as blues, Troy has also done partial RCM theory training. His rate is $25 per half hour.

Wayne Holden
(Guitar, Bass)
Wayne is well versed in styles such as rock, pop, blues, heavy metal, and shredding. Experienced as a touring musician and composer, he specializes in technique, songwriting, and strongly believes in catering his lessons to suit how students of all levels learn. His rate is $25 per half hour.