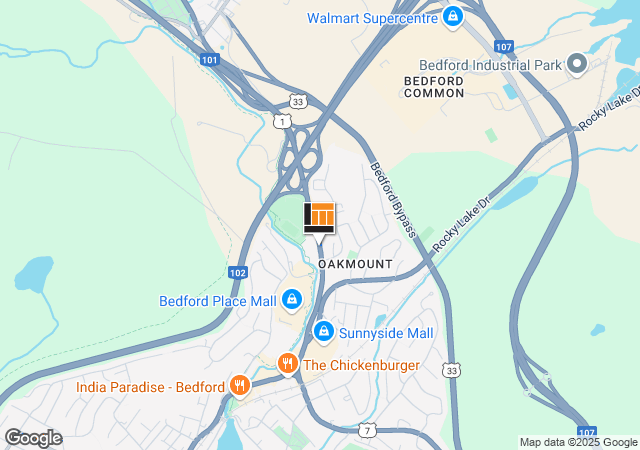 This Location Offers:
Private Lessons
The largest Music Lesson Centre in Nova Scotia is located at 1717 Bedford Highway. There are currently 20 teaching studios with plenty of parking available on site. Our facility includes space for recitals and group classes (such as ukulele sessions, vocal camps, band jams, and lots more). Committed to excellence in music instruction, the L&M Bedford location has over 35 of the best qualified music teachers in the business. Our instructors are active in the local music scene and/or have degrees from reputable post-secondary institutions. Private or semi-private music lessons of 30, 45, or 60 minutes are offered here at affordable rates, and there's no registration fee. Instruction is available on all popular musical instruments ~ including piano, guitar/bass, voice, drums, violin/fiddle, cello, brass, and woodwinds ~ as well as on recorder, mandolin, banjo, lap-steel guitar, ukulele and oud. Also offered are lessons in theory, songwriting/composition, and looping. Any age, any stage, whatever one's musical goal, we have a suitable instructor who will be happy to assist either the student wanting to learn music simply for the sheer enjoyment of playing an instrument or one preparing for RCM examinations. If you're looking for music education in a fun, supportive environment, phone 902-496-6986. Whether you're registering for lessons or looking for more information on our programs, Matt and Joanne look forward to your call.
Group Lessons
Adult ukulele class
All ages choir
Rock bands
Our Teachers:
show all

Aaron Churchill
(Drums)
Aaron is a professional drummer specializing in blues and rock styles. Passionate about the value of music and a drummer's role within the musical experience, he passes that enthusiasm along to others. In his lessons, Aaron teaches the importance of listening and focusing while learning, practicing, rehearsing, and performing. His curriculum has been developed from a wide variety of influences and resources, and he welcomes students of all ages. Aaron's rate for a 30-minute private lesson is $24.

Allie Bennett
(Fiddle, Beginner Violin and Acoustic Guitar)
Allie has been in the Canadian Music Industry since 1975. He has toured Canada, the U.S., Sweden, Australia, Germany, Austria, and Switzerland and has played on over 150 album projects as a studio bass player. His name appears on over 1,000,000 units sold in Canada. Allie has worked with John Allan Cameron, Rita MacNeil, Stan Rogers, Murray McLauchlan, The Rankin Family, The Barra MacNeils, Jimmy Rankin, Raylene Rankin, Mary Jane Lamond, Natalie MacMaster, Ron Hynes, Bruce Guthro, Dave Gunning, Howie MacDonald, Ashley MacIsaac, and many more. He was Musical Director for the 1995 East Coast Music Awards and also Band Leader for the 1997 and 1998 editions of The Cape Breton Summertime Review. In 2003 he was Musical Director of The Rise and Follies of Cape Breton - The Second Coming. Allie released a fiddle album in 2004, his first solo project aptly titled It's About Time; and in 2005 he was presented with the East Coast Music Association's Musicians Achievement Award. In 2013 he released his second CD, Full Circle, which received nominations for both Music Nova Scotia and East Cost Music Awards. He has also been nominated twice for Music Nova Scotia Educator of the Year. Allie has been teaching music since 1992, and his rate for a 30-minute private lesson is $25.

Amy Burdock
(Voice, Piano, Guitar, Ukulele)
has a Bachelor of Music Therapy from Acadia University (2015) with honors, and a concentration in classical piano studies with Professor John Hansen. During her time at Acadia, Amy was also trained in guitar, and voice. She also has performed both as a soloist and with the Acadia Vocal Ensemble and Chorus. Amy is also experienced in improvisation and collaboration, and is an active accompanist for the Kiwanis Music Festival. Amy has several years of experience working with children. She will tailor the lessons to suit her student's goals, whether it be to further develop skills in reading music, ear training, technique, theory, or performance, etc. Amy also provides preparation for Royal Conservatory of Music exams, Kiwanis Music Festival, and recitals. Amy's rate for a half hour private lesson is $24

Amy Ewer
(Piano)
Amy has a Bachelors of Music from Dalhousie University with a major in piano. She has played Bach, Beethoven, Chopin, Prokofiev, etc., in recitals at Dalhousie and other venues. Amy has been teaching music since 2009 and has years of experience working with children. Her rate for a 30-minute private lesson is $24.

Andrew Miller
(Drums)
Andrew is a graduate of The University of Toronto's Jazz Program and a well-known member in Toronto's creative music scene. He enjoys working with musicians across many genres, as well as dancers, and teaching those of all abilities. A busy studio musician, he has recorded with David Liedman, Norma Winstone, Andrew Downing, Jim Lewis, Justin Haynes, Collective Order, and his own projects. He has toured across Canada, in the U.S., and as far as China. Andrew has studied with Nick Fraser, Dan Weiss, John Riley, Jerry Granelli, and Terry Clark. His rate for a 30-minute private lesson is $25.

Anthony Rissesco
(Violin, Fiddle, Viola)
Anthony is a versatile violin player and teacher who has toured with award-winning singer-songwriter Lennie Gallant and with roots-rock band Pogey. As a member of the neo-traditional trio Papilio, Anthony garnered ECMA and Nova Scotia Music Awards nominations. He is also a member of the popular Halifax band The Gig Dogs and has played with Symphony Nova Scotia, Anne Murray, and Peggy Seeger. As a music student at Dalhousie University, Anthony studied classical violin under Phillippe Djokic. He has won fiddle competitions throughout Canada, including the Maritime Fiddle Championship. In 1990 Anthony came third in the Canadian Open in Ontario, and he was chosen to represent Nova Scotia at the Grand Masters Competition in Ottawa for six consecutive years. He has been an adjudicator at the Kiwanis Festival and has been teaching since 1989. Anthony's rate for a 30-minute private lesson is $24.

Caroline Whalen
(Voice, Piano)
Caroline has been teaching since 2009. She holds a Master of Music in Performance and Pedagogy from Memorial University and has also trained at the Vancouver International Song Institute. Caroline spent two seasons touring with Opera Roadshow, a group that brings children's operas and workshops to schools throughout Newfoundland and Labrador. She has performed lead roles in both opera and musical theatre but is equally at home in a variety of other styles. Caroline's rate for a 30-minute private lesson is $24.

Charles Myra
(Piano)
Charles was the Winner of the 2007 Kiwanis Festival Rose Bowl, Charles studied piano at Dalhousie University with Tietje Zonneveld and Peter Allen. He has been teaching classical piano since 2006, and his rate for a 30-minute private lesson is $24.

Colin Matthews
(Cello)
Colin studied music at Dalhousie and McGill Universities. In his career as chamber musician and orchestral cellist, Colin has played with L'Orchestre Symphonique de Laval, the Thunder Bay Symphony, the Kingston Symphony as acting principal cellist and soloist, at the Ottawa Valley Chamber Music Festival and 'New Music in New Places', and as guest performer for the Scotia Festival of Music. Colin has recorded for film scores, CBC radio broadcasts, and two CDs produced by New Music North and Gatto Dolce. He was cellist for the critically-acclaimed stage production The Satchmo Suite and is cellist for the duo Gatto Dolce. Colin's rate for a 30-minute private lesson is $24.

Daniel MacNeil
(Guitar, Piano, Violin, Oud and percussion (composer, recording artist, and instructor))
Daniel teaches a wide range of genres including flamenco, classical, folk, pop, fingerstyle, blues, jazz, rock, and many genres of "world music". As well as being a faculty member of Dalhouse University, he is the principal guitarist of professional, local flamenco ensembles and has worked with Symphony Nova Scotia and both the Victoria and Edmonton Symphony Orchestras as a performer and composer. Daniel graduated with a B.Music from Acadia University and has trained at world-renowned schools in India and Madrid, Spain. His website is http://www.danielmacneil.ca, and his rate for a 30-minute private lesson is $25

Dorian Baker
(Clarinet and Saxophone)
Dorian completed his Undergraduate Degree in Music from Mount Allison University, while simultaneously studying Clarinet Performance at The Boston Conservatory. During his undergrad, Dorian held principal positions in the Mount Allison University Chamber Orchestra, the Boston Conservatory Orchestra, and the Boston Conservatory Wind Ensemble. After completing his undergrad, Dorian moved to Toronto where he completed a Masters Degree in Clarinet Performance from the University of Toronto. Dorian maintained a position as principal clarinet with the University of Toronto Symphony Orchestra, and was also an active chamber musician, performing all of the Brahms, Mozart, and Beethoven masterworks for clarinet. Dorian has taken masterclasses in North America and throughout Europe with world-renowned artists such as Anthony McGill of the New York Philharmonic and Walter Seyfarth of the Berlin Philharmonic. Dorian has also worked as a recording artist and has recorded for Eight Note Publications and for the Screen Composers Guild of Canada. His rate for a 30-minute private lesson is $25.

Doug Cameron
(Drums, Guitar and Ukulele)
Doug has a Bachelor of Arts with a major in Music from St. Francis Xavier University. He has been playing in various groups in Halifax for many years, has toured the continent with Aide de Camp, and currently plays in the ECMA nominated band Doctor Dfunkt. Doug teaches rock, jazz, and other styles of drumming, and his rate for a 30-minute private lesson is $25.

Greg Myra
()
Halifax pianist Gregory Myra received his Bachelor of Music in Piano Performance in 2009 from Dalhousie University. Upon graduation he accompanied the students of Professor Lucy Hayes-Davis at Dalhousie for two years. In 2011 he began studies at the University of Manitoba under Dr. Laura Loewen and graduated in 2013 with a Master of Music in Collaborative Piano. He has been a staff pianist at Dalhousie since 2014. He has played for the Halifax Summer Opera Festival for many years and has also performed with Opera Nova Scotia and the Dalhousie Chamber Series. He has over a decade of teaching experience and is thrilled to be working with Long & McQuade. He teaches all levels and ages. Greg's teaching rate for a 30-minute private lesson is $24.

Janessa Stang
(Piano and Theory)
Janessa has been teaching private lessons since 2005. She graduated from Dalhousie University with a Bachelor of Music in Piano Performance in 2015 and holds a diploma as an Associate of the Royal Conservatory of Toronto in Piano Performance. She was a winner of the Dalhousie Symphony Orchestra Concerto Night competition in 2014 and 2015. Although Janessa's formal education is classical, she is also very influenced by folk, rock, pop, and jazz. Her rate for a 30-minute private lesson is $25.

Jody Lyne
(Brass, Keyboard, Songwriting and Improvisation)
Jody has a Bachelor in Music with a major in composition from Dalhousie University. He has played trumpet with Symphony Nova Scotia, with The Guthries, the backup band for The Platters, and many others. Currently he plays with The Mellotones, Afromusica, Nugroove, Madison Avenue, and Rusta Gumbo. He taught brass classes in the Halifax school system and has been teaching privately for 12 years. Jody's rate for a 30-minute private lesson is $25.

Karlene Francis
(Piano, Voice)
Karlene studied piano at the Maritime Conservatory, completing RCM Grade 8 with honours by age 16 followed by two additional years of study. Karlene has advanced classical cello and vocal training (Western University and privately), and she was a Music Itinerant Specialist with the Toronto District School Board where she taught classroom music to children using Orff pedagogy. She has performed in ensembles, including orchestra, and continues to perform on a variety of projects as a vocalist and instrumentalist. Karlene taught piano from her private studio and recently obtained training and certification (Acadia) as a music therapist. She has directed vocal and instrumental groups and successfully prepared students for RCM exams and Kiwanis Festivals. With over 10 years of experience teaching adults and children, Karlene is happy to instruct in classical and/or contemporary genres. Her rate for a 30-minute private lesson is $24.

Kathryn Wagner
(Piano)
Kathryn graduated from Dalhousie University with a Bachelor of Music in Piano Performance. While there, she studied with Tietje Zonneveld and Lynn Stodola. Kathryn's collaborative experiences include: accompanying the St. John's Lutheran Mother Daughter Choir, performing Beethoven's Choral Fantasy with the Dalhousie Chorus and Symphony Orchestra, twice participating as a Young Artist at the Scotia Festival of Music, performing as a soloist in Dalhousie's Concerto Night, and accompanying Halifax-based "Spira" of Choirs for Change. As winner of the 2016 Nova Scotia Registered Music Teachers' Association Scholarship Competition, Kathryn performed a concert series throughout the province in 2017 and subsequently represented Nova Scotia in the Canadian Federation of Music Teachers' Association's National Piano Competition. Kathryn won the Nova Scotia Youth Orchestra Concerto Competition in 2018 and performed with the NSYO that fall. Her rate for a 30-minute private lesson is $24.

Kayley Wartman
(Voice, Piano, French Horn, Brass)
Kayley holds a Bachelor of Arts in Music and Secondary Education as well as a Bachelor of Education degree. As a singer, hornist, and pianist, she grew up performing in the Dartmouth All City Music program's bands and choirs, later progressing to provincial level ensembles in addition to extensive solo training and performance. She believes in helping every student find a passion for music and engages students using their own interests. In 2018, she won an exceptional student talent grant to travel to the Kodaly Institute in Hungary, where she was trained in the Kodaly method for music education. This training, along with her public school teaching experience, allows her to create an inclusive and engaging environment for students of all ages and abilities to grow as musicians. Kayley's rate for a 30-minute private lesson is $24.

Kimberley North
(Flute and Recorder)
Kimberley completed her Bachelor of Music degree in Flute Performance from Dalhousie University in 2009. She performs professionally in a variety of chamber ensembles, most notably as one half of Duo Tranquillo. Kimberley's love of music and her desire to help others led her to become a Music Therapist, completing her degree at Acadia University and at the Robert F. Unkefer Academy for Neurologic Music Therapy. This training gives her a unique ability to reach students of all strengths, offering an adaptive lesson structure individually designed for each student. Kimberley loves working with children and strives to make learning music a fun and memorable experience. Her rate for a 30-minute private lesson is $24.

Lisa MacDougall
(Piano and Voice)
Lisa has played piano since age three. For over 25 years, she has been a touring and recording artist, musician, musical theatre director, and piano/vocal instructor. Lisa was, for twelve years, Rita MacNeil's pianist, background vocalist, and music director/band leader. She has toured with Roger Whittaker, jazz vocalist Molly Johnson, and singer/songwriter Laura Smith. In 1999 Lisa released a solo album,Turnaround, which earned two East Coast Music Award nominations. Another solo recording is due out in 2017. For five seasons, she was music director for the award-winning Anne & Gilbert on Prince Edward Island. At Halifax's Neptune Theatre, Lisa musically directed ten productions, including Cats, The Sound of Music, and Chicago. She also musically directed, sang and played in the travelling theatre production Drum, featuring four Atlantic Canadian cultures. Although music has taken Lisa around the world, she continues to make Halifax her home. Lisa's rate for a 30-minute private lesson is $24.

Lucas Nascimento
(Voice)
Lucas, a Brazilian tenor, began his musical education at the Federal University of Paraná as a guitarist, surrounded by popular and traditional South American culture. Having experienced several levels of production on stage and camera (cast and crew), he worked as a musician and actor in Musical theatre and opera and developed soundtracks in collaborative environments for circus shows and independent artists. Lucas has a Bachelor of Music with a focus in performance from Dalhousie University. His performances include the title role in The Magic Flute (Dal Opera), guest appearances with Michael Kaeshammer, and in the cross-Canada streaming concert series Mysterious Barricades. Lucas has experience in popular genres and interdisciplinary performance environments and enjoys helping students discover how their innate musical instrument works. His rate for a 30-minute private lesson is $24.

Mark O'Leary
(Drums)
Mark has a Bachelor of Music in Jazz Studies from St. Francis Xavier University and a Bachelor of Music in Education from Memorial University. He has been performing since 1993, and has played at the ECMAs, on Breakfast Television, and in most of the clubs in Halifax. Mark likes jazz, rock, and other popular styles and has been teaching at the Lesson Centre since 2006. His rate for a 30-minute private lesson is $25.

Matt Myer
(Brass, Keyboard, Piano, Composition and Improvisation)
Matt studied music at McGill University and Humber College and has been playing jazz, rock, reggae, blues, and classical music in Halifax since 1997. He has played with the Johnny Favourite Swing Orchestra and Gypsophilia and won a Juno award and multiple ECMAs. He has been teaching students since 2004, and his rate for a 30-minute private lesson is $24.

Mike Farrington
(Bass, Guitar)
Mike studied at the Canadian Conservatory of Music and passed the highest level exams. He has played with Matt Mays, Charlie A'Court, Nathan Wylie, Jill Barber, David Miles, and Dutch Mason. Currently he plays with The Mellotones and Juno award winner Garrett Mason. Mike has been teaching music since 2002. His rate for a 30-minute private lesson is $23.
Mike Miller
(Guitar and Bass)
Mike has a Bachelor of Education degree from Acadia University and has been teaching guitar for the last 12 years. He has played guitar and bass in various bands for the last 17 years and worked as a sound man for other groups. Mike teaches all styles, loves classic rock, has had a very good track record with beginning students, and has conducted Beginning Acoustic, Beginning Electric, kids, teens, and adult guitar classes. His rate for a 30-minute private lesson is $26.

Natasha Sider
(Voice)
Natasha holds a Bachelor of Music (in vocal performance) from Dalhousie University. She sang opera at Dal, is the soprano soloist at First Baptist Church, and has put out a contemporary CD called Johari Window. Natasha is comfortable with classical, musical theatre, pop and rock styles, and has been teaching music since 1995. Her rate for a 30-minute private lesson is $24.

Nicholas MacLean
(Guitar, Lap steel and Beginner Bass)
Nicholas received a Bachelor of Arts in Music (Jazz Studies, First Class Honours) from St. Francis Xavier University. He has studied privately with internationally renowned jazz musicians Howard Alden, Oz Noy, Wayne Krantz, Jerry Granelli and Ari Hoenig. Nicholas is active in the local music scene, currently playing with Juno-nominee Kim Barlow, ECMA-nominee Alana Yorke, award-winning songwriter Carmel Mikol and fellow L&M teacher Daniel MacNeil. He tours across Canada and internationally with singer/songwriter Gabrielle Papillon. Nicholas teaches rock, jazz, blues, country, R&B, folk, pop and heavy metal to students of all ages. His rate for a 30-minute private lesson is $25.

Nicole Anaka
(Voice)
Nicole has a Bachelors of Music from Mount Allison University and a Masters in Musicology from the University of Victoria. She has trained in Dalcroze Eurythmics at the Longy School of Music in Cambridge, Mass., and has her Grade 8 piano from the Royal Conservatory of Music. She enjoys teaching students of all ages and abilities, and teaches a wide variety of styles, including classical, musical theatre, rock, and pop. Her rate for a 30-minute private lesson is $25.

Pat Riley
(Guitar, Bass and Song Writing)
Father of five musicians, Pat has a Certificate in arranging and composition from the Berklee College of Music, has gigged with many of the top names in the musical universe, and is mentor to some of the best musicians in Atlantic Canada. He was the main host of the CBC Rock Camp series and currently sings, writes, produces, and is a top session player. Pat is one of the founders and currently the director of Summer Rock Camp, has been teaching award and scholarship winning students since 1991, and is a Primary Instrument Instructor at the NSCC Music program. His rate for a 30-minute private lesson is $26

Paul Baker
(Guitar)
Paul Baker is a guitarist, composer and educator who attended St. Francis Xavier University before graduating from the Jazz Studies program at Concordia University; now based in Halifax his influences range from bebop to funk to classic rock. During his time in school, Paul studied with acclaimed guitarists such as Mike Moreno and Lorne Lofsky. Paul's rate for a 30-minute private lesson is $23

Peter Davison
(Guitar, Bass, Ukulele, Harmonica, Mandolin, Looping and Songwriting)
Peter has a Bachelor of Arts with Music from St. Francis Xavier. For five years he was a solo and ensemble guitarist on Norwegian and Princess Cruise lines playing everything from rock 'n roll through jazz, country, R&B, various finger styles, and classical music. Pete has played drums, bass, and guitar in a variety of local bands and won the 2010 Canadian Boss Loop Station championship (check out the Duke of Loops online). He has been teaching music since 1996, and his rate for a 30-minute private lesson is $24.
Rheo Rochon
(Bass and Guitar)
Rheo studied music at Humber College in Toronto and has been playing professionally since 2007. He has recorded and toured internationally with artists such as Keith Hallett, Garrett Mason, Cyndi Cain, and The Chronos Band (bandleader, bassist, and principle composer). Rheo has been teaching students of all ages since 2004. His rate for a 30-minute private lesson is $24.

Scott Harnish
(Guitar, Bass and Songwriting)
Scott studied at the Harris Institute in Toronto (Music Production). He has been playing and writing music for over 30 years and is fluent in all styles of popular music. Scott is in demand as an active member of the local Halifax music scene as both performer and sound engineer. As an experienced songwriter, recording artist, and producer, he also offers coaching to students looking to improve their songwriting and music production skills. Scott charges $24 per 30-minute private lesson.

Skip Holmes
(Guitar, Banjo, Fiddle, Violin and Mandolin)
Skip played in rock and blues bands before getting into traditional music. He has played with the house band on Up Home Tonight on ATV, The Ladies Choice Bluegrass Band, The Gordon Stobbe Trio, and the Richard Wood Band, and has toured and recorded with these players and many others - such as Graham and Eleanor Townsend, Calvin Vollrath, and Peter Dawson. Skip has transcribed a number of books of fiddle tunes for Mel Bay and has been teaching for over 35 years. His rate for a 30-minute private lesson is $25.

Stephanie Fillman
(Voice, Ukulele)
is a lyric soprano and graduate of Dalhousie University's faculty of music. A musical theatre fanatic, she performed yearly in lead and ensemble roles from age five. During her time at Dalhousie, Stephanie sang and performed in a variety of settings, including operas and studio and individual recitals. After completing her Bachelor of Education at the University of New Brunswick, she taught music for three years in England and Qatar. During that time, she had many artistic opportunities, including musically directing Qatar's national theatre group and performing a concert at Carnegie Hall with Doha Singers. Stephanie's interests and experiences span various areas of music, and, since the age of 16, she has been developing her private teaching technique. Her rate for a 30-minute private lesson is $24.

Trevor Wentzell
(Woodwinds, Saxophone, Flute, Clarinet, Piano, Organ, Composition)
Trevor is a multi-instrumentalist and composer, he holds a Bachelor of Music Degree from St. FX University with a Major in Jazz Studies. Playing and studying music from the age of five, Trevor is no stranger to the local music and education scene and is a first call sideman performing and recording on saxophone, flute, piano and organ. He is a member of the Back Alley Big Band, The Chronos Band and Scott and The Rocks. Trevor has opened for such musical greats as Charles Bradley, John Scofield and Sharon Jones and the dap-kings at the TD Halifax Jazz Festival. Trevor enjoys teaching saxophone, flute, clarinet, piano, music Theory and improvisation. Trevor's rate for a 30-minute private music lesson is $24.