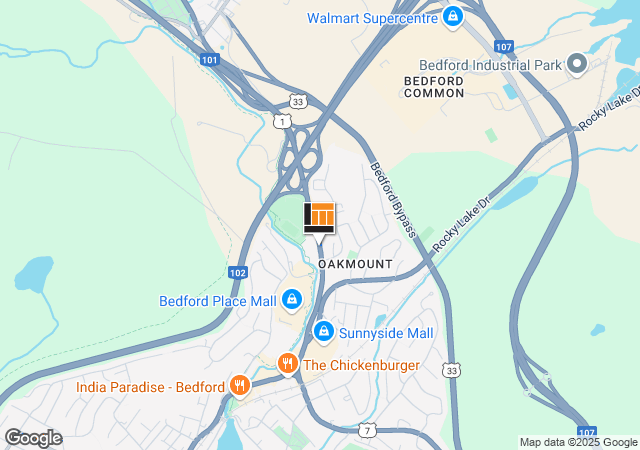 This Location Offers:
Private Lessons
The largest Music Lesson Centre in Nova Scotia is located at 1717 Bedford Highway. There are currently 20 teaching studios with plenty of parking available on site. Our facility includes space for recitals and group classes (such as ukulele sessions, vocal camps, band jams, and lots more). Committed to excellence in music instruction, the L&M Bedford location has over 35 of the best qualified music teachers in the business. Our instructors are active in the local music scene and/or have degrees from reputable post-secondary institutions. Private or semi-private music lessons of 30, 45, or 60 minutes are offered here at affordable rates, and there's no registration fee. Instruction is available on all popular musical instruments ~ including piano, guitar/bass, voice, drums, violin/fiddle, cello, brass, and woodwinds ~ as well as on recorder, mandolin, banjo, lap-steel guitar, ukulele and oud. Also offered are lessons in theory, songwriting/composition, and looping. Any age, any stage, whatever one's musical goal, we have a suitable instructor who will be happy to assist either the student wanting to learn music simply for the sheer enjoyment of playing an instrument or one preparing for RCM examinations. If you're looking for music education in a fun, supportive environment, phone 902-496-6986. Whether you're registering for lessons or looking for more information on our programs, Matt and Joanne look forward to your call.
Group Lessons
Adult ukulele class
All ages choir
Rock bands
Our Guitar Teachers:
show all

Allie Bennett
(Fiddle, Beginner Violin and Acoustic Guitar)
Allie has been in the Canadian Music Industry since 1975. He has toured Canada, the U.S., Sweden, Australia, Germany, Austria, and Switzerland and has played on over 150 album projects as a studio bass player. His name appears on over 1,000,000 units sold in Canada. Allie has worked with John Allan Cameron, Rita MacNeil, Stan Rogers, Murray McLauchlan, The Rankin Family, The Barra MacNeils, Jimmy Rankin, Raylene Rankin, Mary Jane Lamond, Natalie MacMaster, Ron Hynes, Bruce Guthro, Dave Gunning, Howie MacDonald, Ashley MacIsaac, and many more. He was Musical Director for the 1995 East Coast Music Awards and also Band Leader for the 1997 and 1998 editions of The Cape Breton Summertime Review. In 2003 he was Musical Director of The Rise and Follies of Cape Breton - The Second Coming. Allie released a fiddle album in 2004, his first solo project aptly titled It's About Time; and in 2005 he was presented with the East Coast Music Association's Musicians Achievement Award. In 2013 he released his second CD, Full Circle, which received nominations for both Music Nova Scotia and East Cost Music Awards. He has also been nominated twice for Music Nova Scotia Educator of the Year. Allie has been teaching music since 1992, and his rate for a 30-minute private lesson is $25.

Amy Burdock
(Voice, Piano, Guitar, Ukulele)
has a Bachelor of Music Therapy from Acadia University (2015) with honors, and a concentration in classical piano studies with Professor John Hansen. During her time at Acadia, Amy was also trained in guitar, and voice. She also has performed both as a soloist and with the Acadia Vocal Ensemble and Chorus. Amy is also experienced in improvisation and collaboration, and is an active accompanist for the Kiwanis Music Festival. Amy has several years of experience working with children. She will tailor the lessons to suit her student's goals, whether it be to further develop skills in reading music, ear training, technique, theory, or performance, etc. Amy also provides preparation for Royal Conservatory of Music exams, Kiwanis Music Festival, and recitals. Amy's rate for a half hour private lesson is $24

Daniel MacNeil
(Guitar, Piano, Violin, Oud and percussion (composer, recording artist, and instructor))
Daniel teaches a wide range of genres including flamenco, classical, folk, pop, fingerstyle, blues, jazz, rock, and many genres of "world music". As well as being a faculty member of Dalhouse University, he is the principal guitarist of professional, local flamenco ensembles and has worked with Symphony Nova Scotia and both the Victoria and Edmonton Symphony Orchestras as a performer and composer. Daniel graduated with a B.Music from Acadia University and has trained at world-renowned schools in India and Madrid, Spain. His website is http://www.danielmacneil.ca, and his rate for a 30-minute private lesson is $25

Doug Cameron
(Drums, Guitar and Ukulele)
Doug has a Bachelor of Arts with a major in Music from St. Francis Xavier University. He has been playing in various groups in Halifax for many years, has toured the continent with Aide de Camp, and currently plays in the ECMA nominated band Doctor Dfunkt. Doug teaches rock, jazz, and other styles of drumming, and his rate for a 30-minute private lesson is $25.

Mike Farrington
(Bass, Guitar)
Mike studied at the Canadian Conservatory of Music and passed the highest level exams. He has played with Matt Mays, Charlie A'Court, Nathan Wylie, Jill Barber, David Miles, and Dutch Mason. Currently he plays with The Mellotones and Juno award winner Garrett Mason. Mike has been teaching music since 2002. His rate for a 30-minute private lesson is $23.
Mike Miller
(Guitar and Bass)
Mike has a Bachelor of Education degree from Acadia University and has been teaching guitar for the last 12 years. He has played guitar and bass in various bands for the last 17 years and worked as a sound man for other groups. Mike teaches all styles, loves classic rock, has had a very good track record with beginning students, and has conducted Beginning Acoustic, Beginning Electric, kids, teens, and adult guitar classes. His rate for a 30-minute private lesson is $26.

Nicholas MacLean
(Guitar, Lap steel and Beginner Bass)
Nicholas received a Bachelor of Arts in Music (Jazz Studies, First Class Honours) from St. Francis Xavier University. He has studied privately with internationally renowned jazz musicians Howard Alden, Oz Noy, Wayne Krantz, Jerry Granelli and Ari Hoenig. Nicholas is active in the local music scene, currently playing with Juno-nominee Kim Barlow, ECMA-nominee Alana Yorke, award-winning songwriter Carmel Mikol and fellow L&M teacher Daniel MacNeil. He tours across Canada and internationally with singer/songwriter Gabrielle Papillon. Nicholas teaches rock, jazz, blues, country, R&B, folk, pop and heavy metal to students of all ages. His rate for a 30-minute private lesson is $25.

Pat Riley
(Guitar, Bass and Song Writing)
Father of five musicians, Pat has a Certificate in arranging and composition from the Berklee College of Music, has gigged with many of the top names in the musical universe, and is mentor to some of the best musicians in Atlantic Canada. He was the main host of the CBC Rock Camp series and currently sings, writes, produces, and is a top session player. Pat is one of the founders and currently the director of Summer Rock Camp, has been teaching award and scholarship winning students since 1991, and is a Primary Instrument Instructor at the NSCC Music program. His rate for a 30-minute private lesson is $26

Paul Baker
(Guitar)
Paul Baker is a guitarist, composer and educator who attended St. Francis Xavier University before graduating from the Jazz Studies program at Concordia University; now based in Halifax his influences range from bebop to funk to classic rock. During his time in school, Paul studied with acclaimed guitarists such as Mike Moreno and Lorne Lofsky. Paul's rate for a 30-minute private lesson is $23

Peter Davison
(Guitar, Bass, Ukulele, Harmonica, Mandolin, Looping and Songwriting)
Peter has a Bachelor of Arts with Music from St. Francis Xavier. For five years he was a solo and ensemble guitarist on Norwegian and Princess Cruise lines playing everything from rock 'n roll through jazz, country, R&B, various finger styles, and classical music. Pete has played drums, bass, and guitar in a variety of local bands and won the 2010 Canadian Boss Loop Station championship (check out the Duke of Loops online). He has been teaching music since 1996, and his rate for a 30-minute private lesson is $24.
Rheo Rochon
(Bass and Guitar)
Rheo studied music at Humber College in Toronto and has been playing professionally since 2007. He has recorded and toured internationally with artists such as Keith Hallett, Garrett Mason, Cyndi Cain, and The Chronos Band (bandleader, bassist, and principle composer). Rheo has been teaching students of all ages since 2004. His rate for a 30-minute private lesson is $24.

Scott Harnish
(Guitar, Bass and Songwriting)
Scott studied at the Harris Institute in Toronto (Music Production). He has been playing and writing music for over 30 years and is fluent in all styles of popular music. Scott is in demand as an active member of the local Halifax music scene as both performer and sound engineer. As an experienced songwriter, recording artist, and producer, he also offers coaching to students looking to improve their songwriting and music production skills. Scott charges $24 per 30-minute private lesson.

Skip Holmes
(Guitar, Banjo, Fiddle, Violin and Mandolin)
Skip played in rock and blues bands before getting into traditional music. He has played with the house band on Up Home Tonight on ATV, The Ladies Choice Bluegrass Band, The Gordon Stobbe Trio, and the Richard Wood Band, and has toured and recorded with these players and many others - such as Graham and Eleanor Townsend, Calvin Vollrath, and Peter Dawson. Skip has transcribed a number of books of fiddle tunes for Mel Bay and has been teaching for over 35 years. His rate for a 30-minute private lesson is $25.