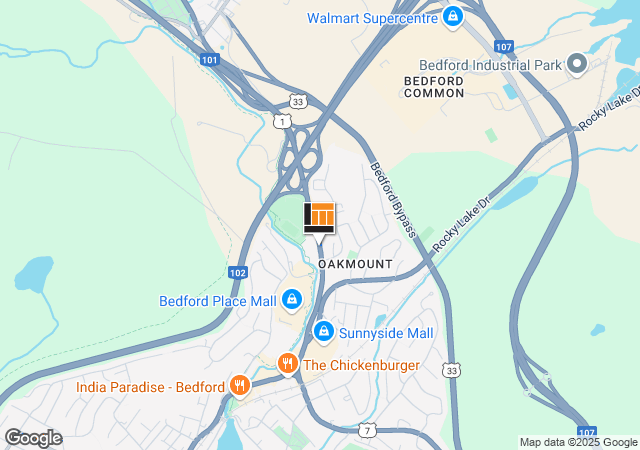 This Location Offers:
Private Lessons
The largest Music Lesson Centre in Nova Scotia is located at 1717 Bedford Highway. There are currently 20 teaching studios with plenty of parking available on site. Our facility includes space for recitals and group classes (such as ukulele sessions, vocal camps, band jams, and lots more). Committed to excellence in music instruction, the L&M Bedford location has over 35 of the best qualified music teachers in the business. Our instructors are active in the local music scene and/or have degrees from reputable post-secondary institutions. Private or semi-private music lessons of 30, 45, or 60 minutes are offered here at affordable rates, and there's no registration fee. Instruction is available on all popular musical instruments ~ including piano, guitar/bass, voice, drums, violin/fiddle, cello, brass, and woodwinds ~ as well as on recorder, mandolin, banjo, lap-steel guitar, ukulele and oud. Also offered are lessons in theory, songwriting/composition, and looping. Any age, any stage, whatever one's musical goal, we have a suitable instructor who will be happy to assist either the student wanting to learn music simply for the sheer enjoyment of playing an instrument or one preparing for RCM examinations. If you're looking for music education in a fun, supportive environment, phone 902-496-6986. Whether you're registering for lessons or looking for more information on our programs, Matt and Joanne look forward to your call.
Group Lessons
Adult ukulele class
All ages choir
Rock bands
Our Voice Teachers:
show all

Amy Burdock
(Voice, Piano, Guitar, Ukulele)
has a Bachelor of Music Therapy from Acadia University (2015) with honors, and a concentration in classical piano studies with Professor John Hansen. During her time at Acadia, Amy was also trained in guitar, and voice. She also has performed both as a soloist and with the Acadia Vocal Ensemble and Chorus. Amy is also experienced in improvisation and collaboration, and is an active accompanist for the Kiwanis Music Festival. Amy has several years of experience working with children. She will tailor the lessons to suit her student's goals, whether it be to further develop skills in reading music, ear training, technique, theory, or performance, etc. Amy also provides preparation for Royal Conservatory of Music exams, Kiwanis Music Festival, and recitals. Amy's rate for a half hour private lesson is $24

Caroline Whalen
(Voice, Piano)
Caroline has been teaching since 2009. She holds a Master of Music in Performance and Pedagogy from Memorial University and has also trained at the Vancouver International Song Institute. Caroline spent two seasons touring with Opera Roadshow, a group that brings children's operas and workshops to schools throughout Newfoundland and Labrador. She has performed lead roles in both opera and musical theatre but is equally at home in a variety of other styles. Caroline's rate for a 30-minute private lesson is $24.

Karlene Francis
(Piano, Voice)
Karlene studied piano at the Maritime Conservatory, completing RCM Grade 8 with honours by age 16 followed by two additional years of study. Karlene has advanced classical cello and vocal training (Western University and privately), and she was a Music Itinerant Specialist with the Toronto District School Board where she taught classroom music to children using Orff pedagogy. She has performed in ensembles, including orchestra, and continues to perform on a variety of projects as a vocalist and instrumentalist. Karlene taught piano from her private studio and recently obtained training and certification (Acadia) as a music therapist. She has directed vocal and instrumental groups and successfully prepared students for RCM exams and Kiwanis Festivals. With over 10 years of experience teaching adults and children, Karlene is happy to instruct in classical and/or contemporary genres. Her rate for a 30-minute private lesson is $24.

Kayley Wartman
(Voice, Piano, French Horn, Brass)
Kayley holds a Bachelor of Arts in Music and Secondary Education as well as a Bachelor of Education degree. As a singer, hornist, and pianist, she grew up performing in the Dartmouth All City Music program's bands and choirs, later progressing to provincial level ensembles in addition to extensive solo training and performance. She believes in helping every student find a passion for music and engages students using their own interests. In 2018, she won an exceptional student talent grant to travel to the Kodaly Institute in Hungary, where she was trained in the Kodaly method for music education. This training, along with her public school teaching experience, allows her to create an inclusive and engaging environment for students of all ages and abilities to grow as musicians. Kayley's rate for a 30-minute private lesson is $24.

Lisa MacDougall
(Piano and Voice)
Lisa has played piano since age three. For over 25 years, she has been a touring and recording artist, musician, musical theatre director, and piano/vocal instructor. Lisa was, for twelve years, Rita MacNeil's pianist, background vocalist, and music director/band leader. She has toured with Roger Whittaker, jazz vocalist Molly Johnson, and singer/songwriter Laura Smith. In 1999 Lisa released a solo album,Turnaround, which earned two East Coast Music Award nominations. Another solo recording is due out in 2017. For five seasons, she was music director for the award-winning Anne & Gilbert on Prince Edward Island. At Halifax's Neptune Theatre, Lisa musically directed ten productions, including Cats, The Sound of Music, and Chicago. She also musically directed, sang and played in the travelling theatre production Drum, featuring four Atlantic Canadian cultures. Although music has taken Lisa around the world, she continues to make Halifax her home. Lisa's rate for a 30-minute private lesson is $24.

Lucas Nascimento
(Voice)
Lucas, a Brazilian tenor, began his musical education at the Federal University of Paraná as a guitarist, surrounded by popular and traditional South American culture. Having experienced several levels of production on stage and camera (cast and crew), he worked as a musician and actor in Musical theatre and opera and developed soundtracks in collaborative environments for circus shows and independent artists. Lucas has a Bachelor of Music with a focus in performance from Dalhousie University. His performances include the title role in The Magic Flute (Dal Opera), guest appearances with Michael Kaeshammer, and in the cross-Canada streaming concert series Mysterious Barricades. Lucas has experience in popular genres and interdisciplinary performance environments and enjoys helping students discover how their innate musical instrument works. His rate for a 30-minute private lesson is $24.

Natasha Sider
(Voice)
Natasha holds a Bachelor of Music (in vocal performance) from Dalhousie University. She sang opera at Dal, is the soprano soloist at First Baptist Church, and has put out a contemporary CD called Johari Window. Natasha is comfortable with classical, musical theatre, pop and rock styles, and has been teaching music since 1995. Her rate for a 30-minute private lesson is $24.

Nicole Anaka
(Voice)
Nicole has a Bachelors of Music from Mount Allison University and a Masters in Musicology from the University of Victoria. She has trained in Dalcroze Eurythmics at the Longy School of Music in Cambridge, Mass., and has her Grade 8 piano from the Royal Conservatory of Music. She enjoys teaching students of all ages and abilities, and teaches a wide variety of styles, including classical, musical theatre, rock, and pop. Her rate for a 30-minute private lesson is $25.

Stephanie Fillman
(Voice, Ukulele)
is a lyric soprano and graduate of Dalhousie University's faculty of music. A musical theatre fanatic, she performed yearly in lead and ensemble roles from age five. During her time at Dalhousie, Stephanie sang and performed in a variety of settings, including operas and studio and individual recitals. After completing her Bachelor of Education at the University of New Brunswick, she taught music for three years in England and Qatar. During that time, she had many artistic opportunities, including musically directing Qatar's national theatre group and performing a concert at Carnegie Hall with Doha Singers. Stephanie's interests and experiences span various areas of music, and, since the age of 16, she has been developing her private teaching technique. Her rate for a 30-minute private lesson is $24.