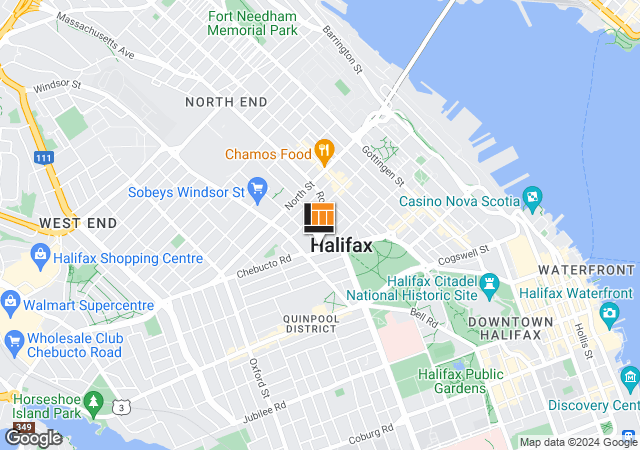 This Location Offers:
Private Lessons
Welcome to the Halifax music lesson centre, located at 6065 Cunard Street. We offer 18 well-equipped studios and a faculty of 25 engaging and dedicated independent music teachers. Our aim is to provide music lessons catered to the needs of each individual student We offer instruction in a wide range of instruments from piano and voice, to strings, percussion, and guitar. Whether you want to join a marching band, or start the prog-rock band of your dreams, call us on (902) 496-6970
Our Teachers:
show all

Al Resk
(Drums)
Al studied at the University of Miami along side world famous Joe Morello and the Paul Robson Toronto Percussion Program. He has played with or toured with legends Dutchy Mason, John Allan, Sam Moon, Mat Minglewood, Bucky Adams, The Werzels, Ice Capades, BB King Band, Eddie Richards Big Band, Johnny Manders Dixie Band, Canada Brass, and John Stockfish with Gordon Lightfoot. He is endorsed by Zildjian Cymbals and a member of the Vic Firth PTA Educational Team. Al founded the NS School Drumline Project and is the host of the NS Student Drum Festival, and is the Director of the semi annual Drum Camps held at Long&McQuade Halifax. He is currently the drummer for Terry Edmunds and travels to schools in Nova Scotia. He teaches private lessons at L&M Halifax branch in all styles electric or acoustic, as well as hand drums. His rate for a 1/2 hour private lesson is $26.00.

Allie Bennett
(Fiddle, Violin)
Allie has been in the Canadian Music Industry since 1975. He has toured Canada, the U.S., Britain, Sweden, Australia, and Germany and has over 125 album credits as a studio musician. In 2003 he was Musical Director of The Rise And Follies Of Cape Breton - The Second Coming. In 2005 he was presented with the East Coast Music Association's Musicians Achievement Award. Nominated for 2 Music Nova Scotia Awards – Educator of the Year and Traditional / Roots Recording of the Year for his CD "Full Circle." Allie has been teaching music since 1992 and his rate for a half hour private lesson is $25.00.

Andrew Jackson
(Brass)
Andrew is an acclaimed Juno-nominated brass player with a Bachelor of Music (Honours) from one of Canada's top jazz and contemporary music schools, Humber College. His versatility and unique sound have made him one of the Maritimes first-call players. Jackson keeps a busy playing schedule with many of the premiere artists in Halifax and has won an ECMA for Jazz Album of the Year, with Jerry Granelli and has recently performed with 2017 Polaris Prize winner Lido Pimienta, as well as performing regularly with Roxy & The Underground Soul Sound, The New Bridge, Chronos, Erin Costelo and many more. His rate for a 30 minute lesson is $23

Ben Ross
(Drums)
Ben studied percussion privately and at Dalhousie University. He has been playing since1993 and has toured and recorded with Joel Plaskett, Matt Mays, Erin Costelo, Amelia Curran and others. Ben has been teaching music since 2006 and his rate for a half hour private lesson is $23.00.

Brad Conrad
(Guitar)
Brad has a music degree from Dalhousie University and has been playing in local and national bands for the last 17 years. He has appeared on stage with a number of acts such as Nathan Wiley, Blue Rodeo, Sam Roberts, Dutch Mason, Matt Mays, and Jill Barber, received a Juno during his tenure with "Johnny Favourite" and currently he plays regularly with "The Mellotones", "The Metric System", "Joe Murphy", "The Hopping Penguins", and hosts a long standing weekly blues jam at Bearly's. He's been teaching for the last 16 years and is a regular coach at Summer Rock. His rate for a 1/2 hour private lesson is $23.00.

Caroline Whalen
(Voice, Piano)
Caroline has been teaching since 2009. She holds a Master of Music in Performance and Pedagogy from Memorial University and has also trained at the Vancouver International Song Institute. Caroline spent two seasons touring with Opera Roadshow, a group that brings children's operas and workshops to schools throughout Newfoundland and Labrador. She has performed lead roles in both opera and musical theatre but is equally at home in a variety of other styles. Caroline's rate for a 30-minute private lesson is $24.

Carolyn Curry
(Voice, Piano)
Carolyn holds an undergraduate Bachelor of Music (Honours) in Jazz Studies from St. Francis Xavier University and a Masters of Music Jazz Performance from the University of North Texas. A singer/song writer, jazz vocalist, and composer. Carolyn is also a member of Unidentified Funk Object (a space-themed Funk Band) and co-leader of Verbe Avoir (a bi-lingual gypsy jazz duo). Her rate for a 30-minute private lesson is $23.00.

Charles Myra
(Piano)
Charles was the winner of the 2007 Kiwanis Festival Rose Bowl, Charles studied piano at Dalhousie University with Tietje Zonneveld and Peter Allen. He's been teaching classical piano since 2006. His rate is $24.00.

Dan Grantham
(Voice, Guitar, Ukulele, Piano)
Dan has a Bachelor of Music in Performance (voice) from Dalhousie University. He has sung with Opera, and Symphony Nova Scotia, and has been an oratorio soloist with various choirs including the Halifax Camerata Singers. His students have been winning awards such as the Kiwanis Rose Bowl for 2 years, and he specializes in preparing students for university music programs. His rate for a 1/2 hour private lesson is $23.00.

Daryl Nichol
(Piano, Accordion, Organ)
Daryl is a pianist from Winnipeg who has earned a Bachelor of Music (Honours) in Jazz Studies from StFX, while studying under Dr. Tony Genge (Victoria) and David Braid (Toronto). Daryl specializes in preparing his students to get high marks in RCM examinations and performance recitals. While he has won many scholarships while earning his Grade 10 Piano, Daryl also has much experience on piano, organ, guitar and accordion in jazz, blues, pop, and folk groups. Daryl has been teaching since 2002 and his rate is $23/half-hour lesson.

Fiona Ryan
(Piano, Composition, Clarinet, Voice)
Fiona has a Doctor of Musical Arts degree in composition from the University of Toronto, a Master of Music from Newcastle University, where she studied composition and improvisation, and a Bachelor of Music from Dalhousie University, specializing in clarinet performance. Fiona also studied piano and voice privately. Fiona has taught music in various settings including private music lessons, workshops, and University music courses. In addition to teaching music, Fiona also works as a music director, performs music in a variety of styles, and is an award-winning composer whose song cycle "Lady of the Lake" was nominated for an ECMA for Classical Composition of the Year in 2018. Her rate is $23.00 per 30 minute lesson.

Jaimee Lee-Baggley
(Voice, Piano)
Jaimee Lee-Baggley has over 10 years work experience in teaching voice and piano. She was trained by distinguished Canadian music teachers; Calgary pianist, Colleen Athparia, instructor of the world famous and prodigal Jan Lisiecki and Kevin Chen and Glen Nowell, voice specialist and former researcher at McMaster University's voice lab. She holds a BFA in Music from Concordia University and 2 teaching certificates from the RCM. Jaimee has sung in choirs and as a soloist since age 8 and has played on over 50 stages across Canada as a vocalist in original music and cover bands. Additionally Jaimee has worked in other entertainment industries including film production and animation soundtracks. Her rate for a 30 minute lesson is $25.00.

Janet Munson
(Violin, Voice, Piano)
Janet formally studied violin and piano in the United Kingdom, and has played and sung in all types of venues around the world. She's worked with a who's who of Canadian performers including Leonard Cohen, Sylvia Tyson and Lennie Gallant, among many others. Janet has been teaching groups and privately for over 25 years. Her rate for a half hour private lesson is $23.00.

Jason Vautour
(Bass, Guitar)
Jason studied music at Saint Francis Xavier University for two years and took private lessons with renowned guitarist Mark Hill. He's played with many groups in many styles including pop with Rebekah Higgs, rock with Great Plains, country with Ryan Cook, and dance/metal with Ruby Jean and the Thoughtful Bees. Jason has been playing and teaching the guitar for 25 years. His rate for a half hour private lesson is $23.00.

Jeffery Mosher
(Saxophone)
Jeffery has a Bachelors of Arts with a major in music [saxophone] from Dalhousie , University. He played with the back up band to the Platters, Dan Aykroyd and the Blues Brothers, and others. Currently he is front man for the Mellotones and the Metric System. He has taught at Summer Rock, and the Acadia Jazz Camp, as well as privately. His rate for a 1/2 hour private lesson is $25.00.

Julie Cuming
(French Horn)
After completing 24 years as a full time military musician (primarily in the Stadacona Band), Julie Cuming went on to complete a Bachelor of Music Performance at Dalhousie University in 2016. As a freelancer, she has performed for decades with many local and international artists such as Il Divo, and appears regularly with Symphony Nova Scotia. Also a clinician, Julie taught horn at the Atlantic Band Festival and coached provincial ensembles including the NS Youth Wind Ensemble and the NS Youth Orchestra. She also served as horn instructor at the Canadian Forces School of Music in Ontario, and is currently serving as a reservist in the 36 Canadian Brigade Group Band. Julie's rate for a 30 minute lesson is $24.00.
Katherine MacGillivray
(Flute)
Katherine MacGillivray studied flute with Virginia Beaton and has done workshops with Chris Norman. She played in the Dalhousie Symphonic Wind Ensemble, Hausmusik Baroque Ensemble, the Mea Culpa Trio, and was active with the Early Music Society. Katherine performs a variety of music from Celtic to Classical, from Klezmer to Jazz and Latin. She has taught creative arts in the school system for the last ten years and flute for the last two years. Her rate is $23.00 per 1/2 hour private lesson.

Lisa MacDougall
(Voice, Piano)
Lisa has been working in the music industry for over 25 years. She has worked with Rita MacNeil, Roger Whittaker, Molly Johnson, and Laura Smith, among others. She acted as Musical Director for Anne & Gilbert at the Guild Theatre on PEI, and for CATS, The Sound Of Music, and Chicago at Neptune Theatre, as well as various other theatre companies. Lisa's rate for a 30 minute lesson is $24.00.

Micaela Comeau
(Voice, Piano, Ukulele)
Micaela Comeau is a singer-songwriter, performing artist and music educator. She accompanied a children's choir 13 years ago and since then has been teaching voice, piano, ukelele, and song-writing. She taught music at Waldorf in Toronto, Booker School in Canning, and runs theatre camps with her original musicals every summer. She just released "Beelonging", her first album, and is busy producing another. Micaela enjoys enabling students to express themselves musically.

Mike Farrington
(Bass, Guitar, Ukulele)
Mike studied bass guitar at the Canadian Conservatory of Music and passed the highest level exams. He has played with Matt Mays, Charlie A'Court, Nathan Wylie, Jill Barber, David Miles, and Dutch Mason. Currently he plays with The Mellotones and Juno award winner, Garrett Mason. Mike has been teaching music since 2002 and his rate for a private half hour lesson is $23.00.

Mike MacNeil
(Guitar, Bass, Mandolin, Ukulele)
Mike studied jazz theory, arranging, and composition with Lloyd Garber in the late 1960's and early 70's. He graduated from Dalhousie University with a Bachelors of Music in 1980. He is an accomplished jazz and classical guitarist who can teach any style requested. As well as guitar mike teaches mandolin, and bass guitar. His rates are $24.00 for a 1/2 hour private lesson.

Natasha Sider
(Voice)
Natasha has a Bachelor of Arts in Music [voice] from Dalhousie University. She has sung opera at Dal, is currently the soprano soloist at First Baptist Church, and has put out a contemporary CD called Johari Window. Natasha is comfortable with classical, musical theatre, pop and rock styles, and has been teaching music since 1995. Her rate for a half hour private lesson is $24.00.
Peter Davison
(Guitar, Bass, Ukulele)
Peter has a Bachelor of Arts with Music from St. Francis Xavier. For five years he was a solo and ensemble guitarist on Norwegian and Princess Cruise lines playing everything from rock 'n roll through jazz, country, R and B, various finger styles, and classical music. He has played drums, bass, and guitar in a variety of local bands and won the 2010 Canadian Boss Loop Station championship [check out the Duke of Loops on line]. Peter has been teaching music since 1996 and his rate for a half hour private lesson is $24.00.

Rachel Webster
(Guitar)
Rachel is a graduate of Wilfrid Laurier University with a Bachelor of Music Therapy. She has a strong musical background, studying clarinet, guitar and piano throughout her education. She has been teaching music lessons for three years. Rachel specializes in working with children and beginner music students, and her rate is $25.00 per 30 minute lesson.
Ria Kim
(Piano)
Ria studied under Oxana Zotova and Lynn Stodola at Dalhousie University, and completed her Master's at Manhattan School of Music, and with Yonghee Moon from the Peabody Conservatory of Johns Hopkins University. During her studies, Kim entered regional and national competitions, and won prizes in the Nova Scotia Kiwanis Music Festival, where she was a Rose Bowl finalist. She performs in Halifax as a chamber musician, has performed with with the Dalhousie Orchestra, and was a featured soloist with NSYO. Kim is an active collaborative pianist, an occasional jazz musician, and a lover of video game music. While attending the Scotia Festival of Music, Kim was awarded the Tritt Scholarship, the Richardson Family Performing Arts Scholarship, and participated in the Young Artists program. Her rate for a 30-minute private lesson is $23.

Rick Martell
(Guitar, Bass, Ukulele)
Rick studied guitar and graduated from the United Conservatory of Music in Calgary. He has toured as a lead guitarist, produced, and written professionally with Sam Moon, The Persuaders, Trooper, David Wilcox, Long John Baldry, Barney Bentall, Nazareth, Kim Mitchell, Frank McKay, Blue Rodeo, Matt Minglewood, Men of the Deeps, Motorhead, and numerous other groups. Rick has been teaching guitar for all ages, levels, and styles, since 1990 and also teaches ukulele. His rate for a half hour private lesson is $23.00

Rosanna Burrill
(Violin, Fiddle, Voice, Theory, Ear Training)
Rosanna Burrill is a singer/violinist based in Halifax, Nova Scotia. She grew up playing traditional fiddle music, and then went on to study classical violin. She now holds an undergraduate degree in Violin Performance from Dalhousie University. Rosanna is one fifth of the indie-rock band Hillsburn. Her rate for a 30 minute lesson is $24.00.

Sam Welsh
(Guitar, Piano)
Sam Welsh is singer songwriter/composer with over 15 years experience creatively. Sam attended Selkirk College in Nelson, B.C., where he spent 3 years fine tuning his natural ear and acquiring a diploma Composition. Since completing his schooling, Sam's musical passion led him to composing for companies such as Universal Pictures, Red Bull, Mercedes, Fairmont, The Earth Network, Levector and the European Outdoor Film Tour. Being a freelance composer Sam has learned how to write and play in a multitude of different genres. Which allows him to teach in a wide variety of musical styles such as rock, pop, acoustic, folk, indie, metal, country and blues. His rate for a 30 minute lesson is $24.00