North York - Voice Lessons
2777 Steeles Avenue W
North York, Ontario, M3J 3K5

---

Lesson Centre: Phone or Text (416) 514-1109
Store Phone: (416) 663-8612
Fax: (416) 663-8683

Lesson Centre Email: steeleslessons@long-mcquade.com
Store Email: steeles@long-mcquade.com

Lesson Centre Hours
Monday: 1:00pm - 9:00pm
Tuesday: 1:00pm - 9:00pm
Wednesday: 1:00pm - 9:00pm
Thursday: 1:00pm - 9:00pm
Friday: 1:00pm - 9:00pm
Saturday: 10:00am - 6:00pm
Sunday: Closed
*** Online lessons are available ***
Limited In-House Lessons are available
Contact: steeleslessons@long-mcquade.com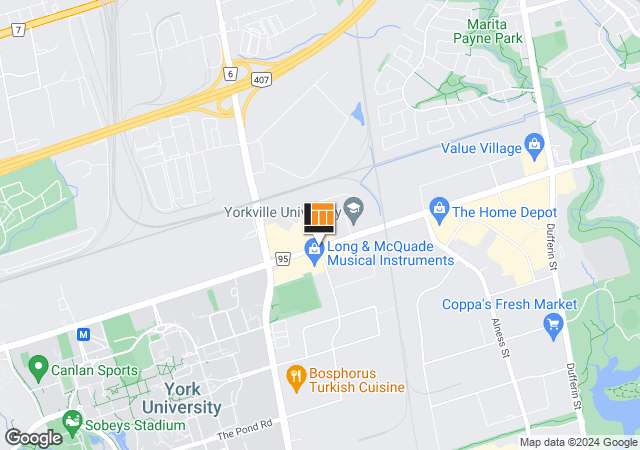 This Location Offers:
Online Lessons
All Lessons
Private Lessons
Private lessons include individual, weekly instruction by professional adult musicians. Monthly tuition payments reserve a weekly lesson time, allowing teachers to prepare specialized curriculum. Students are expected to practice daily at home to maintain consistent progress. ** Online lessons are available ** Contact: steeleslessons@long-mcquade.com
Group Lessons
Group programs are a great way to develop listening skills and confidence, working together to create musical outcomes. Weekly sessions include small group instruction and performance opportunities. All students must be committed to weekly attendance and involved in class participation. Starting from 10 weeks for $200. Many sessions continue monthly. * ALL GROUP CLASSES HAVE BEEN POSTPONED
Rock skool
Jazz band
Theory
Cello ensemble
Junior rock skool
Our Voice Teachers:
show all

Denise Wright
(Piano, Violin, Viola, Voice, Theory)
Registration Request
Online Lessons: Yes
RCM 8 Piano & Violin, RCM Advanced Rudiments
Denise started learning the violin at 5 years old and is currently studying classical, jazz, and folk violin at York University. A multi-instrumentalist she has also studied piano, vocal, flute, viola, cello and guitar. She has played in the Mississauga Youth Orchestra, York University symphony orchestra and is currently a member of Brampton's Rose Orchestra.
Denise's rate is $24/half hour

Jordan Kane
(Piano, Voice, Theory)
Registration Request
Online Lessons: Yes
MMusic, DSMusic upon Completion
As a music educator, I believe that it is my responsibility to provide well-prepared, quality instruction to help each student realize their own potential and abilities. As a post-graduate student, I say to all my potential students that "I hope to instill in you the desire to be diligent in your practice, and to aim for a pure and hygienic utterance of quality whether it is from your vocal cords, or from a man-made instrument". As a true maestro of a musician, the escalating industrial standards within the music industry are always on an incline, as well as the demands for modern learning applications within the field. I have taken the time to procure and blend knowledge of classical, traditional, and contemporary music theories for many musical needs and situations in the industry. I teach them to my clients, students, and perform them for my audience all while keeping my character traits. My passion is music.
Jordan's rate is $26/half hour.