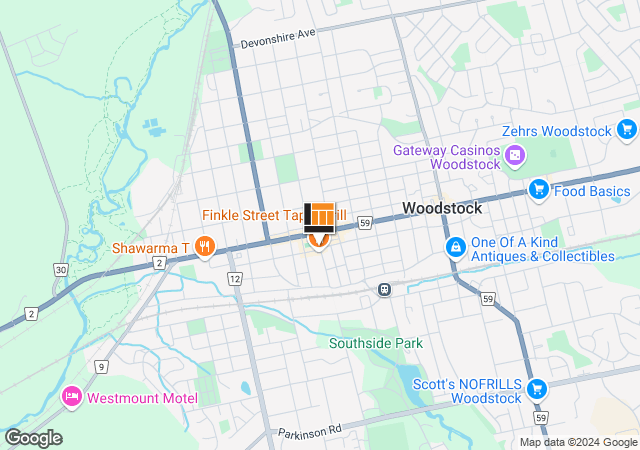 Eric Ransom
Eric Ransom has played a musical instrument for almost his entire life. Starting out with Piano, he had a desire to play many instruments, so learned guitar, ukulele, drums, bass guitar, and more. He took this passion for music and perfected it at Music Industry Arts at Fanshawe College in London, Ontario. Afterwards, he specialized in Audio Post Production and is currently the music director at Huron Park Baptist Church. He is often found recording sound for the people in his community.
Our Teachers:
show all

Brian Jackson
(Violin/Viola/Cello)
Brian Jackson has been an active performer both in Woodstock and Southern Ontario since the mid-90s. A graduate of Woodstock Collegiate Institute, he has played in many orchestras, including with the Brant Youth Symphony Orchestra, the Cambridge Symphony, and as concertmaster with the SteelTown Symphony (Hamilton). Brian co-founded the Trinity College Chamber Players (Toronto), with whom he performed as a soloist. Since 2005, he has worked with the CAST Theater Company and WCI Red Players, playing well-known musicals and working with some very talented and hard-working young performers. He began teaching at Long & McQuade in 2015.

His rate is $21.00/half-hour private lesson.

Corrin Descamps
(Voice, Piano)
Corrin Descamps was born and raised in Woodstock, Ontario. She studied piano and voice growing up, sang in many different choirs and participated in musicals through high school. Corrin attended Mohawk College in Hamilton, Ontario, where she graduated with a Diploma in Classical Vocal Performance. She continues to keep busy today, singing in the Woodstock Choralaires, enjoying family life raising her two young children and taking any opportunity to sing and share her gift of music.

Her rate is $22.00/half-hour private lesson.

Daniel Jancar
(Woodwinds/Ukulele/Guitar)
Daniel Jancar is a woodwinds instructor and a graduate of the Etobicoke School of the Arts(music Major). Dan is a regular performer and has played at many events including the Kitchener Blues Festival. He has recorded with bands like, "Milky Whites" and "The Bluesmen", as well as with his current band, "Fog Blues and Brass Band". Dan also has a background studying with the Royal Conservatory of Music. Dan has studied with multiple saxophonists, flutists and clarinetist privately in the past.

His rate is $23.00/half-hour private lesson.

Gary Jackson
(Guitar, Bass)
Gary Jackson has been involved with music for almost his entire life. Starting with fiddle at a very young age, he continued on to play guitar, electric bass, and double bass in rock bands, as well as the school's jazz ensemble. He then went on to study and graduate from both Cambrian College, and the University of Western Ontario for Double Bass Performance, picking up some experience on the piano in the process. During his university years, he discovered a passion for teaching, and recently had the privilege of working with young guitarists as a music festival adjudicator.

His rate is $24.00/half-hour private lesson.

Gop Intarachot
(Drums)
Gop Intarachot began drumming at the age of 17. In addition to playing with a number of groups, he also graduated from Bangkok University with a BA in Music & Education. Gop also taught privately and with the Music Academy of Bangkok and Chiang Mai. Having immigrated to Canada in 2004, he has continued teaching drums and leading the band at his Church. Gop is able to teach Beginner to Intermediate levels of drums. His styles range from Contemporary, Jazz, Latin, Pop, and Alternative.

His rate is $23.00/half-hour private lesson.

Grace Dyk
(Voice, Piano)
Grace San Andres is an honours graduate of the Mohawk College Applied Music Diploma Program in Jazz Voice. During her time at Mohawk College she recorded in a professional studio (both solo and with a jazz vocal group), performed at many shows and special events, and was featured for her vocals and original lyrics for Thom Mason's original tune entitled "Tuesday Morning" which aired on JazzFM91.1 (Jazzology 2014). Grace was the Vocal Director for the musical "Fast Food Love" which was part of The Hamilton Fringe Festival. She also sang live with the cast on CHCH news promoting the musical and festival. Currently, Grace performs regularly around the Hamilton/Toronto area and continues to write songs for other musicians.

Her rate is $22.00/half-hour private lesson.

Jeremiah Charlton
(Guitar, Bass, Piano, Ukulele, Mandolin, Theory)
Jeremiah Charlton brings over 15 years of music performance and teaching experience to the table. He can provide fun informative lessons for students from beginner to advanced. He is well versed in many different styles of music such as jazz, blues, rock, and popular piano. Jeremiah has taught as a music teacher at several stores in Orlando, Florida, as well as The Crenshaw School. In between all of his private teaching, he has also performed in orchestras, aboard cruise ships and with wedding bands. Whether you are just starting out, or wanting to expand your repertoire and skills, or just need theory lessons, Jeremiah is a great fit for any student.

His rate is $23.00/half-hour private lesson.

Ryan McEwen
(Drums, percussion)
Ryan McEwen is an American born percussionist from Virginia Beach, VA. With roots in classical percussion, he went to the Visual and Performing Arts Academy in Virginia Beach where he was the principle percussionist for the VPAA Symphony and performed in places like Carnegie Hall and Universal Studios . He moved to Canada in 2014 and graduated from Cambrian College in 2018. He is currently finishing his Bachelor's Degree at McMaster University in Musical Performance. Ryan is multi talented as he also has background in Latin and African drumming, rock and orchestral percussion.

His rate is $21.00/half-hour private lesson.

Travis Baynham
(Guitar)
Travis Baynham is a graduate of the Mohawk College and York University music programs. He had the opportunity to study with some of the finest jazz musicians in the country including Mike Malone, Pat Collins, Kim Ratcliffe, Lorne Lofsky, Frank Falco, and Kelly Jefferson. While at York, Travis was featured on the Jazz FM 91.1 show "Jazzology" where he represented the university and was interviewed by renowned Toronto vocalist Heather Bambrick. He was also the guitar chair in the university's jazz orchestra for two consecutive years and performed with jazz icons Dave Holland and Chris Potter. Travis has been teaching guitar in the Woodstock and Greater Toronto areas since 2014.

His rate is $23.00/half-hour private lesson.