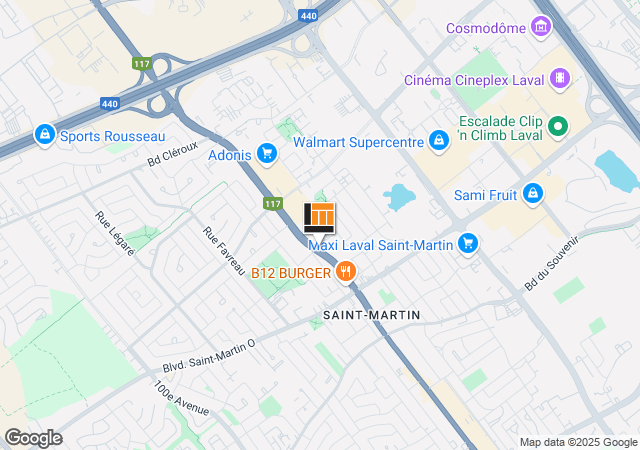 This Location Offers:
Private Lessons
Our Piano Teachers:
show all

ARMINÈ KASSABIAN
(chant, piano)
La mezzo-soprano arménienne Arminè Kassabian est reconnue par son timbre riche et resplendissant. Depuis 2011, elle a interprété plusieurs rôles dans des productions opératiques avec divers compagnies à travers l'Amérique du Nord. Arminè a remporté la première place au concours Opera Brian Law, deuxième place au Concours New Jersey Verismo Opera Association et a été semi-finaliste au Concours de l'Orchestre Symphonique de Montréal et la Compétition Internationale Riccardo Zandonai. Arminè est titulaire d'un baccalauréat, d'une maitrise et d'un diplôme d'artiste en chant, interprétation/opéra de l'Université McGill Schulich School of Music. Elle enseigne tous les styles musicaux allant du classique (opéra) au pop, en passant par le théâtre musical, le rock, le jazz et bien d'autres. Arminè enseigne depuis 2004 et son tarif est de 25,00 $ la demi-heure.

Langues parlées : français, anglais, arménien
--------------------
Mezzo Soprano Arminè Kassabian is recognized for her voluminous and luscious vocal tone. Since 2011, she has sung many operatic roles with different opera companies around Nord Armerica. Arminè won First Place at the Brian Law Opera Competition, Second Place at the New Jersey Verismo Opera Association Competition and was a semi-finalist at the Orchestre Symphonique de Montréal and the Riccardo Zandonai International Competition. Arminè holds a Bachelor of Music, a Master of Music and an Artist diploma in Voice Performance/Opera from the Schulich School of Music at McGill University. She teaches all styles from classical (opera), pop, musical theatre, rock, jazz and many others. Arminè has been teaching since 2004 and her rate is $25 per half hour.

Languages taught: English, French and Armenian.

BARBARA CWIRO
(piano, chant)
Pianiste, pédagogue, compositeur et chef de choeur, Barbara Cwioro est diplômée de l'École Supérieure de Musique Frédéric Chopin de Varsovie en Pologne, de la Sorbonne à Paris en France, de l'UQAM et de l'Université de Sherbrooke à Montréal. Comme professeure, elle enseigne piano, chant, chant choral, initiation à la musique, musique de chambre, solfège, dictée, harmonie aux adultes et aux enfants, en cours individuel et en groupe, tous les niveaux. En tant que pianiste et professeure, Barbara Cwioro a conseillé un grand nombre d'interprètes engagés dans divers styles de musique tels que le classique, le populaire et le contemporain. Depuis plusieurs années elle assume en outre le rôle d'organiste à la paroisse Ste-Marguerite-Bourgeoys.

Son tarif est de 26 $ la demi-heure.
Langues parlées : français, anglais, polonais
--------------------
Pianist, teacher, composer and music director, Barbara Cwioro has a Diploma from the Superior School of Music Frederic Chopin in Warsaw Poland, from Sorbonne University in Paris France and from UQAM and the Université de Sherbrooke in Montreal. She is an accomplished educator of piano, voice, choir singing, the introduction to music for children,both individually and within groups of all levels. An excellent pianist Barbara teaches students in a variety of different styles of music, classic, popular or contemporary. For her each student is unique and she adapts her methods to accomplish the goals the student wants to achieve in the most pleasant and quickest way.

Rate: $26/half-hour
Speaks English, French and Polish.

GUERSCHON AUGUSTE
(voix, piano)
Guerschon Auguste est un artiste émergent qui aime jumeler la musique Gospel avec les couleurs du pop, du jazz et du classique. Membre du groupe Jireh Gospel Choir, il s'est produit sur la scène TD du Festival International de Jazz de Montréal en 2016, a fait quelques apparitions dans des émissions télévisées et chante comme choriste pour des artistes de renoms tels que Bobby McFerrin et Corneille. En 2019, Guerschon termine son Baccalauréat en Interprétation Jazz sous le mentorat de Vincent Morel. Il participe régulièrement à des ateliers de Gospel à la Place des Arts et a des enregistrements studio pour différents artistes. Il enseigne le chant et le piano, dirige occasionnellement le chœur Jireh en concert et crée des arrangements vocaux pour des artistes Gospel locaux. Guerschon enseigne la musique depuis 2014 et son tarif est de 24.00 $ la demi-heure.

Langues enseignées: français, anglais
--------------------
Guerschon Auguste is an emerging artist who likes to combine Gospel music with pop, jazz and classical. As a member of the Jireh Gospel Choir, he performed on the TD stage at the 2016 Montreal International Jazz Festival. He also made a few appearances on television shows and sang back vocals for renowned artists such as Bobby McFerrin and Corneille. In 2019, Guerschon completed his bachelor's degree in Jazz Interpretation under the mentorship of Vincent Morel. He regularly participates in Gospel workshops at Place des Arts and does studio recordings for various artists. He teaches singing and piano. He occasionally conducts the Jireh Choir and creates vocal arrangements for local Gospel artists. Guerschon has been teaching music since 2014, and his rate is $24 per half hour.

Languages taught: French, English

Julien Girard
(piano, orgue)
D'origine française, Julien Girard a étudié le piano, le chant choral et l'orgue. Après ses études de Musicologie, il entre dans l'Éducation Nationale comme professeur d'Éducation Musicale. Il chante dans plusieurs ensembles vocaux parisiens. En concert, seul ou en duo, on a pu l'entendre en Angleterre, en Allemagne, au Canada, aux États-Unis et en France. Aujourd'hui installé au Québec, il est organiste titulaire à St-Elzear, à Laval. Julien est tourné vers la musique «classique» mais connaît bien le domaine de la chanson.

Son tarif est de 25 $ la demi-heure.
Langues parlées : français, anglais
--------------------
Of French origin, Julien Girard studied piano, choral chant and organ. After studying musicology, he joined the National Education as a teacher of Music Education. He sang in several Parisian vocal ensembles. In concert, alone or in duet, he was heard in England, Germany, Canada, the United States and France. Now living in Quebec, he is an organist in St-Elzear, Laval. Julien is geared towards "classical" music but knows the field of the song well.

Rate: $25/half-hour
Speaks English and French.

TATIANA DVORIANSKAYA
(piano)
Tatiana possède plus de vingt ans d'expérience comme professeure de piano. Après douze années d'études en Russie, elle s'est diplômée avec spécialisation en piano et accompagnement. En 2010, Tatiana déménage au Canada et enseigne le piano. Mme Dvorianskaya a participé en tant que soliste et accompagnatrice lors des concerts au Québec, en Europe et au Chili et a joué en tant qu'accompagnatrice dans divers festivals et concours internationaux avec l'ensemble « Harmonie » (solistes du Théâtre Mariinsky et de l'Opéra de St-Petersburg). Depuis 2013 Tatiana collabore avec la pianiste canado-chilienne Alejandra Cifuentes Diaz, avec qui elle a produit leur premier album de piano à quatre mains, en 2014. Ayant enseigné à plus de cent étudiants, Mme Dvorianskaya est heureuse de se joindre au personnel enseignant de Long & McQuade où elle enseigne les élèves de tous les niveaux et tous les âges. À son avis, chaque élève est unique et talentueux. Elle vise à le découvrir ce talent, en développant chez l'élève, sa réflexion et son autonomie, tout dans le but de l'amener à la réussite de l'exécution musicale.

Son tarif est de 25 $ la demi-heure.
Langues parlées : français, anglais, russe
--------------------
Tatiana is a piano teacher with over 20 years of experience. Having studied twelve years in Russia, she graduated with a specialization in piano and accompaniment. Tatiana moved to Canada in 2010 and has been teaching since. Ms. Dvorianskaya participated as a piano soloist and accompanist in Québec, Russia, Europe and Chile. She performed as an accompanist at various festivals and competitions with the ensemble « Harmony» (performers of the Mariinsky Theatre and St. Petersburg Opera). Since 2013, Tatiana collaborates with the Canadian pianist Alejandra Cifuentes Diaz, with whom she produced their first CD album – Piano for four hands. Tatiana is always eager to learn and perfect herself. She is currently taking a graduate studies course in "Pédagogie instrumentale" at the University of Montreal. Having taught more than a hundred students, Ms. Dvorianskaya is pleased to join the teaching staff at Long & McQuade, where she teaches students of all ages and levels. In her opinion, every student is unique and talented. Her goal is to uncover this talent by encouraging the student's thought process and as well as developing the student's autonomy.

Rate: $25/half-hour
Speaks English, French and Russian