Our store is open to customers again; however, we may need to limit the number of customers in the store.
We will continue to offer curbside pickup service. Please call the store for details. (506) 473-1428
Please practice physical distancing while visiting our store and maintain a distance of 2 metres from staff and other customers.

Our lesson centres are also closed; however, we do have many of our teachers available for online music lessons. Please contact the lesson centre for details. grandfallslessons@long-mcquade.com
Store Hours:
Monday: 10:00am - 6:00pm
Tuesday: 10:00am - 6:00pm
Wednesday: Closed
Thursday: 10:00am -8:00pm
Friday: 10:00am - 8:00pm
Saturday: 10:00am - 5:00pm
Sunday: Closed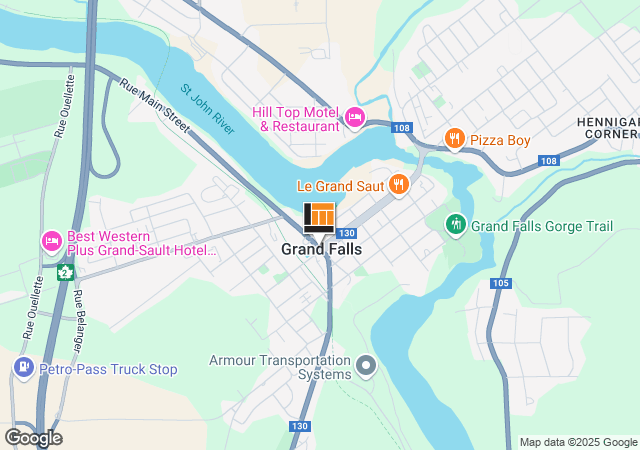 Directions to Long & McQuade Grand Falls
Long & McQuade Grand-Falls is situated at 456 Broadway Boulevard with ample parking and just minutes from the Falls and Gorge. Big city selection and service in both English & French with the small town friendliness you expect!
Services offered at this location
Professional and bilingual service
Easy, musician friendly financing options
Guitar repair shop with qualified luthier
Planning an event? Our rental department will have what you're looking for. We rent everything from speakers and lights to guitars and saxophones. You'll be taken care of by our specialists who know what it takes to make your event a success
Daily, weekly and montly rentals of instruments and audio equipment
Music Lessons
About our Grand Falls Location
We carry the largest selection of guitars north of Fredericton, including Gibson, Fender, Taylor, Martin, ESP, Ibanez, Epiphone, Squier, and many more! Come see us for all your drum, keyboard, recording, band instrument and professional audio equipment needs. Our wide selection of instruments will suit every budget.
Music Lesson Centre
Long & McQuade's Music Lesson Centre in Grand Falls features professional studios, highly qualified teachers and private instruction for all ages, levels and styles.
We teach lessons in:
guitar
bass
drums
piano
strings
woodwinds
Register for music lessons today! Call (506) 473-1428 for details.