Monster Days Are Back! - All Locations
This event has expired.

Monster Days are back at Long & McQuade Musical Instruments! Enjoy great deals throughout the store and 6 months 0% financing on all products all month long!
FLYER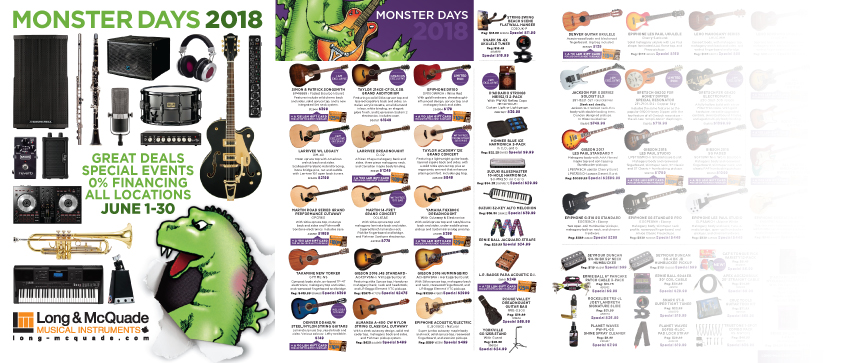 HTML: www.long-mcquade.com/flyer
English PDF: Click here.
French PDF: Cliquez ici.

PLUS SPECIAL EVENTS EVERY SATURDAY
June 2 - Half Price Rental Day
New rentals only. Maximum term 1 month. Excludes Monster Days rental specials.

June 9 - Double* Your Warranty Day
Get a "bonus year" on your Performance Warranty! See staff for details.
*Add 1 year of Performance Warranty to your purchase of any new product, free of charge. In the case of Yorkville or Traynor products that come with a 2-year warranty, the warranty will not be doubled to 4 years, but an extra year will be added for a total of 3 years. On used items, you will get a total of one year of Performance Warranty, as opposed to 3 months.

June 16 - Customer Appreciation Day
At all locations! Visit the store nearest you for free food and live entertainment!
June 23 - Print Music Madness
Enjoy 25% off in-stock regularly priced band, choral and retail music, and novelties (excluding text books and special import items.) Up to 75% off in the Clearance Zone. Phone and email orders accepted!

June 30 - "Canada Day"
Enjoy 12 months 0% financing on all Canadian-made products, OR receive L&M's Performance Warranty FREE for an additional one-year period on your Canadian-made purchase. Canadian-made brands include:
Yorkville, Traynor
Godin, Seagull, Norman, La Patrie, Simon & Patrick, Art & Lutherie
Larriveé
Radial Engineering, Tonebone
Sabian
Los Cabos
Levy's Straps
Diamond Effects
Dingwall Basses
F-Bass
Ask staff for details.

CONTEST: MONSTER DAYS SCAVENGER HUNT

Look at the Monster Days flyer, find a featured item in store, take a pic, and share it for your chance to win a $1000 shopping spree at Long & McQuade!
Follow Long & McQuade on the social media platform of your choice
facebook.com/longmcquade
instagram.com/longandmcquade
twitter.com/longmcquade

Flip through the Monster Days flyer, and pick any item featured.

Visit any Long & McQuade location, find the item in-store, and take a picture of the product!

Share your photo on Facebook, Instagram or Twitter using #MonsterDays #ScavengerHunt and tag Long & McQuade for a chance to win a $1000 Long & McQuade gift card! Don't forget to mention the name of the product, and the store you found it at!
Multiple submissions get you multiple entries into the contest!
Example: I found an Epiphone Les Paul for the #MonsterDays #ScavengerHunt at @longmcquade in Toronto!
Submissions accepted from June 1-30. Valid entries must include tags and hashtags stated above. Contestants must be following Long & McQuade on the social media platform on which they entered. Winner will be randomly drawn from a list of valid entries and will be announced on July 3rd. Winner must be able to receive direct messages on their social platform so that further information can be communicated between both parties if necessary.
Date: June 1 - 30 / 1er au 30 juin