A new collection of acoustic guitars featuring the exclusive Gibson Player Port™ for a more immersive sonic experience.
Introducing the Gibson Generation Series line of acoustic guitars. Like all Gibson Acoustic, they are made in Bozeman, MT, by the same highly skilled craftspeople who make all of Gibson's acoustics. It features a beautiful solid Sitka spruce top and solid walnut back and sides for tone that sounds crisp and resonant.
They are also equipped with the Gibson Player Port. The Player Port is an original Gibson concept from the early 1960s that has been refined by their acoustic luthier team to deliver a truly revolutionary sonic improvement that adds a new dimension to the sound. The Gibson Player Port allows you to hear the guitar as you're playing it like you've never heard it before—the same way your audience hears it—maximizing the sonic impact for an immersive playing and listening experience.
What sets the Generation collection apart? The guitars have something that only the Generation Collection has - the Gibson Player Port. Inspired by an early 60's Gibson blueprint, the Gibson Player Port allows you to hear the guitar's nuances in more detail. Thus, creating a new and immersive sonic experience. The Player Port is kind of like having a built-in monitor right into the guitar. Now you can actually hear more of you!
What does hear more of you mean? The exclusive Gibson Player Port provides a brand new sonic experience that allows you to be more connected to your playing style through a direct connection from the Gibson Player Port to your ears.
What are the models in the collection? The Generation Collection includes the G-45, G-00, G-200, G-Writer.
Do these have pickups? The G-200 and the G-Writer have LR Baggs Element Bronze pickups.
Who is the G-45 for? Those looking for balanced highs, pronounced mids and tight low end, really making it the go to acoustic for a variety of playing styles and music genres.
Who is the G-00 for? Those looking for a great grab and go travel guitar as well as for a player of a smaller frame. Tonally the upper mids really stand out and there is a high end note definition that nicely compliments finger picking styles and open chords with a leaner low end.
Who is the G-Writer for? Those looking for better access up and down the neck, especially reaching higher register notes. The slightly thinner body helps to get over the instrument to have more control. Tonally it naturally lends itself to crisper highs, focused mids and leaner low end making it cut through the mix. A great fit for both the strummer and lead player of all styles.
Who is the G-200 for? Since the body is slightly thinner than a traditional jumbo size, it's great for those wanting a comfortable jumbo. There is a prominent full bodied low end that has a real nice bounce to it and helps smooth out the mids and tailor the highs, making it a go to for bigger chord sounds when strumming and rich lead tones.
What are these made out of? Solid Sitka Spruce top and Walnut back and sides, with a Striped Ebony fretboard and bridge.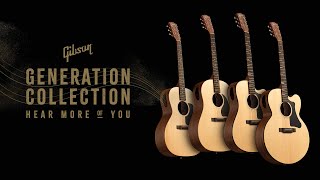 Gibson Generation Collection: Hear More of You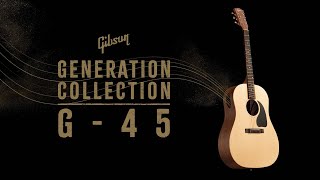 Gibson G-45 | Generation Collection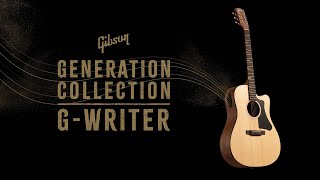 Gibson G-Writer | Generation Collection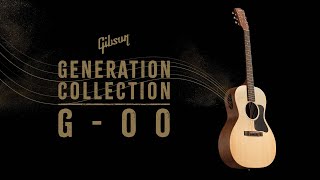 Gibson G-00 | Generation Collection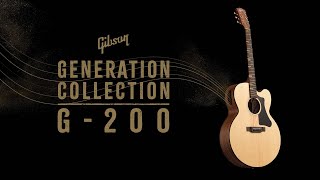 Gibson G-200 | Generation Collection
---