Oxford University Press
Carols for Choirs 6: Fifty Christmas Carols (Spiralbound Paperback) - Chilcott/Hill - SATB
---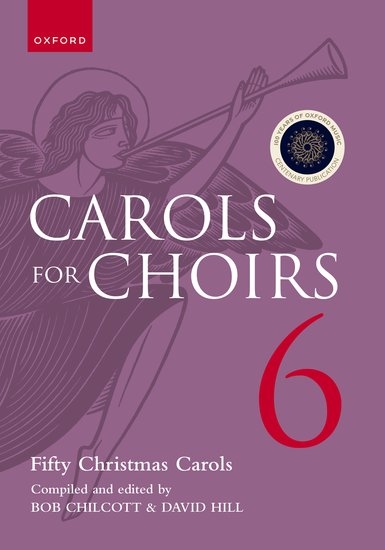 Editors: Bob Chilcott, David Hill
Format: Spiralbound Paperback
Voicing: SATB accompanied & unaccompanied
50 carols for every occasion
newly commissioned original compositions
well-loved melodies in fresh arrangements
a diverse range of composers
a balanced mix of accompanied and unaccompanied items
To celebrate the centenary of the Oxford University Press Music Department, this volume of 50 new carols complements the five previous volumes, bringing new names and styles to the series while providing a complete resource for choirs from Advent to Epiphany.
Featuring newly commissioned carols and arrangements of classic melodies, the collection showcases some of today's most exciting names in choral composition.
Contents:
A babe is born, Owain Park
A child of hope, Ryan Murphy
A new heart, Ian Assersohn
A Present for the Future, Joanna Forbes L'Estrange
A Ukrainian Alleluia, arr. Mykola Leontovych
Adam lay ybounden, David Hill
All the stars looked down, John Rutter
Alma Redemptoris Mater, Nico Muhly
Ave maris stella, Kristina Arakelyan
Before the Song was Done, Sarah Quartel
Bells, Blessings, Carol Barnett
Candle Carol, Alan Bullard
Christmas Eve, Kim Porter
Coventry Carol, arr. B. E. Boykin
Earth grown old, Ghislaine Reece-Trapp
Gaudete, arr. Suzzie Vango
Gloucestershire Wassail, arr. Vicente Chavarra
Hush, my babe, arr. Adolphus Hailstork
I saw a stable, Tawnie Olson
I saw three ships, arr. Stuart Nicholson
If Bethlehem were here today, Nigel Hess
Il est n le divin enfant, arr. Ben Parry
In dulci jubilo, Cecilia McDowall
In the bleak mid-winter, David Hill
It came upon the midnight clear, arr. Valerie Capers
Jesus Christ the Apple Tree, Bob Chilcott
Love came down at Christmas, arr. Stephen Jackson
Lute Book Lullaby, Richard Allain
Masters in this hall, arr. Jerrick Cavagnaro
Now the Rejoicing, Zanaida Stewart Robles
O be joyful, Toby Young
On this Silent Night, Sarah Quartel
Our Gold, James Whitbourn
Ring out, ye bells!, Kathleen Allen
Road to Refuge, Errollyn Wallen
The Children's Eye, Caroline Shaw
The Christ-child, Laura Hawley
The first Nowell, Bob Chilcott
The Owl, Toby Young
The Oxen, Jessica French
The Rose, Joel Thompson
The Saviour's Birth, arr. Marques L. A. Garrett
The Unexpected Early Hour, Reena Esmail
There is no rose, Ben Parry
There is no rose, Lucy Walker
There shall be Christmas Day, Reginal Wright
Villancico Xicarrero, Fernando Taberner
What cheer?, Margaret Burk
What child is this?, Becky McGlade
What child is this?, Philip Moore
There are currently no questions for this product.
There are currently no reviews for this product. Be the first to write one!