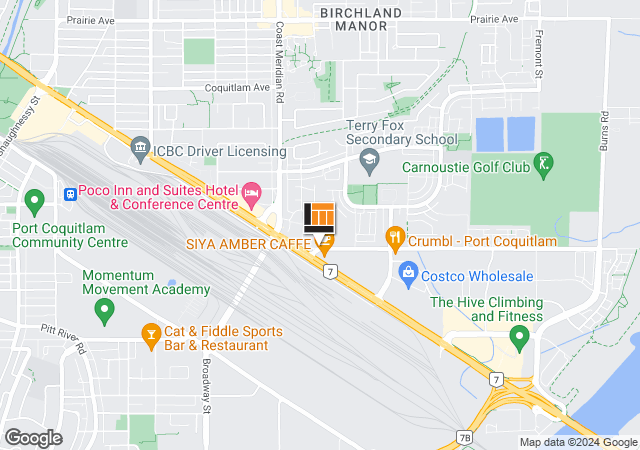 Our Teachers:
show all

Anna Kuchkova
(Cello)
Anna is a member of the West Coast Symphony Orchestra, chamber musician, composer, leader, and cellist in the Alchemy Chamber where she combines her classical training with heavy metal influences. Anna started her cello studies over a decade ago, following her piano and theory certification in Russia. She is currently working on her advanced RCM levels. Anna has done session work for various recording projects and local performances, such as symphony concerts, musicals, rock shows, as well as Canucks games at Rogers Arena. Her rate is $25 per half hour.
Brianne Lue-Kim
(Guitar, Bass, Ukulele)
Brianne Lue- Kim (Bri) has over 15 years of playing experience in various styles/genres of music such as rock, pop, metal, classical, and more. She dedicates her time to learning new techniques and theories which she applies while teaching and playing live. She is an enthusiastic, encouraging, and patient teacher with over 10 years of private teaching experience. Bri can be seen playing guitar in a Melodic/Death Metal band, Necrosaurus Rex, and playing bass in Punk/Hardcore band, Specks. Brianne's rate is $25 per half hour lesson.

Brooke Webb
(Voice)
Brooke currently holds a diploma majoring in Jazz and Contemporary Voice, and will also be completing her BMUS at VCC as of April 2019. She loves singing and teaching music from a variety of genres including jazz, musical theatre, pop, indie, rock, and blues. Brooke has always had a passion for music, and enjoys helping students of any age to discover their voice and develop their love of music. Brooke's rate is $25.00 per half hour lesson.

Chris Rolin
(Guitar)
Chris Rolin has been playing guitar professionally, teaching students and producing music for various artists for over 35 years. He attended Capilano College in the Commercial Music Program and is currently working on his Masters of Music in Guitar from Berklee College. Chris's rate is $26 per half hour lesson.

Claire Walton-Sather
(Guitar, Piano, Bass)
Claire holds a Diploma with Distinction in Classical Guitar and minor studies in Composition and Piano from Capilano University. She plays comfortably in many styles but is most passionate about classical and metal. Claire has experience teaching private and group lessons in piano, guitar, voice, theory, harmony and composition, often using the RCM curriculum, and currently plays keys in a progressive rock band, as well as composing her own music. Her rate is $26 per half hour lesson.

Danny Baruffa
(Guitar, Bass, Ukulele)
Danny has a diploma in Audio Engineering from the Ontario Institute of Audio Recording Technology and is currently studying contemporary jazz guitar at VCC. He has gigged locally for the last 10 years and has toured Canada several times. Danny has been playing guitar for over 25 years and his eclectic background in music allows for a broad spectrum of lesson styles to be taught and catered specifically to each student. His rate is $25 per half hour.

Drew Christie
(Drums)
Drew studied at Capilano University as well as with many top North American drummers and has been teaching drums privately for over a decade. He has been a studio musician and live performer for over 20 years. In his teaching, Drew focuses on providing a fun environment while students learn about groove, technique, theory and reading. Drew's rate is $26 per half hour lesson.

Eddie Riumin
(Drums,)
Eddie's musical experience started with the piano at age 14. He excelled at RCM piano exams in a short span of time, reaching up to RCM grade 9 on piano. Soon after, he pursued and obtained a Jazz Studies Diploma from Capilano University majoring on drums. Eddie is often performing on drums in all different genres and styles of music. His rate is $25.00 per half hour lesson.

Emi Hamnett
(Piano)
Emi graduated from Osaka University of Music, majoring in Voice and has her Junior High School Teacher Certificate in Japan. Emi also graduated Kwantlen Polytechnic University's SEA program and holds an ECE Assistant Certificate along with a Special Ed Teacher Assistant Certificate. She believes that music can be a powerful form of stress relief and adapts her lessons according to each of her student's unique strengths and weaknesses to ensure the experience remains positive and beneficial for each of her students. Her rate is $25 per half hour.

Francis Henson
(Guitar, Bass, Ukulele)
Francis holds a Bachelor of Music in Jazz Studies from Capilano University. He has been teaching guitar, bass, and ukulele since 2015, working with students of all ages in both private and group settings. In addition to teaching, Francis is an active member of Vancouver's music community. He regularly performs in the lower mainland as a solo act and/or full band act, as well as session work as a guitarist and producer. Francis also records, releases, and performs his own original music. His rate is $25 per half hour lesson.

Gary Grace
(Drums)
Gary is a multi-award winning drummer, most recently the 2009 Roland V-Drum National Grand Champion and has toured with many top Canadian recording acts, including his current band Prism. Gary has been teaching drums and percussion since 1982 for all styles and ages. His rate is $29 per half hour lesson.

Geeta Das
(Trumpet, Trombone, Baritone, Sax, Flute, Clarinet,)
Geeta studied at Douglas College and UBC and she has been teaching for over 20 years. She has played with various Orchestral/Classical, Jazz R&B and Latin ensembles and is currently teaching Brass, Sax, Flute & Clarinet ensembles. Her rate is $29 per half hour lesson.

Gerard Rances
(Voice, RCM Voice, Theory, Music History,)
A graduate from Vancouver Community College, Gerard holds a Bachelor's degree of Applied Music in Classical Voice Performance. In addition to teaching voice and piano, he helps many students prepare for RCM exams in music theory and history. Gerard teaches an annual summer course at Douglas College preparing students for the music program entrance assessment exam. Between 2011 and 2014, he was a tenor soloist and section lead of Pacific Spirit Choir and West Vancouver United Church. Between 2008 and 2013, he was the official music tutor at Douglas College for aural skills, theory and history. Gerard has toured throughout Europe and the United States with various choirs. He studied with renowned singers Robyn Driedger-Klassen and Frederik Robert. His rate is $28 per half hour lesson.

Hallie Piche
(Voice, Piano)
Hallie started RCM piano lesons at age 4. Later in life, she went on to enroll at the Victoria Conservatory of Music in Classical and Jazz Studies in voice, as a secondary instrument. Hallie's rate is $27 per half hour lesson.

Harrison Shaw
(Guitar, Bass, Ukulele)
Harrison has a Diploma in Jazz Studies from Capilano University and is currently working to finish his Degree there. He has been playing in local bands since 2011 and is interested in many styles, from Blues, Rock and Metal, to Flamenco and Reggae and as well as Jazz and some Classical styles. He currently plays guitar in a local metal band, and continues to compose his own music. He has been teaching since 2016 and has experience teaching private and group lessons in guitar, bass, ukulele, music theory, ear training, and composition. His rate is $25 per half hour lesson.

Josh Roberts
(Guitar, Ukulele, Banjo, Mandolin,)
Josh has a Bachelors of Music Degree in Guitar Performance from Capilano College. He has played regularly with many bands as well as in many music festivals and his rate is $28 per half hour lesson.

Marc Gladstone
(Piano)
Marc has been playing piano and keyboards since he was seven years old and completed his RCM Grade 10 exams by age 16. His playing and singing has been heard on studio recordings, live on tour, as well as television appearances. He has played in bands such as Doug and the Slugs, Nick Gilder and Sweeney Todd, before landing the keyboard spot in Prism. His rate is $29 per half hour lesson.

Nick James
(Drums)
Nick James considers himself an "avid drum nerd." He has been playing drums since 2004. In that time he has had the pleasure of travelling around North America studying with some of the worlds most innovative players. In addition to studying with drummers, he has worked with physiotherapists to developed his own unique approach to healthy and efficient drum techniques. Through all his studies, he has created his own curriculum for teaching drumming that focuses on the building blocks of rhythm and real world practice methods. Today Nick is a sought after drummer for hire playing in many bands ranging from Jazz, Rock, Blues, R&B, and Folk styles. Nick remains an active student of music striving to further his own abilities and knowledge. His rate is $27 per half hour lesson.

Roger Cranford
(Guitar,Voice)
Roger has been teaching since 1995. His teachings focus on establishing a personalized curriculum designed to achieve the individual goals of each student. On guitar, Roger specializes in metal/rock, spanish/classical (Grade 10 RCM), blues, jazz/fusion, and country. In his voice teachings, Roger specializes in pop, rock, jazz/blues, R&B, musical theater and mix belting. Roger also has a passion for high level music theory relating to composing, improvisation, analysis, ear training and guitar specific visualization, as well as a strong focus on body health, form and posture as it relates to musical practice. Roger's rate is $30 per half hour lesson.

Ryan Van Poederooyen
(Drums)
Ryan has been teaching drums since 1998. He tours the world and records music with Canadian artist Devin Townsend and has been featured in Modern Drummer Magazine, Drums INC, Sick Drummer, and other international publications. He is also a session drummer who has recorded for producers like Chad Kroeger (Nickleback), Brian Howes (Hinder, Hedley) and many more. His rate is $28 per half hour lesson.

Sande Sauter
(Piano)
Sande is a versatile instructor who covers a variety of styles including pop, rock, jazz, blues, and classical, as well as piano theory and "chording" techniques. She teaches private lessons as well as group classes, and has also performed in the big band, 'Big Yahoo.' Sande's patience, creativity, and great communication make her a pleasure to learn from. Her rate is $29 per half hour lesson.

Sandra Fernandez
(Piano, Voice, Flute)
Sandra received her ABRSM diploma from Malaysia in 1993 and has been teaching since 1994. She later received her Classical Studies Diploma from Capilano University in 2001 and is also certified ECCE with Montessori as her concentration. One of Sandra's main focus' is training her students for Royal Conservatory Exams. She currently teaches up to Level 10 RCM piano and her rate is $28 per half hour lesson.

Sarab Shamoun
(Violin, PIano)
Violinist and pianist Sarab Shamoun is a passionate, professional musician who graduated with a Teaching Diploma in Music and BMUSed from Al Baath University. She has more than 7 years of experience as a music teacher in public and private schools. Her teaching philosophy is "Believing, Achieving and Serving." As an educator, she feels that it is important that she is not just setting challenges for herself but also strive to be a positive role model for her students. Sarab has experience teaching students of all ages and levels, as well as students who have special needs. Sarab's rate is $26 per half hour lesson.

Taylor Allum
(Drums)
Taylor Allum is a drummer and producer, from Vancouver Island, British Columbia, Canada. He has worked with artists such as Juno winners Swollen Members, Maple Blues Award winner's Diana Braithwaite & Chris Whitely, Juno Nominee Ridley Bent, Top 20 & CCMA nominee The Chris Buck Band and many more. Taylor's rate is $25 per half hour.

Thaddeus Bailey-Mai
(Trumpet, Trombone, Baritone, French Horn, Tuba,)
Having received his Bachelor's Degree in Jazz Studies from Capilano University, Thad is a regularly performing professional trumpet player and composer involved with a variety of local bands. Alongside his formal music education, Thad has extensive experience and applicable knowledge of Jazz, Funk, R&B, Latin, Rock, and Classical music. In addition, he has taught trumpet, trombone, baritone, french horn, and tuba to numerous students over the years. Thad tailors his pedagogy to accommodate each and every students' needs and goals. His rate is $25 per half hour.

Tim Porter
(Guitar)
Tim has been playing and teaching guitar in the lower mainland since 1998. He has played with many different artists in styles from rock, blues, pop, to country and jazz. His priority is to have fun while learning along the way. Tim's rate is $27 per half hour lesson.

Vinh Nguyen
(Violin)
Vinh studied classically for 14 years in the Vietnam National Conservatory, where she obtained her Bachelor of Music. She is a certified violin teacher for all levels by the Suzuki Association of America, and a registered RCM teacher. With a passionate and enthusiastic personality, she genuinely loves to teach and work with students of all ages. Her rate is $29 half hour lesson.
Our Group Lessons:
show all

Spring Break Woodwind Camp
(Geeta Das)
Lesson Registration
Dates:
2020-03-23 to 2020-03-27
Cost:
$300
Keep your musical skills up and learn some new ones.

Registration Deadline: Monday, March 2, 2020. Please contact Long & McQuade Port Coquitlam to reserve your spot.