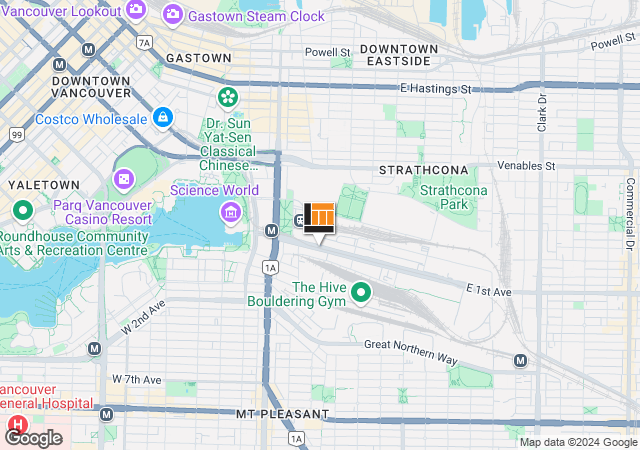 This Location Offers:
Private Lessons
Group Lessons
For dates and information on group classes, please contact the lesson centre directly.
Rock skool
Group theory
Just sing with tresor
Young music explorers (orff)
Chamber music
Group drum class
Flute ensemble
Our Teachers:
show all
Aaron Grant
(Guitar, Bass, Pop Piano, Ukulele, Mandolin, Accordion, Ableton)
Aaron has played in several cover bands on guitar, bass, drums, and vocals. He has toured the world with Juno award winner "Lights", and also the Billboard chart-topping group "Neon Trees". Aaron studied Jazz at Vancouver Island University in Nanaimo and his rate is $25 per half hour.

Alex Klassen
(Drums)
Alex has a BMUS in Jazz Studies from Capilano University and has been teaching since 2008. He has years of experience performing across Canada and internationally, as well as on cruise ships. Alex has worked in various styles of music as a musical director and band leader and his rate for a half hour lesson is $26.

Anna Kuchkova
(Cello)
Anna is a member of the West Coast Symphony Orchestra, chamber musician, composer, leader, and cellist in the Alchemy Chamber where she combines her classical training with heavy metal influences. Anna started her cello studies over a decade ago, following her piano and theory certification in Russia and is currently working on her advanced RCM levels. She has done session work for various recording projects, symphony concerts, musicals, rock shows, as well as Canucks games at Rogers Arena. Her rate is $25 per half hour.
Annie Huang
(Piano, Theory)
Annie graduated with a Music Diploma with Distinction from Capilano University and is currently working on her BMUS in piano at UBC. She has performed locally has been awarded music scholarships for her achievements. A dedicated musician who enjoys a variety of music, Annie also plays the flute, guitar, and sings in choir. Her rate is $25 per half hour.
Brian Poulsen
(Guitar)
As well as being a faculty member for the Guitar Workshop Plus program at Quest University and UBC, Brian has been a featured guitar seminar instructor at various North American Universities, including Loyola Marymount in LA, Concordia University in Texas, and Seattle Pacific University. His rate is $26 per half hour lesson.

Caralyn Taylor
(Voice, Guitar, Piano)
Caralyn Taylor is an experienced performer and dedicated teacher with a passion for music that swings. Graduating with a BMUS in Jazz studies she teaches voice, guitar, piano, theory, songwriting and arranging. Specializing in rock, pop, jazz styles for all ages and levels, Caralyn likes to teach singers how to accompany themselves on piano and/or guitar while they sing. Her rate is $27 per half hour.

Chris Seddon
(Trumpet, Brass,)
Chris Seddon is a professional trumpeter from the UK. He holds BMus (Hon) from Birmingham and Vienna, performed regularly with Britain's leading orchestras and around the world including in the pit orchestras of the West End and the Royal Shakespeare Company. He was a Brass Tutor at the Birmingham Conservatoire's Junior School and recently stepped down as Head of Brass at Sir William Borlase's Grammer School in Marlow-on-Thames following his move to Vancouver. He teaches the following brass instruments: Trumpet, Trombone, Cornet, Tuba, French Horn, Flugelhorn, Euphonium, Tenor Horn, and Baritone. His rate is $31 per half hour.

Darrell Mayes
(Drums)
Darrell has years of experience performing, recording, touring, and teaching. He is a versatile musician and a well respected and recognized drummer. Darrell is fluent in all styles of drumming and enjoys working with children. His rate is $25 per half hour.
Darya Chalubeyeva
(Violin, Viola)
Darya is a dedicated musician with over a decade of teaching experience. Her teaching method and style are flexible and suited to every student. Darya studied violin and viola performance at Douglas College, TRU (Vancouver Academy of Music), and Astona International in Switzerland. She is fluent in English and Russian. Her rate is $26 per half hour.

Dave Say
(Sax, Clarinet, Flute)
Dave is a well known and sought after local musician who has worked with artists like Michael Buble, Soulstream and the Supremes. He has been a professional musician for over 25 years and is versatile in all styles. His rate is $27 per half hour.

Doug Gorkoff
(Cello)
Doug is a dedicated musician, educator, and performer. He has studied privately with members of the VSO and Vancouver Opera as well as in the music program at Douglas College. Currently, he playsw ith four different orchestras and ensembles, and has also worked with a wide range of artists including Sting, The Trans-Siberian Orchestra, Johnny Mathis, Tambura Rosa, and many more. His rate is $26 per half hour.

Dragana Hajduk
(Flute, Recorder, Flute Ensemble, Early Childhood Music,)
Dragana is an active musician and dedicated teacher for over 20 years to all levels and ages. She is the Principal Flutist with the Richmond Orchestra and Choir, and was the Principal Flutist with Sombor Philharmonic Orchestra (Serbia). She loves to explore different genres of music, having composed electronic music for video productions as well as playing folk music from the Balkan region. Dragana is also a Certified Early Childhood Music Educator promoting the Orff method of teaching music to young children through body movements, folk songs, rhymes, and playing a variety of percussion instruments. In addition to music, she holds a BA in Psychology and postgraduate studies in Body Psychotherapy with focus on bettering emotional expression in performing. Her rate is $26 per half hour.

Gerard Satamian
(Piano)
Gerard has taught in Canada, Lebanon, and L.A. He received his BMus. from the Beirut National Conservatory and his Master's in the former Soviet Union. He is also a local performer and opera singer and is fluent in English, French, Arabic and Armenian. His rate is $27 per half hour.
Gord Robert
(Drums)
Gord studied world percussion at SFU, and also received his BMUS from UVIC. He has played with artists such as Jann Arden and the Jaydee Bixby. He is fluent in the styles of classic rock, pop, funk, and jazz. His rate is $26 per half hour.

Jasmine Moore
(Flute, Clarinet, Saxophone)
Jasmine Moore is a classically trained flutist, with additional experience playing piccolo, clarinet, and saxophone in many local ensembles from chamber music to various large ensembles in the Fraser Valley and Metro-Vancouver. Among Jasmines various musical pursuits she has a particular interest in playing baroque era music on period instruments. She is currently studying flute under Paolo Bortolussi at Kwantlen Polytechnic University with additional training in music history, theory, and aural skills. Her rate is $25 per half hour.

Jessica Kuepfer
(Piano, Voice)
Jessica holds an Honours Bachelor of Music degree from Wilfred Laurier University, specializing in classical piano. She has taught in Canada and Vietnam, and has 10 yrs of experience teaching music to students of all ages. Jessica also worked as the musical director of a competitive youth show choir in Ontario, and is an active singer-songwriter. Her rate is $27 per half hour.

Jim McLaren
(Guitar, Bass, Piano)
Jim holds a Ba. of Education from University of Lethbridge with a minor in Music Education. He has been teaching since 2000 and is well versed in bass, jazz, pop piano, songwriting and music theory. Jim also plays keyboards for the Canadian rock band Incura and has toured much of the world. His rate is $26 per half hour.

Jovana Golubovic
(Guitar, Piano, Voice)
Jovana has a diploma in Guitar and Composition from VCC, and has attended Somatic Voice Work Level one. She has been an active studio musician and songwriter for over a decade. Jovana enjoys working with beginners, and is also fluent in Serbo-Croatian and conversational French. Her rate is $25 per half hour.
Karla Dionio
(Violin,)
Karla Dionio is classically trained musician and devoted teacher who is currently studying Violin performance with additional training in music history, theory, and aural skills in the Music Diploma Program at Capilano University. Her teaching style is influenced by many methods such as RCM and Suzuki. She enjoys working with students of all ages and levels. Her rate is $25 per half hour.

Kimberley Kistler
(Cello)
Kimberley Kistler is a cello performance major at the University of British Columbia. She has worked with top cello teachers in Los Angeles, Chicago, San Francisco and Seattle, and is an avid performer of different styles of music. She has studied and served as principal cellist under conductors from the Metropolitan Opera Orchestra and performed for several celebrities including Clint Eastwood, Hilary Swank, Jack Dorsey, and Moein. Her rate is $25 per half hour lesson.

Lynn Stewart
(Piano)
Lynn Stewart is a teacher, composer and performer who is studying jazz piano and voice at VCC. She is classically trained in piano, playing at the grade 10 Royal Conservatory level. She has performed nationally and internationally in various styles which include folk, pop and contemporary as well. Lynn holds a bachelor's degree in Psychology from SFU. She has been working with children for over a decade. She has also worked with youth and adults with special needs. Her rate is $25 per half hour.

Mehlinda Heartt
(Harp)
Mehlinda Heartt is a Professionally Recognized Vancouver Harpist and Teacher with over 35 years of experience. She is also a composer, arranger, publisher, and performer of harp music. Mehlinda also leads a harp choir that performs at various concerts throughout the year, and she also has a new Celtic World Music Group called Mystic Avalon. Her rate is $30 per half hour.

Michael Ferraro
(Guitar)
Michael Ferraro has studied at Musicians Institute in Los Angeles and has more than 6 years teaching experience. He is well versed in Rock, Pop, Jazz, and folk style guitar and is comfortable teaching students of all ages and experience levels. Mike has developed his own musical career with his band, Candelora. He has released two albums that he showcased and toured across North America. His rate is $25 per half hour.

Niloofar Farzadshad
(Piano, Keyboard)
Niloofar Farzandshad holds her L.T.C.L Performance Licentiate from Trinity College London and Diploma from Tehran Conservatory of Music . She is an established piano instructor with a decade of experience teaching at the Tehran Conservatory of Music and over 25 years of private teaching. She has performed in several classic, baroque, and progressive rock concerts since 1988 and worked with numerous Iranian and Canadian artists in concerts and recordings. She was awarded the Best Young Artist in Tehran in 1992. Her rate is $26 per half hour.

Parker Woods
(Guitar, Bass, Ukulele)
Parker Woods is an innovative composer and guitarist within Vancouver's Jazz and Creative music scenes. He holds an undergraduate degree in Jazz Studies from Capilano University and 7 years of professional experience teaching and performing in a wide variety of genres. As an educator, Parker encourages his students to grow not only as guitarists but as musicians by developing improvisational and composition skills as well. His rate is $25 per half hour.

Peter Prihoda
(Piano)
Peter received his degree in Music Composition and Jazz Arranging from Capilano University in 2008, minoring in Jazz Piano. He teaches jazz theory and varying piano styles. His rate is $26 per half hour.

Ruel Morales
(Guitar)
Ruel Morales is an active performer, session player and educator with over 15 years of professional experience. He holds a B.Mus. from UBC, majoring in Classical Guitar Performance. While classically trained in guitar and piano, Ruel is also fluent in blues, jazz, rock, pop, fingerstyle, folk, composition & theory. Ruel performs as a solo 7-string fingerstyle/loop artist, as part of several wedding ensembles and with a rock band. As a dedicated teacher, he has supported several students to achieve gold medal awards from the RCM. Ruel supports his students to achieve their goals through personalized lessons and inspires them to explore a wide spectrum of guitar styles to find their playing niche. His rate is $26 per half hour.

Ryan Van Poederooyen
(Drums)
Ryan is a Vancouver-based professional drummer. He has done session work for numerous producers such as Chad Kroeger and Brain Howes, but is best known for his work with Devin Townsend. His rate is $27 per half hour.

Sean Mitchell
(Drums)
Sean has been teaching since 2010 and has experience teaching all ages, levels and styles. He has studied at Berklee College of Music and has a degree in Jazz Studies from Capilano University. His rate is $26 per half hour.

Sebastian Chamney
(Guitar, Bass, Ukulele)
Sebastian is a professional guitar player and teacher who has recently graduated with a Bachelors degree in Jazz and Contemporary Guitar from VCC. Sebastian is well versed in rock, blues, metal, funk, pop, and jazz and is capable of performing and teaching within all of these genres. His rate is $25 per half hour.

Shannon Scott
(Piano, Voice)
Shannon is an instructor, performer, and composer with over 15 years of experience in all fields of music. She graduated in 2006 from Capilano University's Bachelor of Jazz Studies program, one of Canada's most highly regarded curricula in jazz education, with a major in vocals and a minor in piano. She studied the RCM piano series as well as jazz piano under the tutelage of Ross Taggart and Alan Matheson. As a professional musician, Shannon has toured internationally with projects that range from jazz to folk to poetry as both lead performer and collaborator. She teaches all styles of piano and vocal technique. Her rate is $26 per half hour.

Shantha Gunasekera
(Piano)
Shantha completed her Graduate studies in Canadian Music at UBC, as well as an ATCL UK diploma, a Masters of Music, and a Doctorate in Ethnomusicology from Russia. She is an examiner, adjudicator, and instructor for RCM, BCCM, ABRSM, and all levels of history and rudiments. She has recently received the title of "Advanced Specialist for Piano & Theory Designations" from RCM Canada. Shantha enjoys working with children as young as 3 years old. Her rate is $28 per half hour.

Talia Butler-Gray
(Voice, Piano)
Talia graduated with a Performing Musician's Diploma from VCC and is working towards completing her Bachelors in Applied Music also from VCC. Talia is well versed in all styles of voice as well as jazz, contemporary, and classical piano. Her rate is $26 per half hour.

Tresor Otshudi
(Voice, Piano,)
Tresor is an international performer and recording artist who has more than 20 years of experience. He holds a Musical Theatre certificate from Choreia Arts Studio in France. And he is studying Classical Music at Trinity Western University. Tresor teaches all styles of Music from Musical theatre, Classical (RCM, theory, history), Jazz, Blues, R&B, Hip Hop Gospel, Rock'n'Roll, Country to Pop. French is his mother tongue. His rate is $27 per half hour.
Troy Zackowski
(Guitar, Bass)
Troy is a certified recording engineer and completed a Berklee transfer diploma in Music Production and Composition. He also has a diploma in Advanced Music Production from NIMBUS. Strong in rock styling as well as blues, Troy has also done partial RCM theory training. His rate is $25 per half hour.

Wayne Holden
(Guitar, Bass)
Wayne is well versed in styles such as rock, pop, blues, heavy metal, and shredding. Experienced as a touring musician and composer, he specializes in technique, songwriting, and strongly believes in catering his lessons to suit how students of all levels learn. His rate is $25 per half hour.