312 Queen St E/Lessons at 505 Albert St.
Sault Ste. Marie, Ontario, P6A 1Z1

---

Lesson Centre: Phone 705-946-1981
Store Phone: 705-254-1756

Lesson Centre Email: lpugh@long-mcquade.com
Store Email: saultstemarie@long-mcquade.com

Lesson Centre Hours
Monday: 12:30pm - 9:00pm
Tueday: 12:30pm - 9:00pm
Wednesday: 9:30am - 9:00pm
Thursday: 9:30am - 9:00pm
Friday: 9:30am - 7:00pm
Saturday: 9:30am - 5:00pm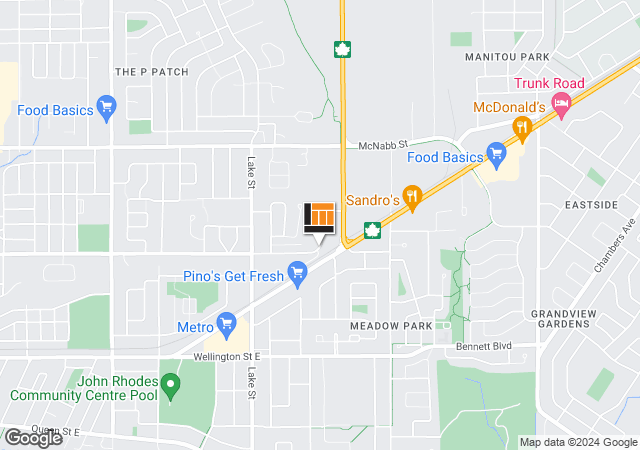 This Location Offers:
Private Lessons
Looking for music lessons? Well look no further, because Long & McQuade Sault Ste Marie has music lessons for you and your whole family. Located at the corner of Spring and Albert, the Sault Ste Marie Lesson Center offers lessons on a wide range of instruments, including guitar, piano,drums,bass, ukulele and voice by experienced and trained instructors in well equipped lesson rooms. Whether you are a complete beginner or a skilled musician, we have an instructor who can take you to the next level. For more information or to register, feel free to call 705-946-1981 and speak to one of our lesson associates today or stop by the Spring and Albert St location (former Thomas Walls School of Music building).
Group Lessons
Two 45 min sessions on Thursday mornings. 10:30am: 18 months - 2 years old; 11:30am: 2 years old- 4 years old. Classes will include singing, creative dancing, music making, story time and music crafts.The main goal is to have fun and foster a life-long love for music! Classes start Sept.19 and run until Dec.5. 12 weeks for $216. Call 705-946-1981 to register.
Jam-bouree (toddler music class)
Our Teachers:
show all

Alisa Borland
(Piano, Flute)
Alisa holds a Bachelor of Music degree from Algoma University and her Grade 10 RCM on piano and flute. She has also completed teacher training in the Suzuki method. Alisa has been teaching for over 10 years in Sault Ste Marie, and is fluent in a variety of styles from classical to pop and rock. Her rate is $24 per ½ hour lesson.

Judy Irvine
(Piano)
Judy has been teaching piano students of all ages in Sault Ste. Marie for three decades and her warm personality enriches every lesson. She is also a licensed Kindermusik Educator. Judy's rate is $24 per 1/2 hour lesson.

Lesley Walsh
(Voice, Musical Theatre Performance)
Lesley graduated with a Bachelor of Fine Arts in Musical Theatre Performance from the University of Windsor in 1992. She has been very active in Sault Ste. Marie's music theatre scene for over 30 years. Her teaching technique is performance oriented, based on relaxation and enjoyment of the art of singing. Lesley's rate is $24 per ½ hour private lesson.

Letitia Bishop
(Clarinet, Saxophone, Trumpet)
Letitia holds a Bachelor of Arts degree in Music and Mathematics from Laurentian University with a concentration in saxophone and minors in percussion and trumpet. She also holds a Bachelor of Education from Lakehead University. She has completed RCM level 9 saxophone and level 6 piano. Letitia is passionate about music of many genres and incorporates good musicianship and fundamentals into her lessons. Letitia's rate is $21 per 1/2 hour lesson.

Mark Gough
(Drums, Percussion)
Mark holds an Honours degree in Music Education as well as a Bachelor of Education from the University of Western Ontario. As a multiinstrumentalist, Mark has performed with numerous groups in Sault Ste. Marie and across Canada. Mark brings an enthusiasm and passion for music, while educating students of all abilities and interests. Mark's rate is $24 per ½ hour lesson.

Mitch Sirie
(Guitar, Bass, Ukulele)
Mitch is an experienced guitarist who specializes in rock, metal and original compositions. He has found that there's at least one song in every genre that he can enjoy. Also active in the Sault Ste. Marie music scene. Mitch's rate is $24 per ½ lesson.

Ryan Stephen
(Guitar, Ukulele)
Ryan has over 30 years of playing experience and has been teaching students of all ages and levels for 16 years. He specializes in finger-style guitar as well as lead and slide improvisation, and focuses on developing good technique and a strong understanding of music theory with his students. Ryan teaches a wide variety of styles, including blues, jazz, country, pop, rock, and classical guitar. Ryan's rate is $24 per ½ hour lesson.