Locations
3404 5 Avenue NE
Calgary East, Alberta, T2A 5N8 (587) 296-6648
Phone Number: (403) 245-3725
Fax: (403) 245-0459
Email: calgaryeast@long-mcquade.com
Lesson Centre Email: calgaryeastlessons@long-mcquade.com



2022 HOLIDAY HOURS IN DECEMBER
(Dec.12-23)

OPEN SUNDAYS IN DECEMBER BEFORE CHRISTMAS!

Sunday: 12:00pm - 5:00pm
Monday: 10:00am - 8:00pm
Tuesday: 10:00am - 8:00pm
Wednesday: 10:00am - 8:00pm
Thursday: 10:00am - 8:00pm
Friday: 10:00am - 8:00pm
Saturday: 10:00am - 6:00pm

DECEMBER 24: 10:00am - 05:00pm
DECEMBER 26: 10:00am - 06:00pm
DECEMBER 31: 10:00am - 05:00pm
CLOSED: Sunday, December 25 and Sunday, January 1.

Store Hours


Monday: 10:00am - 8:00pm
Tuesday: 10:00am - 8:00pm
Wednesday: 10:00am - 8:00pm
Thursday: 10:00am - 8:00pm
Friday: 10:00am - 8:00pm
Saturday: 10:00am - 6:00pm
Sunday: 12:00pm - 5:00pm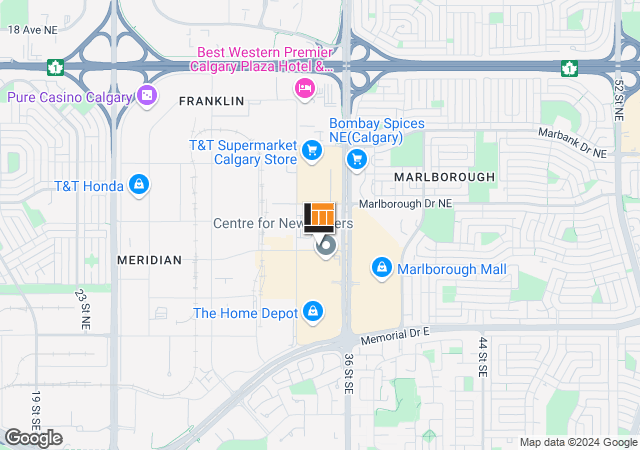 Directions to Long & McQuade Calgary East
Long & McQuade Calgary East is located at 3404 5th Ave NE, just off of 36th St. NE, west of Marlborough Mall. If traveling on Deerfoot Trail, head east on 16th Ave NE or Memorial Drive, and take the 36th St. NE to 5th Ave NE.
Services offered at this location
At L&M Calgary East, we offer:
Sales of most major brands of musical instruments, music software and professional audio equipment
Daily, weekly and monthly rentals of instruments and audio equipment
Easy musician-friendly financing options
Minor guitar repairs
One-on-one music lessons for a variety of instruments, with qualified instructors
About our Calgary East Location
Long & McQuade Calgary East is conveniently located near the Marlborough C-Train Station. We have a wide variety of products for sale and rent, including acoustic and electric guitars, drums, keyboards and pianos, recording equipment, band instruments, sheet music, and PA gear. Our friendly and knowledgeable staff promise to offer great customer service and products at a great price!
Music Lesson Centre
Long & McQuade's Music Lesson Centre in Calgary NE features professional studios, highly qualified teachers and private instruction for all ages, levels and styles.
We teach lessons in:
guitar
bass
drums
piano
woodwinds
brass
Register for music lessons today! Call (403) 245-3725 or email the lesson coordinator for details.