---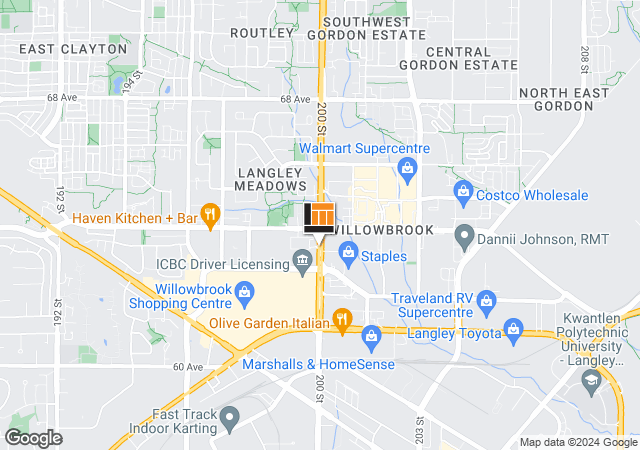 ---
Directions to Long & McQuade Langley
Long & McQuade Langley is located 5 minutes south of the 200th Street exit off of the Trans Canada Highway (HWY 1), on the southwest corner of the intersection of 200th Street & 64th Ave in the Langley Crossing Shopping Mall. We are 1 block north of Willowbrook Shopping Centre.
Services offered at this location
Large guitar brand selection including Fender, Gibson, EVH, Mesa Boogie, Gretsch, Dr. Z, Fultone, MarkBass, Kala, and GoldTone
Large selection of ukuleles
Full service rental dept.
Large selection of print music
School band instrument rentals
Educational Services Representative
Commercial/House of Worship audio/video/lighting consultation and installation.
Music Lessons Centre
About our Langley Location
The Langley Long & McQuade has a great selection of all kinds of instruments and accessories to suit your needs. We have a very comprehensive Print & Band department with very knowledgeable staff that can help you find the right piece of music, or the best option for your new band instrument. We have a great selection of woodwind and brass instruments at all price points, and we always have great deals on used pieces.
We have the largest drum and percussion dept. in the lower mainland stocked with all kinds of fun things! We also have a large selection of electronic drums and percussion set up for you to try.
We offer Commercial audio/visual/video installation services for the Lower Mainland. Ask us anything if you are looking to build or upgrade a system for your school, church, restaurant or community centre.
Music Lesson Centre
Long & McQuade's Music Lesson Centre in Langley features professional studios, highly qualified teachers and private instruction for all ages, levels and styles.
We teach lessons in:
guitar
bass
drums
piano
voice
woodwinds
brass
strings
and more!
Register for music lessons today! Call 604-532-8806 or email the lesson coordinator for details.