Our store is open to customers again; however, we may need to limit the number of customers in the store.
We will continue to offer curbside pickup service. Please call the store for details. (250) 716-7261
Please practice physical distancing while visiting our store and maintain a distance of 2 metres from staff and other customers.

Our lesson centres are also closed; however, we do have many of our teachers available for online music lessons. Please contact the lesson centre for details. (250) 716-7291
Store Hours:
Monday: 10:00am - 6:00pm
Tuesday: 10:00am - 6:00pm
Wednesday: 10:00am - 6:00pm
Thursday: 10:00am - 8:00pm
Friday: 10:00am - 8:00pm
Saturday: 10:00am - 6:00pm
Sunday: 12:00pm - 5:00pm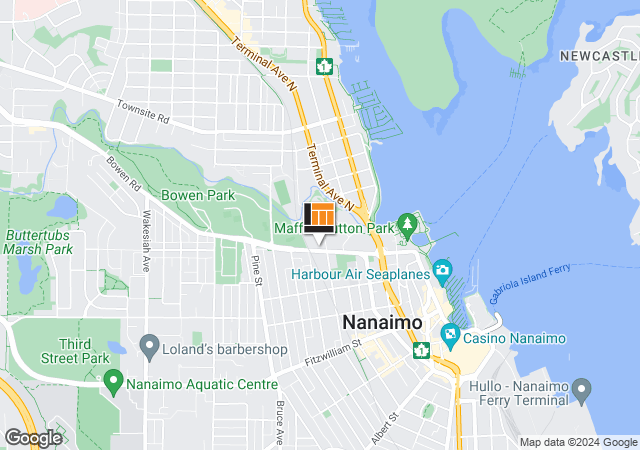 Directions to Long & McQuade Nanaimo
Long & McQuade Nanaimo is located less than a kilometre from Nanaimo Harbour with a bus stop right at the corner. The main parking lot is in the rear of the store.
Located at the corner of Comox Road and Prideaux Street, Long & McQuade Nanaimo has over 10,000 square feet including a 10 room lesson centre. We have departments to cover all your musical and equipment needs.
Services offered at this location
Long & McQuade Nanaimo offers:
A large selection of instruments and equipment
Sales & Rentals
In-house financing
Performance warranty coverage
Music Lessons in most instruments
About our Nanaimo Location
Long & McQuade Nanaimo has the largest selection of musical instruments in the mid-island region. We have an extensive collection of acoustic and folk instruments from Gibson, Martin, Taylor, Larrivee, Epiphone, Yamaha, Simon & Patrick, and many others. Our expansive electric and bass guitar offerings include Gibson, Epiphone, Fender, Squier, Ibanez, EVH, Godin, Jackson ESP/LTD, and many others.
We are a proud dealer of Yorkville PA and Traynor amplifers.
Music Lesson Centre
Long & McQuade's Music Lesson Centre in Nanaimo features professional studios, highly qualified teachers and private instruction for all ages, levels and styles.
We teach lessons in:
guitar
bass
drums
piano
woodwinds
brass
strings
and more!
Register for music lessons today by calling 250-716-7291 or sending an email to our Lesson Coordinator!