Our store is open to customers again; however, we may need to limit the number of customers in the store.
We will continue to offer curbside pickup service. Please call the store for details. (604) 464-1011
Please practice physical distancing while visiting our store and maintain a distance of 2 metres from staff and other customers.
Our lesson centres are also closed; however, we do have many of our teachers available for online music lessons. Please contact the lesson centre for details. (604) 464-1118
Store Hours:
Monday: 10:00am - 6:00pm
Tuesday: 10:00am - 6:00pm
Wednesday: 10:00am - 6:00pm
Thursday: 10:00am - 6:00pm
Friday: 10:00am - 6:00pm
Saturday: 10:00am - 6:00pm
Sunday: 12:00pm - 5:00pm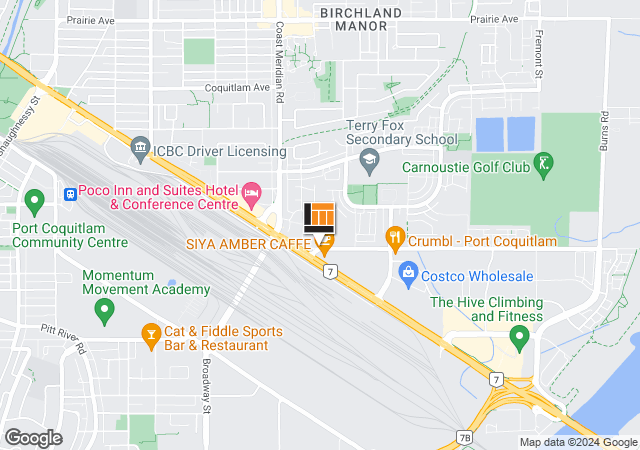 Directions to Long & McQuade Port Coquitlam
Long & McQuade Port Coquitlam is located at 1360 Dominion Avenue, geographically east of Coquitlam Centre Mall and west of the Pitt River Bridge. The easiest way to find us is to follow Lougheed Hwy and turn north at the light intersecting Lougheed and Dominion Avenue. The store is next to a car wash and an oil change garage, across from Archbishop Carney Secondary School. We are close to Art Knapp and approximately one block west from Costco.
Services offered at this location
At L&M Port Coquitlam, we offer:
Experienced, friendly, no pressure sales staff that will help you find the right product to fit your needs
A range of inexpensive instruments for the beginner to high-end equipment for the professional
A huge selection of brands such as Gibson, Traynor, Marshall, Mesa Boogie, Dr. Z, Truetone, Yamaha, Fender, Bose, Orange Amplifiers, Line6, Pioneer, Roland, Boss, Zoom, Korg and many more!
In store, musician friendly financing
Daily, weekly, and montly rentals of instruments and audio equipment
Dedicated area for used and clearance deals at discount prices
Multiple private tryout rooms for electric & acoustic guitars, basses, amps, pedals, drum cymbals, as well as a high-end acoustic guitar area for the discerning professional.
A guitar string purchase program where you will be rewarded with a free packs of strings!
Staff that are knowledgeable in areas ranging from the latest music technology to vintage guitars and equipment.
Music Lessons
About our Port Coquitlam Location
The Port Coquitlam location originally opened in December of 1997 on Lougheed Highway and Shaughnessy Street serving the musical needs of Port Coquitlam, Burnaby, Maply Ridge, Pitt Meadows, and Mission. The store quickly outgrew its square footage and a new, larger location was constructed at its current location on Dominion Avenue in the summer of 2006. Since then, the store has gone through several renovations to further improve the shopping experience. Our focus is on great customer service, combined with an excellent selection of musical equipment for all types of customers and their diverse needs.
Music Lesson Centre
Long & McQuade's Music Lesson Centre in Port Coquitlam features 14 spacious professional studios, with highly qualified, friendly, non-intimidating instructors that can help further your personal music goals. We offer instruction in most insturments for adults, pre-schoolers and all ages in between. To help students develop perfomance skills, we have a rock band program and hold student recitals twice a year.
We teach lessons in:
guitar
bass
drums
piano
woodwinds
brass
strings
and more!
Register for music lessons today! Call 604-464-1118 or email the lesson coordinator for details.