Locations
661 Wall Street
Winnipeg (Wall St.), Manitoba, R3G 2T5
Phone Number: (204) 783-6045
Fax: (204) 786-0977
Email: winnipegnorth@long-mcquade.com



2022 HOLIDAY HOURS IN DECEMBER
(Dec.12-23)

OPEN SUNDAYS IN DECEMBER BEFORE CHRISTMAS!

Sunday: 12:00pm - 5:00pm
Monday: 10:00am - 8:00pm
Tuesday: 10:00am - 8:00pm
Wednesday: 10:00am - 8:00pm
Thursday: 10:00am - 8:00pm
Friday: 10:00am - 8:00pm
Saturday: 10:00am - 6:00pm

BOXING DAY MONDAY, DECEMBER 26
10:00am - 6:00pm
CLOSED: Sunday, December 25 and Sunday, January 1.

Store Hours


Monday: 10:00am - 6:00pm
Tuesday: 10:00am - 6:00pm
Wednesday: 10:00am - 6:00pm
Thursday: 10:00am - 6:00pm
Friday: 10:00am - 6:00pm
Saturday: 10:00am - 6:00pm
Sunday: Closed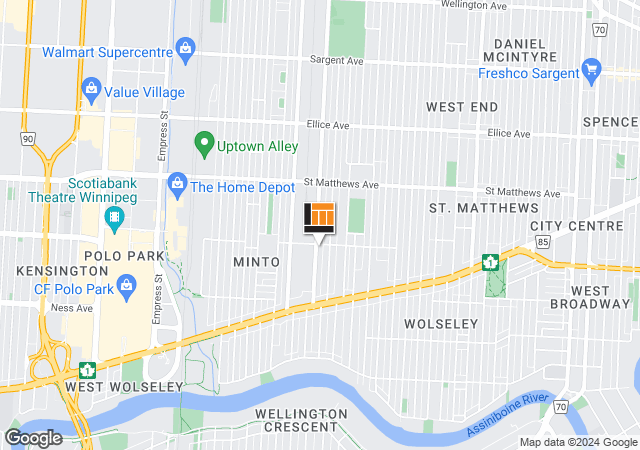 Directions to Long & McQuade Winnipeg North
Long & McQuade Winnipeg North is located on the east side of Wall Street, one block off of Portage Avenue. West of downtown, Wall Street is a one-way thoroughfare with access directly off of Portage Avenue and is close to most major bus routes.
Services offered at this location
Long & McQuade Winnipeg North offers:
Most of the popular musical brands, including software, percussion, guitars, band instruments and more
Easy in-house financing for every budget
On site guitar/bass repair with a credited luthier
Large selection of rental goods, from live PA to recording necessities
Experienced staff to support you in every department
About our Winnipeg (Wall St.) Location
Previously Gorden Price/Mothers Music, we've been operating out of the Wall Street location since 1993. The company was welcomed into the Long & McQuade family May of 2011 and we haven't looked back.
Fully renovated in 2014, L&M Winnipeg North supplies the south end of the city with everything they could possibly need. From the continuously growing band department, our "goliath" guitar wall, and everything between, we're confident that we will have what you need to keep your music playing.
Long & McQuade is the largest music retailer in the country. With its friendly and knowledgeable staff, convenient location, and constantly expanding sales reach, Long & McQuade Winnipeg North is happy to keep serving the community for years to come.
Thank you for stopping by!