---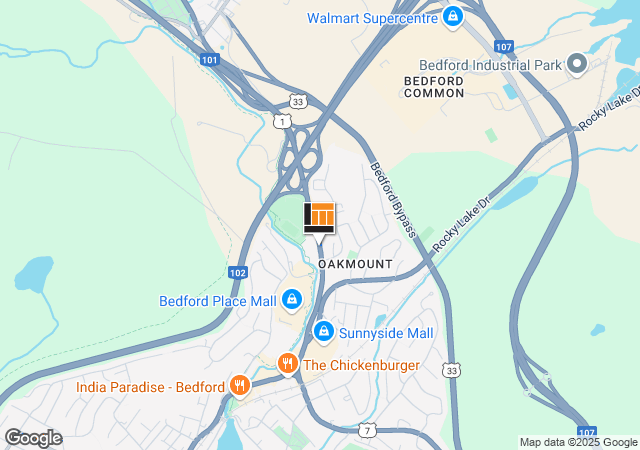 ---
Directions to Long & McQuade Bedford
Long & McQuade Bedford is conveniently located at 1717 Bedford Highway in the town of Bedford, Nova Scotia on the outskirts of the Halifax Regional Municipality.
From the Halifax International Airport, take Highway #102 south towards Halifax for 20km. Take Exit #4A to Highway #1 into Bedford (the "Bedford Highway"). L&M Bedford is approximately 1km from the exit on your left, across from the A&W.
From Metro Halifax, take Highway #102 north (towards the Airport) for 17km. Take Exit #4A to Highway #1 into Bedford (the "Bedford Highway"). L&M Bedford is approximately 1km from the exit on your left, across from the A&W.
From Dartmouth, take Highway #111 (the "Circumferential Highway") to Exit #2 West (Victoria Road, Highway #322 - Windmill Road, Highway #7 West). Follow Hwy #7 for about 7km, at which point the road forks. Stay to the LEFT (stay on Highway #7 - now Dartmouth Road). In about 2km, turn right at the lights onto Highway #1 (the "Bedford Highway"). Staying on Hwy #1, pass Sunnyside Mall on your right, and Bedford Place Mall on your left. L&M Bedford will then be on your right, across from the A&W.
Services offered at this location
Long & McQuade Bedford has departments dedicated to all your musical needs, with knowledgeable, experienced, friendly staff able to answer any questions you may have. Whether you are a professional musician, a weekend warrior, or just learning an instrument for the first time, we're here to help. We offer the following:
Most major brands of musical instruments, books, software, pro audio equipment and accessories
Daily, weekly and monthly rentals of instruments and pro audio equipment
Easy musician-friendly financing options with immediate on-site approval
Guitar repair shop with qualified luthier
Service drop-off of musical instruments and equipment
One of Canada's largest Long & McQuade Music Lesson Centres
About our Bedford Location
The summer of 2007 marked Long & McQuade's entrance into Atlantic Canada when they purchased all nine of the Atlantic Musicstop locations. Musicstop Bedford was originally located in the historic Ten Mile House in Bedford until 2003 when it moved to the current location - just in time for the roof to be literally ripped off by Hurrican Juan in September of that year.
Extensive renovations put the store back together. When L&M took over in 2007 more renovations took place, converting our modest store into the impressive shop it is today. Our location new boasts a comprehensive rental departments, a large retail floor, substantial warehousing and shipping facilities, the region's most renowned guitar repair shop and technician, and one of the country's best-attended L&M Music Lesson Centres.
Music Lesson Centre
Long & McQuade's Music Lesson Centre in Bedford features professional studios, highly qualified teachers and private instruction for all ages, levels and styles.
We teach lessons in:
guitar
bass
drums
piano
woodwinds
brass
strings
and more!
Register for music lessons today! Call 902-496-6986 or email the lesson coordinator for details.