---
104 Capital Drive
Charlottetown, Prince Edward Island, C1E 1E7
Phone Number: (902) 368-3237
Lesson Centre: Phone or Text (902) 367-3433
Fax: (902) 368-9030
Email: charlottetown@long-mcquade.com
Lesson Centre Email: charlottetownlessons@long-mcquade.com
Holiday Schedule Changes
Open Every Sunday before Dec 24 (12:00-5:00)
Sunday Dec 24 (11:00-4:00)
Dec 11-23 Extended Hours (Mon-Fri 10:00-8:00, Sat 10:00-5:00)
Dec 25 - Closed
Dec 26 – Closed
Sunday Dec 31 - Closed
Jan 1 – Closed
Store Hours
Monday: 10:00am - 6:00pm
Tuesday: 10:00am - 6:00pm
Wednesday: 10:00am - 6:00pm
Thursday: 10:00am - 6:00pm
Friday: 10:00am - 8:00pm
Saturday: 10:00am - 5:00pm
Sunday: Closed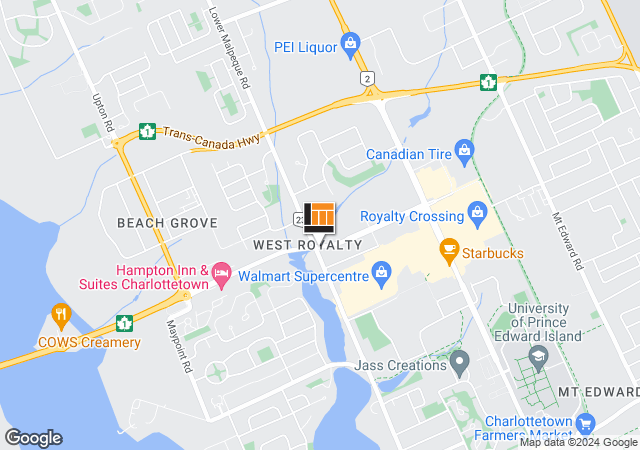 ---
Directions to Long & McQuade Charlottetown
Long & McQuade Charlottetown is located at 104 Capital Drive. When travelling to Charlottetown via the Confederation Bridge (Route 1 East Bound), a short 40 minute drive will bring you into the city limits. Once you cross over North River Rd/Lower Malpeque Rd, Route 1 then turns into Capital Drive. The store is approximately 100m from this intersection on the right hand side.
If you are travelling to the island via NFL Ferries at Wood Islands/Caribou, follow Route 1 West Bound, to Charlottetown. After crossing the Hillsborough River, follow the Charlottetown Bypass (also Route 1) turning left at the Malpeque Rd. intersection. Travel approximately 500 meters, turning right onto Capital Drive. You will find the store on the left approximately 300m down Capital. Transit time from Wood Islands is approx. 50 minutes.
For those using the city bus service, Charlottetown Transit also has a bus stop directly in front of our building.
Services offered at this location
Long & McQuade Charlottetown is the islands biggest music store. We offer:
Most major brands of musical instruments, music software and professional audio equipment
We are the only acoustic piano dealer in the province
Daily, weekly and montly rentals of instruments and audio equipment
Easy musician-friendly financing options
Certified guitar repair technician on staff
Consultation for those setting up studios, sound stages and installed sound systems
Music lesson centre
About our Charlottetown Location
Long & McQuade Charlottetown was purchased from Sober's Music in August 2008. Renovated in 2009 with a full rental department and separate recording gear room, it is the island's biggest and most complete music retail centre.
Music Lesson Centre
Long & McQuade's Music Lesson Centre in Charlottetown features professional studios, highly qualified teachers and private instruction for all ages, levels and styles.
We teach lessons in:
guitar
bass
drums
ukulele
violin/fiddle
mandolin
voice
piano
woodwinds - clarinet, oboe, sax & flute
brass
and more!
Register for music lessons today! Call (902) 367-3433 or email the Lesson Coordinator for details.