Dean Markley makes great strings, which sound spectacular and help players get the sounds they want. And... they make it fun.
Dean Markley is a bunch of great people who truly love what they do. Their employees work diligently to insure they manufacture the world's finest guitar, bass, mandolin, banjo, and other fretted instrument strings that can be found anywhere in the world. The same thing goes for Dean Markley acoustic and electric guitar amps.
Starting off as a very small string company that focused on quality and original design concepts which produce superior products, Dean Markley has grown into one of the industry's major string manufacturers without compromising those ideals and standards, creating innovative products such as their original Vintage series strings, best-selling Blue Steel strings, much-loved Promag acoustic pickups, SR2000 bass strings, Voice Box (played by Peter Frampton and others), 1980s amps and, of course, the simply FANTASTIC Helix HD Acoustic and Electric strings. Basically every product that the Dean Markley company makes is the very best in its field.
Blackhawk Coated Electric Strings Light 9-4278492
Blackhawk Coated Electric Strings Light 9-42 Blackhawk Coated Electric Strings

Dean Markley's cutting edge Blackhawk Coated Electric Strings deliver mind blowing, soaring tone that cuts through every time. Constructed with a high carbon nickel-plated steel wire core, they are covere...
Nickel Steel 10-46 Reg Electric Guitar Strings1498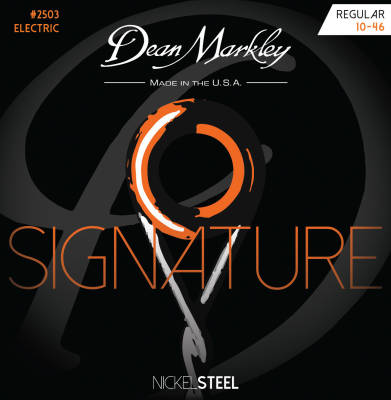 Nickel Steel 10-46 Reg Electric Guitar Strings The cornerstone of Dean Markley Strings.Dean Markley NickelSteel Electric strings remain on top of the best-seller's list year after year.

Nickel-steel Electric sports new graphics, tarnish resistant individual envelopes and an Environment...
Helix HD Series Electric Guitar String Set - LT 9-4214737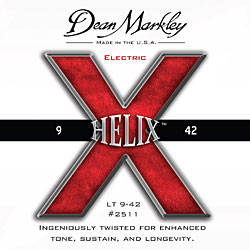 Helix HD Series Electric Guitar String Set - LT 9-42 To make the Helix HD, the patent-pending, Hyper-Elliptical Winding process took over a year of many trials to find just the precise elliptical shape for the winding wire. This shape then had to be paired with the correct winding process tha...