Denver Instruments have been designed and built to meet the needs of players at all skill levels, making them ideal for beginning students and practicing musicians alike.
Great care and attention to detail ensure maximum playability and tone from any Denver guitar, ukulele or bluegrass instrument.
Available in a variety of styles, sizes and finishes, all Denver instruments come with a custom-fit gig bag for safe transport and storage, and are subjected to rigorous quality control to deliver maximum tone and long-term playability.
From beginner to performer, the Denver line has an affordable instrument for musicians at all levels and needs!
Classical Guitar - 1/2 Size - Natural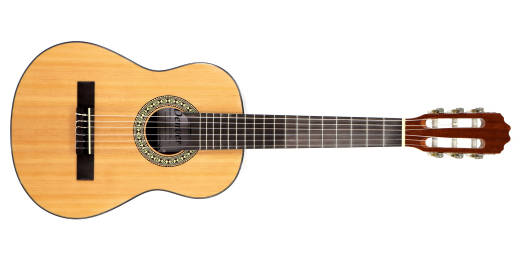 Despite its compact size, the DC12N 1/2 size nylon string classical guitar delivers huge tone and playability. Incredibly lightweight and easy to handle, the Denver DC12N is a perfect choice for a young students' first guitar. Includes cust...
Soprano Ukulele - Brown

Denver ukuleles are designed for maximum playability. Together with their compact size, quality wood tops, sides, backs, and Australian Blackwood fingerboards, the Denver ukuleles deliver true tone and proper intonation. Custom gigbag inclu...
Acoustic Guitar - Full Size - Natural

Built for the practicing musician, the full size DD44S dreadnought acoustic uses a high quality laminated spruce top, Australian Blackwood fingerboard, okuman neck, sapele back and sides to create a guitar that delivers outstanding tone and...