Belwin
I Recommend - Tenor Sax
---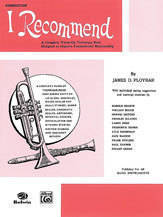 17 models to choose from:
Category: Band Supplement
Format: Book

A complete warm-up technique book containing units on lip slurs, chorales, major scales and scale studies, minor scales, chromatic scales, arpeggios, interval studies, articulation and dynamic studies, rhythm studies, and rudiment review. Written by James D. Ployhar, with individual tuning suggestions and warm-up exercises by additional experts on each instrument.
There are currently no reviews for this product. Be the first to write one!