August is Fender Month! - All Locations
This event has expired.

Congratulations to our Fender Month social media contest winner, Daniel Walsh! See Daniel's winning submission here. We gave Daniel's submission the full poster treatment - check it out below!
Fender Month is now over and we want to thank everyone that participated in our social media contest! We received so many creative submissions and had so much fun turning them into Classic Fender Ads.
______________________________________
Owning the spirit of rock 'n' roll has never been easier!
Join us in August for great specials, and 0% financing for 6 months on all Fender manufactured or distributed products! This includes Fender guitars, Fender acoustic guitars, Fender basses, Fender amplifiers, Fender Custom Shop, Squier guitars and basses, Jackson guitars, EVH guitars, amplifiers and accessories, Gretsch guitars, and Charvel guitars. Plus enjoy:
Exclusive models
Special pricing
Special rental rates on select models
Contests (details below)
For just some of the exciting rates, specials and freebies
only available during Fender Month, view our flyer below: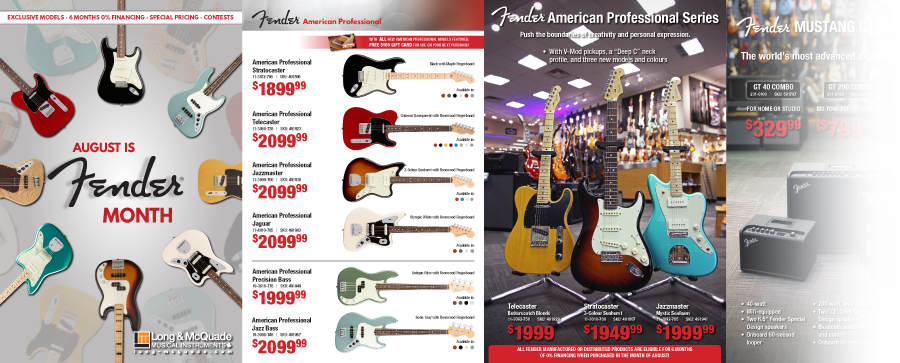 PDF: Click here to view.
FENDER MONTH CONTESTS:
Long & McQuade and Fender are giving you LOTS of ways to WIN this month!
Social:
Wherever you go, you'll find Fender.
Remember those classic print ads from the '60s featuring daring adventurous guitarists in interesting situations holding tightly to their cherished Fenders? Flash forward to Fender Month 2017 - we want you to do the same!
Take a photo of yourself with your prized Fender*, in the most creative scenario you can think of**, and share it using the hashtag #FenderMonth for your chance to win this Fender Deluxe Stratocaster ($1,099 value)! Don't forget to follow us on the social media platform on which you are entering!
facebook.com/longmcquade
instagram.com/longandmcquade
twitter.com/longmcquade
*Any Fender-distributed brand (Fender, Squier, Jackson, EVH, Gretsch and Charvel)
**Stay safe!! Digitally altered images accepted!
Submissions accepted between Tuesday, August 1st and Thursday, August 31st, 2017.
Contest open to residents of Canada.
Multiple submissions are permitted. Winner to be determined by random draw of valid entries. Valid entries are those that fit the spirit of the contest, which is to attempt to build upon the creativity and adventurous nature of the original "You Won't Part With Yours Either" Fender ad campaign from the 1960s. Entrants must "Follow" Long & McQuade on the social platform through which they have entered. Winner must be able to receive direct messages on their social platform so that further information can be communicated between both parties if necessary.
In-Store
Congratulations to winner Darlene M from North Bay, ON!
This one's easy! Visit your local Long & McQuade, fill out a ballot, and cross your fingers that you're going to win a Fender Mustang GT Amplifier ($539 value)!
Insider Exclusive
Congratulations to winner Tim H from Saskatoon, SK!
If you're a Long & McQuade Insider you know what we're talking about...you'll get an email in August with all of the details on this giveaway, reserved exclusively for Insiders! Not yet an Insider? Sign up today for your chance to win this Fender '50s Classic Stratocaster, valued at $1,079 (and to be notified about other exclusive contests and offers)! Click here to sign up.
Date: August 1 - August 31, 2017