---
1887 Kingston Road
Pickering, Ontario, L1V 1C9
Phone Number: (905) 686-4900
Lesson Centre: Phone or Text (905) 686-9450
Email: pickering@long-mcquade.com
Lesson Centre Email: pickeringlessons@long-mcquade.com
Holiday Schedule Changes
Open Every Sunday before Dec 24 (12:00-5:00)
Sunday Dec 24 (11:00-4:00)
Dec 11-23 Extended Hours (Mon-Fri 10:00-9:00, Sat 10:00-6:00)
Dec 25 - Closed
Dec 26 - (10:00-6:00)
Jan 1 – Closed
Store Hours
Monday: 10:00am - 9:00pm
Tuesday: 10:00am - 9:00pm
Wednesday: 10:00am - 9:00pm
Thursday: 10:00am - 9:00pm
Friday: 10:00am - 9:00pm
Saturday: 10:00am - 6:00pm
Sunday: 12:00pm - 5:00pm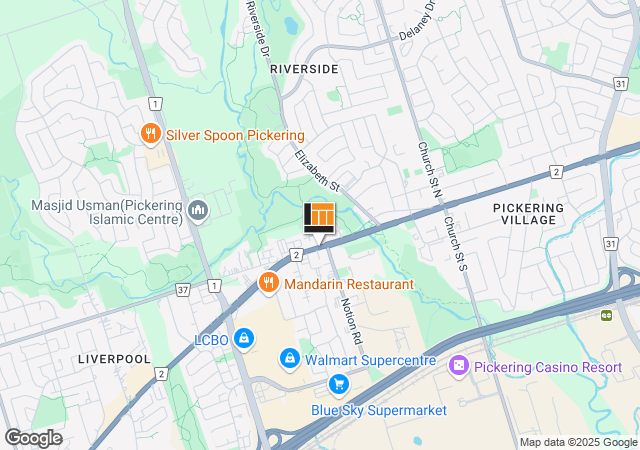 ---
Directions to Long & McQuade Pickering
Long & McQuade Pickering is located on the south side of Kingston Road in the east end of Pickering, at Notion Road.
If you are coming from the west, take the 401 to Brock Road and go north. Turn right at Kingston Road and the store is at the second set of lights on the right hand side.
If you are coming from the east, please exit the 401 at Westney Road and go north. Turn left onto Kingston Road and the store will be on the left hand side at the third set of lights.
Services offered at this location
Variety of products in all departments and disciplines from stage bands to rock band to print music and recording
Lessons seven days a week for guitar, piano, vocal, strings, woodwinds, drums and ukulele
In-house finanacing
Daily, weekly and monthly rentals
Repairs can be arranged for most products
About our Pickering Location
The Pickering location opened in September 2012 and has been serving the busy west end of Durham ever since!
Music Lesson Centre
Long & McQuade's Music Lesson Centre in Pickering features professional studios, highly qualified teachers and private instruction for all ages, levels and styles.
We teach lessons in:
guitar
bass
drums
piano
voice
woodwinds
brass
strings
and more!
Register for music lessons today! Call (905) 686-9450 or email the lesson coordinator for details.