Rotosound has been creating, designing and making strings for over fifty years. By helping music icons like Jimi Hendrix, John Entwistle and Geddy Lee to create their amazing sounds, Rotosound strings have become synonymous with the British Tone. Renowned throughout the world, Rotosound is the home of legendary products such as Swing Bass 66 and Roto strings and is justifiably proud to be part of rock history.
Founded in 1958 by James How as a small, UK based, family-owned and operated company, Rotosound core values are little changed today. More sophisticated machines, designed and built by the late founder's son, Jason How, still produce high quality instrument strings using only the best materials and a great team of people who really love what they do. Each string is physically and visually inspected at every stage of the manufacturing process to get maximum consistency, ensuring each one is unrivalled in tone, tuning stability and durability.
Rotosound strings have played a large part in the history of rock music and the company plans to continue drawing on this rich legacy to continue being a major influence for decades to come.
Swing Bass 66 Stainless Steel Bass Strings 45-105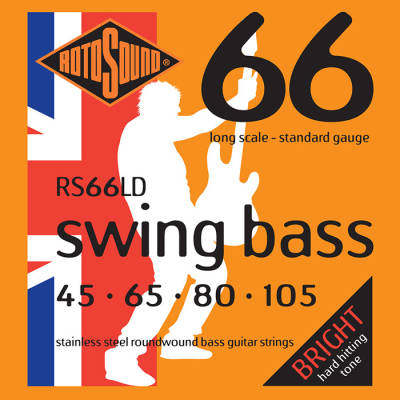 The most popular Roundwound bass string ever. Rotosound was the first string company to produce this kind of string. Introduced in 1962 it changed the sound of the instrument instantly. The favourite string of many players including Billy S...
Phosphor Bronze 12-54 Light Acoustic Strings
12-16-24w-32w-44w-54w
Our best selling acoustic string. Phosphor Bronze wound Acoustic Guitar string set with superb warm tone, clarity and sustain. Favoured by such artists as John Renbourn and Bob Geldof. Available in five, six string gau...
Top Tape Monel Flatwound 12-52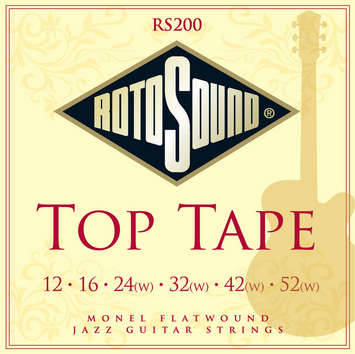 Stainless Steel Nickel Free Ribbon

Still the favourite for players of jazz, fusion, slide and studio work alike.

The smooth feel from the stainless steel tape offers noiseless fingering yet still allows for an element of upper harmonics t...