9833 Markham Road
Markham, Ontario, L6E 0E5

---

Lesson Centre: Phone or Text (905) 471-5322
Store Phone: (905) 209-1177
Fax: (905) 209-1463

Lesson Centre Email: markhamlessons@long-mcquade.com
Store Email: markham@long-mcquade.com

Lesson Centre Hours
Holiday Hours: Closed from Tuesday, December 24 to Wednesday, January 1. Lessons resume Thursday, January 2 unless otherwise indicated by your teacher. Happy Holidays!

Monday: 1:00pm - 9:00pm
Tuesday: 1:00pm - 9:00pm
Wednesday: 1:00pm - 9:00pm
Thursday: 1:00pm - 9:00pm
Friday: 1:00pm - 9:00pm
Saturday: 10:00am - 6:00pm
Sunday: 10:30am - 3:30pm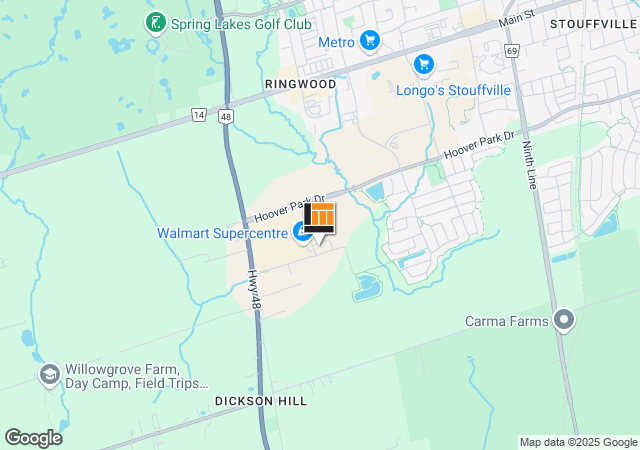 This Location Offers:
Private Lessons
Group Lessons
Inquire for more details and start dates. Registration is available on a first come, first serve basis.
Children's piano party
Rock skool
Group theory levels 5-8
Adult guitar jam
Youth choir
Our Teachers:
show all

Aaron Bales
(Guitar, Ukulele)
Aaron has been giving guitar lessons for over 15 years, currently in the Markham area. A student of rock/metal early in life, he soon progressed to study classical guitar through the Royal Conservatory of Music. Aaron then shifted his focus to Jazz and Jazz Fusion styles, and became an honours graduate in the Jazz Guitar program at Humber College. After his studies, Aaron found a rewarding passion in teaching. Aaron loves teaching a variety of musical styles (Rock, Metal, Jazz, Classical, Blues, Funk, Pop, Folk, Song writing, Shred and Improvisation) and has seen success with students of all ages, from beginner to College/University preparation. Some of Aaron's musical accolades include: In 2010, he was hired to demonstrate amps at winter NAMM (National Association of Music Merchants), and a few years later, he backed up Sarah Brightman on CTV Morning. With a vast array of styles under his belt and experience performing with numerous bands and ensembles, Aaron is eager to pass on and share his experience with students of all musical leanings.

Aaron's rate is $27.00/30min lesson.

Al Rowe
(Guitar, Voice, Ukulele)
Al holds a Bachelor of Music Degree from Humber College. He teaches lessons for guitar, voice, ukulele, piano, and music theory in Markham. He has spent numerous years teaching, performing on national tours, and taking part in projects with some of the music industry's most widely acclaimed recording artists, including The Jonas Brothers and Demi Lovato (Camp Rock 2: The Final Jam). Al's most recent recording was produced by Tommy Mac of the multi-platinum band Hedley. Al enjoys teaching all genres including rock, pop, classical, and jazz, and students of all ages.

Al's rate is $26.00/30min lesson.

Carlo Bianchini
(Guitar, Voice, Piano, Ukulele)
Carlo has been instructing guitar, voice, and beginner piano lessons in Markham for approximately 24 years. With a caring personality and strong background in diverse styles (Rock, Classical, Pop, Jazz, Blues, etc.), he is dedicated to creating a fun and inspirational learning environment. Vocally, Carlo has been trained privately in Bel Canto technique and Speech Level Singing made popular by Seth Riggs, who worked with such greats as Michael Jackson, Prince, Stevie Wonder, and Madonna. As a Singer/Songwriter, Carlo's original music has been heard on radio across Canada, the U.S., Europe, and the U.K., prompting tours and shows on stages such as The C.N.E. Bandshell, Molson Ampitheatre, and Canada's Wonderland. Carlo has performed locally for The Unionville Jazz Festival, Markham's Music Festival, and Markham's 3rd Annual Gala For Giving event. Carlo has also been called upon to judge up and coming talent in acting, singing, and dancing, and was one of the judges for the World Championships of Performing Arts for which finals are held in Hollywood, California.

Carlo's rate is $28.00/30min lesson.

Cassandra Bourne
(Voice, Piano)
Before teaching in Markham, Cassandra began her studies at the University of Toronto earning a Bachelor of Music Education and continued post-graduate studies at McGill University in Montreal, earning a Masters of Music in Voice Performance. She is an Internationally-renowned, award winning Dramatic soprano, in high demand as both a voice and piano teacher, as well as an adjudicator, and an examiner. She is passionate about helping emerging young artists discover their authentic voice, and acquire the musical skills necessary to become outstanding performers through their lessons. Cassandra is an expert in all areas of repertoire in a wide range of genres from Classical (RCM) to Pop, Music Theatre, Opera, Jazz, and everything in-between. Her students have won numerous competitions, awards, and scholarships, and placements with highly sought Universities and Performing Arts Organizations throughout North America. Cassandra is thrilled to provide the highest quality education to her students, and to help create the next generation of amazing Canadian Artists.

Cassandra's rate is $27.00/30min lesson.

Catherine Di Clemente
(Voice, Piano)
Catherine is a graduate of York University's Honours Music program, holding a Bachelor of Fine Arts in piano and voice. She has studied performance, education, and composition. She has worked both as a private music teacher and in the elementary school setting for piano and voice, teaching students of all ages in Markham. Catherine is an avid songwriter and producer, and is passionate about helping others access their capacities for creative self-expression through their lessons. Catherine is currently working towards her ARCT in Piano Pedagogy with the Royal Conservatory of Music.

Catherine's rate is $26.00/30min lesson.

Charis Wong
(Voice, Piano)
Charis Wong is a recent graduate from the University of Toronto's Voice program, with an Honours Bachelor's Degree in Music Performance. In 2016, she obtained her ARCT in Piano Performance studying under Dr. Michael Esch. She began teaching voice and piano lessons in Markham in 2013 and has since discovered a passion for helping young children and youth discover their own love for music. She places a high priority on creating a safe environment for students to express themselves freely, as well as on developing a strong sense of discipline and confidence through music. Aside from teaching, Charis loves to perform! With COSI Connection she has performed roles such as Rose Maybud in the musical Ruddigore, and most recently performed the role of Galatea in Dean Burry's one-act opera Il Giudizio di Pigmalione.

Charis' rate is $25.00/30min lesson.
Charles Collymore
(Guitar, Bass, Ukulele)
Charles is a Humber College graduate of Music and has been teaching lessons in Markham for over 10 years. He has taught guitar, bass guitar and theory to students of all ages and experience levels. He performs and teaches numerous styles of music including funk, rock, pop, jazz, r&b, soul, fusion and hip hop to name a few. He has performed with bands both locally and internationally in Toronto, New York, Budapest and Prague. Some of these acts include JUNO nominated artist and activist Emmanuel Jal, Tanika Charles and The Muso Project. Charles is also a seasoned studio musician. Charles is also a composer and the band leader of Toronto's hip hop/Soul band PHATBACK.

Charles' rate is $25.00/30min lesson.

Christian Anderson
(Guitar, Bass, Theory)
Christian is a graduate of Musician's Institute (GIT) in Hollywood, California. Currently in Markham with over 10 years of teaching experience, he works with students of all experience levels - delivering personalized instruction in pop, rock, blues, metal, and shred guitar styles. Lessons are designed to fit with the goals and learning styles of each individual student, and include a wide range of subjects such as technique, theory, music reading, ear-training, improvisation, and performance coaching. Christian released a solo guitar album in 2012 and is currently lead guitarist in the modern rock band, Affinity. He has studied with the world-renowned musicians Rusty Cooley, Alex Machacek, Scott Henderson, Terry Syrek, and Carl Schroeder. Christian's live performance experience includes playing shows at several of Toronto's larger venues such as the Sound Academy, Phoenix Concert Hall, and the Canadian Indie Music Awards, in addition to gigging regularity at just about every rock venue in Toronto.

Christian's rate is $27.00/30min lesson.

Daisy Tam
(Piano, Theory)
Daisy Tam holds a Master of Arts in Music Theory and a Bachelor of Arts Honors Specialization in Music from The University of Western Ontario. In addition, she holds an ARCT Diploma in Piano Performance from The Royal Conservatory of Music (RCM). Daisy is an RCM certified teacher in Markham for lessons in piano, theory, harmony, and music history and is a member of the RCM College of Examiners as a theory examiner. She has guided students to achieve outstanding examination results and recognitions, including the RCM National Gold Medal for Excellence in Theory. She is also dedicated to mentoring her students and leading them through transformative learning experiences.

Daisy's rate is $28.00/30min lesson.

Elaine Ng
(Piano, Violin, Cello, Theory)
Elaine received a Bachelor of Music (Honours) and post-graduate Diploma in Music Performance at McMaster University where she majored in performance, theory and teaching. She went on to receive a Bachelor of Education at Brock University concentrating on Special Education and English as a Second Language. Elaine is registered with the Ontario Music Teachers' Association and is a member of the Ontario College of Teachers working frequently around Markham with the York Region District School Board. Additionally, she performs and conducts choir on a regular basis. Elaine enjoys working with students of all ages (3 and up) and teaches lessons for all RCM levels as well as contemporary styles.

Elaine's rate is $27.00/30min lesson.

Eva Ng
(Piano, Violin, Cello)
Eva is an RCM piano program graduate with extensive education in piano, violin, flute, cello, and theory. Obtaining her Bachelors Degree of Music at McMaster University and her ARCT at the Royal Conservatory of Music, Eva has the ability to instruct contemporary and all RCM levels. She has been giving lessons in the Markham area for over 20 years. In addition, Eva performs frequently at various venues for weddings, ceremonies, and festivals of all kinds.

Eva's rate is $29.00/30min lesson.

Gerrod Harris
(Drum Set)
Gerrod Harris has over twelve years of experience as a drummer. With a Bachelor Of Fine Arts and a Bachelor Of Education from York University, he has been teaching drum lessons for students of all ages, abilities, and skill levels for over seven years around Markham. Having performed extensively in the rock and jazz contexts, Gerrod also has performance experience in the pop, funk, R&B, and concert band settings. Whether you're prepping for an audition or just picking up the sticks for the very first time, Gerrod seeks to teach, prepare, and inspire his students wherever they are in the creative process.

Gerrod's rate is $25.00/30min lesson.

Jade Wan
(Piano, Theory)
Jade holds a Bachelor of Music Degree in Music Education from the University of Toronto, and also received her ARCT diploma from the RCM. With over 15 years of experience teaching piano lessons around Markham, she tailors her instruction using various approaches and perspectives for all skill levels. Jade also delivers knowledge and instruction in the world of music theory up to RCM Analysis. Every year, many of her students go through competitions, practical exams, and write upcoming theory RCM and CC Examinations. She loves to share her passion for music with students of all ages and levels.

Jade's rate is $27.00/30min lesson.

James Warren Morris
(Woodwinds, Saxophone, Clarinet, Flute)
James graduated from Humber College studying saxophone, flute, and clarinet, and has completed a Masters of Music from Berklee College of Music. He has been teaching lessons for over 7 years privately around the Markham region. He is freelance composer and performs at corporate events in the GTA. He loves to teach his students a variety of genres including jazz, classical, blues and contemporary. James believes in establishing a strong foundation for musical appreciation so that his students are able to perfect a variety of techniques as well as develop a lifelong connection with music.

James' rate is $27.00/30min lesson

Johanna Lyn
(Voice, Piano)
Johanna holds a Bachelor of Fine Arts in vocal jazz performance, and a Grade 10 Royal Conservatory of Music certificate in both piano and voice. Teaching in many idioms with an emphasis on improvisation and sound technique, Johanna has taught in various Toronto, Markham, and Vancouver lesson studios, as well as privately for over 9 years. Johanna is a licensed Kindermusik Educator, a certified Dalcroze teacher, and has training in the Orff and Kodaly pedagogies. She has a passion for education, and believes every interaction is an opportunity for sharing, growth, and development on a musical and personal level. Johanna strives to maintain a challenging, and positive learning environment for students of all ages.

Johanna's rate is $26.00/30min lesson.

Julian Jannetta
(Guitar, Ukulele)
Julian holds a Bachelor of Arts Degree in Music (with high distinction) from York University, and a Bachelor of Education from Niagara University. Julian grew up studying RCM Classical guitar, and has delved into various genres, including rock, blues, jazz, classical, pop, instrumental, flamenco, and fusion. He is primarily influenced by rock virtuosos Steve Vai and Nick Johnston, as well as jazz guitarist Joe Pass, and has studied privately with Rob McDonald and Mark Patterson. As a performer, he has played alongside artists, such as Vita Chambers, Eleven Past One, Crystalyne, and Courage My Love. Currently in the Markham area, he possesses a true passion for education, and enjoys giving lessons to students of all ages and levels.

Julian's rate is $25.00/30min lesson.

Katerina Petrovski
(Piano, Theory)
Currently teaching in Markham, Katerina is a recent graduate from Queen's University with a Bachelor's of Music in Piano and Composition. She has been a part of the RCM piano curriculum since she was seven and is currently in pursuit of completing her ARCT in Piano Pedagogy. During University she was a prominent pianist in the Kingston musical theatre community and was awarded the title pianist role for The Nightmare Before Christmas, NINE: The Musical, Evil Dead: The Musical, and The Producers, all in the same year. In her lessons, Katerina values developing determination, drive, musicality, accountability & passion from her students. Katerina can prepare students for upcoming theory and practical piano RCM Examinations.

Katerina's rate is $27.00/30min lesson.

Keena Eloise
(Voice, Piano)
Keena is a recent graduate from the University of Toronto with a Master's degree in Vocal Performance and also holds a Bachelor of Music degree from Queen's University. She has studied RCM in voice and piano. Having performed at festivals, concerts, musical and operatic productions across Ontario, Keena has also had experience leading choral groups from 5 to 200 members for festival performances. With years of experience in individual bilingual lessons, Keena enjoys teaching RCM levels as well as contemporary genres to English or French speaking students around the Markham area.

Keena's rate is $27.00/30min lesson.

Kelly Jupp
(Piano)
Kelly holds an Honours Bachelor of Music Education degree from the University of Toronto. She completed her RCM Grade 9 Piano exam with Honours and has studied the Grade 10 repertoire extensively. With over 13 years of teaching experience for all ages, Kelly gives lessons to students at all skill levels and has taught in Montessori and Preparatory schools around Markham. She has prepared many students for RCM practical and theory examinations, recitals and music festivals. Kelly believes in helping students foster a strong foundation for musical understanding so that they are able to master a variety of genres and techniques, and develop a lifelong love of music.

Kelly's rate is $27.00/30min lesson.

Kurt McIntosh
(Woodwinds, Saxophone, Clarinet, Flute)
Kurt is a Mohawk College graduate and also holds both a Bachelor of Music from Humber and a Bachelor of Education from York with a solid foundation in Saxophone, Clarinet, and Flute. Kurt has been teaching for over 4 years. He is also a freelance musician who performs in large multicultural functions such as the Caribana and Harbour Front Island Soul Series. In addition, he is recognized for his performances with The Mighty Sparrow, Beckett Rupee, and Kevin Little. Kurt is undoubtedly able to enhance studies in music genres including Jazz and Stage Band with any age at all levels.

Kurt's rate is $26.00/30min lesson.

Kyle Woodard
(Woodwinds, Saxophone, Clarinet, Flute, Piano)
Kyle earned his Bachelor of Music with Honours from Humber College as a Woodwind Specialist. He has been giving lessons around Markham for over 13 years, with students from ages 5 to 65 on the Saxophone, Clarinet, Flute, and Recorder. Comfortable in any musical style, Kyle loves teaching his students jazz, classical, pop, soul, and contemporary music. As a professional musician, Kyle has worked as a recording artist and composer for film scores, musicals, commercials, and wedding companies, and has been touring with his original band Kayko since 2009. Kyle is recognized for his work alongside renowned musicians Tommy LiPuma (Paul McCartney, Miles Davis), Danilo Perez, Bob Mintzer, Guido Basso, and Larnell Lewis (Snarky Puppy).

Kyle's rate is $26.00/30min lesson.

Laura Fata
(Piano)
Laura is a graduate of the Fine Arts Music Program and Concurrent Education Program in the Primary/Junior division at York University. She is an RCM Piano program graduate, completing her Grade 10 with Honors. With over 6 years of piano teaching experience around Markham, Laura has the ability to give lessons to beginner or advanced level students, using a variety of piano methods and teaching approaches. In addition, Laura is able to instruct students up to Grade 3 History and Harmony requisites, as well as prepare students for upcoming theory and practical piano RCM Examinations.

Laura's rate is $27.00/30min lesson.

Mark Herrera
(Piano)
Pianist, composer, and educator Mark Herrera has been performing actively in the Toronto area for 12 years. In 2011, he received a Master's Degree in Composition from York University. He has performed at many of the major Jazz festivals in Ontario, such as the Beaches Jazz Festival, Markham Jazz festival, Orangeville Jazz Festival, and the Toronto Jazz Festival. Aside from jazz, he's also known as the musical director for Toronto based hip-hop duo The Airplane Boys. In 2012, they performed at The Coachella Valley Music and Arts Annual Festival in Los Angeles, and the Osheaga Festival in Montreal. Mark is also currently studying at the Royal Conservatory of Music under Monica Gaylord where he ispreparing for a program featuring the works of Frederic Chopin.

Mark's rate is $27.00/30min lesson.

Martine Miller
(Voice, Piano)
Martine has over 10 years experience working with children and adults within community groups, schools and church ensembles. She holds a Bachelor of Fine Arts with Honours specializing in Vocal Music Education from York University. She has been a member of many ensembles as a vocalist, instrumentalist and accompanist. Currently she is running workshops and concerts for schools and groups around the Markham and Durham Region with the Absolute Music Company and is also pursuing her ARCT in Piano Pedagogy from the Royal Conservatory of Music. Lessons with Martine offer fun, engaging musical activities which will teach music reading, technique and musicality through various genres from classical to contemporary.

Martine's rate is $26.00/30min lesson.

Mike McClelland
(Drum Set)
Mike has over 35 years of professional teaching experience around Markham. He has a wealth of performance experience including the Downtown Jazz Festivals in Toronto, Montreal, Ottawa, and Montreux, Switzerland. Mike has performed with renowned artists Bob Fenton, Doug Riley, Shirley Eikhard, Bill Grove, Tommy Ambrose,and Salome Bey. He is an active member of the band Largely Unknown along with Don Thompson and Kathy Moses. Being well versed in all genres, Mike is able to teach basic to advanced percussion rudiments and techniques and is well known for making lessons enjoyable and fun.

Mike's rate is $27.00/30min lesson.

Nigel Maynard
(Drum Set)
Nigel completed the Jazz Studies program at Humber College and has an extensive teaching and touring background of over 10 years. He has experience working with advanced students for College and University audition preparation, assisting drummers to prepare for touring opportunities, and also enjoys working with beginners and hobbyists. Nigel is passionate about teaching lessons in all styles including Rock, Funk, Jazz, Gospel, Fusion, Calypso, Reggae, Ska, Latin, African/Congolese,and Contemporary. As a teacher, he aims to inspire students and have them understand music as a form of art and expression.

Nigel's rate is $26.00/30 min lesson.

Noah Leibel
(Guitar, Bass, Banjo, Ukulele, Mandolin)
Noah holds a Masters in Music from the University of Toledo in jazz performance, a Bachelor of Fine Arts from Concordia University, a performance certificate from the Musicians Institute in California and also is an OCT certified teacher currently teaching for the York Region District School Board. Noah plays a wide variety of musical styles including Jazz, Blues, Country, Bluegrass, and Funk. Noah gives lessons for Guitar, Bass, Banjo, Mandolin and Ukulele. He can be heard performing around Markham and the GTA at Corporate events in a variety of bands.

Noah's rate is $28.00/30min lesson.

Paul Buchinger
(Guitar, Bass, Theory, Ukulele)
Paul has been teaching guitar lessons around Markham for over 14 years. With a patient and enthusiastic attitude towards teaching, he has assisted students of all ages, levels, and styles and inspires students with methods for proper technique and theory reading in Jazz, Rock, and Funk. For the past few years Paul has taught students with materials suitable for just-for-playing, gigs, and theory.

Paul's rate is $28.00/30min lesson.

Ris Rumble
(Piano, Voice)
Ris is a York University Bachelor of Fine Arts graduate who has had extensive Royal Conservatory of Music training. Along with teaching around Markham, she is a composer, improviser, and performer who mixes her classical training with her well-rounded background in various genres of music including Jazz, Celtic, Funk, and Pop-Culture. Having accompanied numerous bands and artists, and been hired for many formal functions, Ris currently composes and performs professionally with her own band. In her lessons, she inspires and encourages her students with creative expression, hard work, and enthusiasm to learn in a friendly and caring atmosphere.

Ris' rate is $28.00/30min lesson.

Sandra Angers
(Voice)
Sandra has been teaching vocals since 2000. She has trained a number of Canadian artists for tours and special performances. She is a graduate of the vocal performance program from the Lionel-Groulx College in Montreal and has done extensive training in musical theatre. Sandra owned a music school in Montreal for 5 years before to moving closer to the Markham area. Sandra gives lessons in both English and French and in numerous genres including Pop, Disney, Musicals, and Classical.

Sandra's rate is $26.00/30min lesson.

Steven Clark
(Guitar, Bass, Theory, Composition)
Steve has over 30 years of playing and teaching experience around Markham and the GTA. He has been giving guitar lessons at Long & McQuade since 2006, all levels and ages. Genres include rock, jazz, blues and classical. Steve has been involved in music programs and workshops in Toronto and New York with prominent musician/composer Richie Beirach, guitarist George Botley (Berklee College), Howard Spring and John Gittens (York University). Steve is still leading his own bands, writing, playing broadway style shows and international music festivals (Toronto International Jazz Festival). He is very passionate about teaching and the performing arts.

Steve's rate is $28.00/30min lesson.

Tim Gittens
(Drum Set)
A graduate of Humber College's Jazz Studies program, Tim has been a clinician and educator for almost 30 years, including being a part-time faculty at Metalworks Institute of Performance and Technology. He teaches lessons in rock, pop, jazz, country, blues, and reggae, making all within easy reach for his students. Tim maintains a busy gig schedule to make sure his skills are up to date. He has lent his talents to dozens of performers of nearly every genre: Blues Hall of Fame performers Shakura, S'Aida and Frank Cosentino, Juno nominees Divine Brown and Melanie Durrant, smooth jazz acts The Cates Fomin Project and The Night Porters, Motown session master Leroy Emmanuel, Funk tour de force Jerome Tucker Band, indie rockers Affinity and Bernadette Connors, The Hitmen Drumline, and various tribute acts: FMJ (Foreigner Meets Journey), Simply The Best (Tina Turner Tribute), Jimi Hendrix tribute artist Toney 'Wild T' Springer, Prince tribute The Funk Frequency, as well as several shows with Classic Albums Live. Throughout all of this, there have been all manner of studio and live gigs from local pubs to Massey Hall, cruise ships to festival stages, weddings, conventions, and almost anywhere music is made. Tim endorses Mapex Drums, Los Cabos Drumsticks, and Evans drumheads.

Tim's rate is $27.00/30min lesson.

Vasco Alphonso
(Piano, Violin)
Vasco has been giving piano and violin lessons for over 30 years in the Markham Area. He works with students of all levels and styles, and prepares them for Suzuki as well as Royal Conservatory exams. After receiving his Performers Certification in Piano & Violin, Vasco has proceeded to teach and perform music of all genres including Jazz, Pop, R&B, Soul, Rock and Roll, Big Band, Dance, Classical, Gospel, and Folk.

Vasco's rate is $26.00/30min lesson.

Wilfrid Lee
(Brass)
With an undergraduate degree from McGill University, Wilfrid has extensive performing experience participating in L'orchestra Francophone Canadian, Toronto Wind Ensemble, North Bay Symphony and the Red Brass Quintet and can also be heard on various albums ranging from folk, classical to pop genres. Wilfrid currently gives brass lessons in the Markham area, but his teaching experience stems back to 2001 conducting brass clinics and educating students from the elementary to university level. His students have gone on to pursue further musical endeavors such as university education and involvement in various orchestras.

Wilfrid's rate is $26.00/30min lesson