9833 Markham Road
Markham, Ontario, L6E 0E5

---

Lesson Centre: Phone or Text (905) 471-5322
Store Phone: (905) 209-1177
Fax: (905) 209-1463

Lesson Centre Email: markhamlessons@long-mcquade.com
Store Email: markham@long-mcquade.com

Lesson Centre Hours
Holiday Hours: Closed from Tuesday, December 24 to Wednesday, January 1. Lessons resume Thursday, January 2 unless otherwise indicated by your teacher. Happy Holidays!

Monday: 1:00pm - 9:00pm
Tuesday: 1:00pm - 9:00pm
Wednesday: 1:00pm - 9:00pm
Thursday: 1:00pm - 9:00pm
Friday: 1:00pm - 9:00pm
Saturday: 10:00am - 6:00pm
Sunday: 10:30am - 3:30pm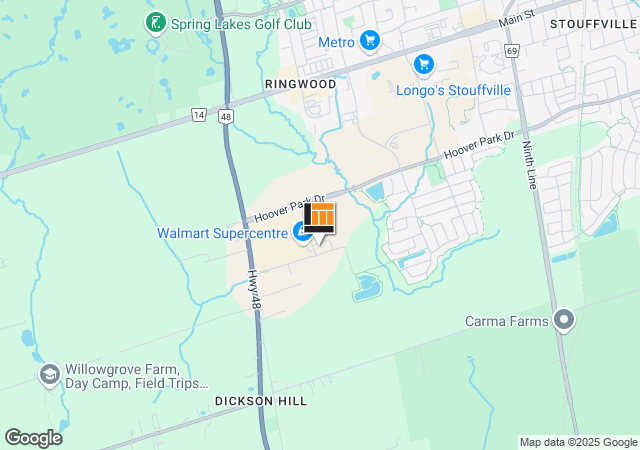 This Location Offers:
Private Lessons
Group Lessons
Inquire for more details and start dates. Registration is available on a first come, first serve basis.
Children's piano party
Rock skool
Group theory levels 5-8
Adult guitar jam
Youth choir
Our Piano Teachers:
show all

Carlo Bianchini
(Guitar, Voice, Piano, Ukulele)
Carlo has been instructing guitar, voice, and beginner piano lessons in Markham for approximately 24 years. With a caring personality and strong background in diverse styles (Rock, Classical, Pop, Jazz, Blues, etc.), he is dedicated to creating a fun and inspirational learning environment. Vocally, Carlo has been trained privately in Bel Canto technique and Speech Level Singing made popular by Seth Riggs, who worked with such greats as Michael Jackson, Prince, Stevie Wonder, and Madonna. As a Singer/Songwriter, Carlo's original music has been heard on radio across Canada, the U.S., Europe, and the U.K., prompting tours and shows on stages such as The C.N.E. Bandshell, Molson Ampitheatre, and Canada's Wonderland. Carlo has performed locally for The Unionville Jazz Festival, Markham's Music Festival, and Markham's 3rd Annual Gala For Giving event. Carlo has also been called upon to judge up and coming talent in acting, singing, and dancing, and was one of the judges for the World Championships of Performing Arts for which finals are held in Hollywood, California.

Carlo's rate is $28.00/30min lesson.

Cassandra Bourne
(Voice, Piano)
Before teaching in Markham, Cassandra began her studies at the University of Toronto earning a Bachelor of Music Education and continued post-graduate studies at McGill University in Montreal, earning a Masters of Music in Voice Performance. She is an Internationally-renowned, award winning Dramatic soprano, in high demand as both a voice and piano teacher, as well as an adjudicator, and an examiner. She is passionate about helping emerging young artists discover their authentic voice, and acquire the musical skills necessary to become outstanding performers through their lessons. Cassandra is an expert in all areas of repertoire in a wide range of genres from Classical (RCM) to Pop, Music Theatre, Opera, Jazz, and everything in-between. Her students have won numerous competitions, awards, and scholarships, and placements with highly sought Universities and Performing Arts Organizations throughout North America. Cassandra is thrilled to provide the highest quality education to her students, and to help create the next generation of amazing Canadian Artists.

Cassandra's rate is $27.00/30min lesson.

Catherine Di Clemente
(Voice, Piano)
Catherine is a graduate of York University's Honours Music program, holding a Bachelor of Fine Arts in piano and voice. She has studied performance, education, and composition. She has worked both as a private music teacher and in the elementary school setting for piano and voice, teaching students of all ages in Markham. Catherine is an avid songwriter and producer, and is passionate about helping others access their capacities for creative self-expression through their lessons. Catherine is currently working towards her ARCT in Piano Pedagogy with the Royal Conservatory of Music.

Catherine's rate is $26.00/30min lesson.

Charis Wong
(Voice, Piano)
Charis Wong is a recent graduate from the University of Toronto's Voice program, with an Honours Bachelor's Degree in Music Performance. In 2016, she obtained her ARCT in Piano Performance studying under Dr. Michael Esch. She began teaching voice and piano lessons in Markham in 2013 and has since discovered a passion for helping young children and youth discover their own love for music. She places a high priority on creating a safe environment for students to express themselves freely, as well as on developing a strong sense of discipline and confidence through music. Aside from teaching, Charis loves to perform! With COSI Connection she has performed roles such as Rose Maybud in the musical Ruddigore, and most recently performed the role of Galatea in Dean Burry's one-act opera Il Giudizio di Pigmalione.

Charis' rate is $25.00/30min lesson.

Daisy Tam
(Piano, Theory)
Daisy Tam holds a Master of Arts in Music Theory and a Bachelor of Arts Honors Specialization in Music from The University of Western Ontario. In addition, she holds an ARCT Diploma in Piano Performance from The Royal Conservatory of Music (RCM). Daisy is an RCM certified teacher in Markham for lessons in piano, theory, harmony, and music history and is a member of the RCM College of Examiners as a theory examiner. She has guided students to achieve outstanding examination results and recognitions, including the RCM National Gold Medal for Excellence in Theory. She is also dedicated to mentoring her students and leading them through transformative learning experiences.

Daisy's rate is $28.00/30min lesson.

Elaine Ng
(Piano, Violin, Cello, Theory)
Elaine received a Bachelor of Music (Honours) and post-graduate Diploma in Music Performance at McMaster University where she majored in performance, theory and teaching. She went on to receive a Bachelor of Education at Brock University concentrating on Special Education and English as a Second Language. Elaine is registered with the Ontario Music Teachers' Association and is a member of the Ontario College of Teachers working frequently around Markham with the York Region District School Board. Additionally, she performs and conducts choir on a regular basis. Elaine enjoys working with students of all ages (3 and up) and teaches lessons for all RCM levels as well as contemporary styles.

Elaine's rate is $27.00/30min lesson.

Eva Ng
(Piano, Violin, Cello)
Eva is an RCM piano program graduate with extensive education in piano, violin, flute, cello, and theory. Obtaining her Bachelors Degree of Music at McMaster University and her ARCT at the Royal Conservatory of Music, Eva has the ability to instruct contemporary and all RCM levels. She has been giving lessons in the Markham area for over 20 years. In addition, Eva performs frequently at various venues for weddings, ceremonies, and festivals of all kinds.

Eva's rate is $29.00/30min lesson.

Jade Wan
(Piano, Theory)
Jade holds a Bachelor of Music Degree in Music Education from the University of Toronto, and also received her ARCT diploma from the RCM. With over 15 years of experience teaching piano lessons around Markham, she tailors her instruction using various approaches and perspectives for all skill levels. Jade also delivers knowledge and instruction in the world of music theory up to RCM Analysis. Every year, many of her students go through competitions, practical exams, and write upcoming theory RCM and CC Examinations. She loves to share her passion for music with students of all ages and levels.

Jade's rate is $27.00/30min lesson.

Johanna Lyn
(Voice, Piano)
Johanna holds a Bachelor of Fine Arts in vocal jazz performance, and a Grade 10 Royal Conservatory of Music certificate in both piano and voice. Teaching in many idioms with an emphasis on improvisation and sound technique, Johanna has taught in various Toronto, Markham, and Vancouver lesson studios, as well as privately for over 9 years. Johanna is a licensed Kindermusik Educator, a certified Dalcroze teacher, and has training in the Orff and Kodaly pedagogies. She has a passion for education, and believes every interaction is an opportunity for sharing, growth, and development on a musical and personal level. Johanna strives to maintain a challenging, and positive learning environment for students of all ages.

Johanna's rate is $26.00/30min lesson.

Katerina Petrovski
(Piano, Theory)
Currently teaching in Markham, Katerina is a recent graduate from Queen's University with a Bachelor's of Music in Piano and Composition. She has been a part of the RCM piano curriculum since she was seven and is currently in pursuit of completing her ARCT in Piano Pedagogy. During University she was a prominent pianist in the Kingston musical theatre community and was awarded the title pianist role for The Nightmare Before Christmas, NINE: The Musical, Evil Dead: The Musical, and The Producers, all in the same year. In her lessons, Katerina values developing determination, drive, musicality, accountability & passion from her students. Katerina can prepare students for upcoming theory and practical piano RCM Examinations.

Katerina's rate is $27.00/30min lesson.

Keena Eloise
(Voice, Piano)
Keena is a recent graduate from the University of Toronto with a Master's degree in Vocal Performance and also holds a Bachelor of Music degree from Queen's University. She has studied RCM in voice and piano. Having performed at festivals, concerts, musical and operatic productions across Ontario, Keena has also had experience leading choral groups from 5 to 200 members for festival performances. With years of experience in individual bilingual lessons, Keena enjoys teaching RCM levels as well as contemporary genres to English or French speaking students around the Markham area.

Keena's rate is $27.00/30min lesson.

Kelly Jupp
(Piano)
Kelly holds an Honours Bachelor of Music Education degree from the University of Toronto. She completed her RCM Grade 9 Piano exam with Honours and has studied the Grade 10 repertoire extensively. With over 13 years of teaching experience for all ages, Kelly gives lessons to students at all skill levels and has taught in Montessori and Preparatory schools around Markham. She has prepared many students for RCM practical and theory examinations, recitals and music festivals. Kelly believes in helping students foster a strong foundation for musical understanding so that they are able to master a variety of genres and techniques, and develop a lifelong love of music.

Kelly's rate is $27.00/30min lesson.

Kyle Woodard
(Woodwinds, Saxophone, Clarinet, Flute, Piano)
Kyle earned his Bachelor of Music with Honours from Humber College as a Woodwind Specialist. He has been giving lessons around Markham for over 13 years, with students from ages 5 to 65 on the Saxophone, Clarinet, Flute, and Recorder. Comfortable in any musical style, Kyle loves teaching his students jazz, classical, pop, soul, and contemporary music. As a professional musician, Kyle has worked as a recording artist and composer for film scores, musicals, commercials, and wedding companies, and has been touring with his original band Kayko since 2009. Kyle is recognized for his work alongside renowned musicians Tommy LiPuma (Paul McCartney, Miles Davis), Danilo Perez, Bob Mintzer, Guido Basso, and Larnell Lewis (Snarky Puppy).

Kyle's rate is $26.00/30min lesson.

Laura Fata
(Piano)
Laura is a graduate of the Fine Arts Music Program and Concurrent Education Program in the Primary/Junior division at York University. She is an RCM Piano program graduate, completing her Grade 10 with Honors. With over 6 years of piano teaching experience around Markham, Laura has the ability to give lessons to beginner or advanced level students, using a variety of piano methods and teaching approaches. In addition, Laura is able to instruct students up to Grade 3 History and Harmony requisites, as well as prepare students for upcoming theory and practical piano RCM Examinations.

Laura's rate is $27.00/30min lesson.

Mark Herrera
(Piano)
Pianist, composer, and educator Mark Herrera has been performing actively in the Toronto area for 12 years. In 2011, he received a Master's Degree in Composition from York University. He has performed at many of the major Jazz festivals in Ontario, such as the Beaches Jazz Festival, Markham Jazz festival, Orangeville Jazz Festival, and the Toronto Jazz Festival. Aside from jazz, he's also known as the musical director for Toronto based hip-hop duo The Airplane Boys. In 2012, they performed at The Coachella Valley Music and Arts Annual Festival in Los Angeles, and the Osheaga Festival in Montreal. Mark is also currently studying at the Royal Conservatory of Music under Monica Gaylord where he ispreparing for a program featuring the works of Frederic Chopin.

Mark's rate is $27.00/30min lesson.

Martine Miller
(Voice, Piano)
Martine has over 10 years experience working with children and adults within community groups, schools and church ensembles. She holds a Bachelor of Fine Arts with Honours specializing in Vocal Music Education from York University. She has been a member of many ensembles as a vocalist, instrumentalist and accompanist. Currently she is running workshops and concerts for schools and groups around the Markham and Durham Region with the Absolute Music Company and is also pursuing her ARCT in Piano Pedagogy from the Royal Conservatory of Music. Lessons with Martine offer fun, engaging musical activities which will teach music reading, technique and musicality through various genres from classical to contemporary.

Martine's rate is $26.00/30min lesson.

Ris Rumble
(Piano, Voice)
Ris is a York University Bachelor of Fine Arts graduate who has had extensive Royal Conservatory of Music training. Along with teaching around Markham, she is a composer, improviser, and performer who mixes her classical training with her well-rounded background in various genres of music including Jazz, Celtic, Funk, and Pop-Culture. Having accompanied numerous bands and artists, and been hired for many formal functions, Ris currently composes and performs professionally with her own band. In her lessons, she inspires and encourages her students with creative expression, hard work, and enthusiasm to learn in a friendly and caring atmosphere.

Ris' rate is $28.00/30min lesson.

Vasco Alphonso
(Piano, Violin)
Vasco has been giving piano and violin lessons for over 30 years in the Markham Area. He works with students of all levels and styles, and prepares them for Suzuki as well as Royal Conservatory exams. After receiving his Performers Certification in Piano & Violin, Vasco has proceeded to teach and perform music of all genres including Jazz, Pop, R&B, Soul, Rock and Roll, Big Band, Dance, Classical, Gospel, and Folk.

Vasco's rate is $26.00/30min lesson.