Classical Guitars 101
| More in Acoustic Guitars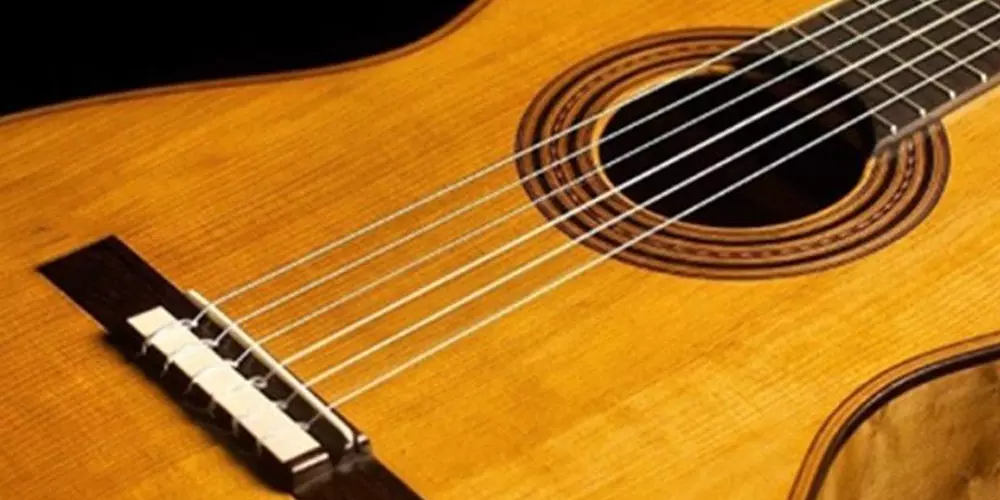 Virtuoso Spanish classical guitarist Andres Segovia
When you hear the term "acoustic guitar", it usually refers to steel string instruments, favoured by folk, blues, and rock guitarists.
Classical guitars on the other hand have nylon strings, which produce a softer, smoother sound and are used to play everything from traditional classical and flamenco, to Latin, folk, and pop.
The distinction is a bit of a misnomer since both types of guitars are equally acoustic in that they produce sound without the use of electricity, but in practice that's how they've come to be known.
Aside from using nylon strings, classical guitars are generally smaller and lighter than steel string guitars. They aren't designed to support the tension of steel strings, which require sturdier joints and heftier bracing.
While guitar-like instruments date back to at least the Middle Ages, virtually all modern classical guitars descend from the designs of renowned Spanish luthier Antonio de Torres (1817-1892), who in the mid-19th century revolutionized the art of guitar making with his arched, symmetrically braced soundboards.
The soundboard is the top surface of the guitar body, which vibrates and gives the instrument most of its volume. To demonstrate the paramount importance of the soundboard, Torres built a guitar with papier-mâché sides which by all accounts sounded just as good as an all-wood instrument.
Interestingly, Torres got most of his wood from dismantling old furniture! His innovative designs were quickly adopted by other guitar makers of the time, and later became the blueprint for steel-string guitars, which were introduced in the early 1900s.
While soundboards are increasingly made from laminates, veneer, and plywood, the best-sounding classical guitar tops have traditionally been made out of soft woods like spruce or cedar, which vibrate easily.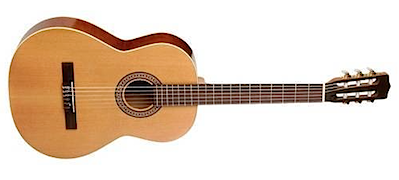 Spruce tops, which boast a crisp, clear tone, are commonly found on flamenco guitars. Cedar tops have a deeper, richer sound more characteristic of Spanish classical music.
The backs and sides of classical guitars are commonly made from Indian or increasingly rare Brazilian rosewood, renowned for its combination of strength and beauty. Flamenco guitars traditionally have cypress backs and sides, but are also made from rosewood or maple.
The wood used in any given guitar tells only part of the story. It's the unique combination of woods, size, shape, joints, bracing, and innumerable other design elements and custom touches that gives the instrument its unique sound.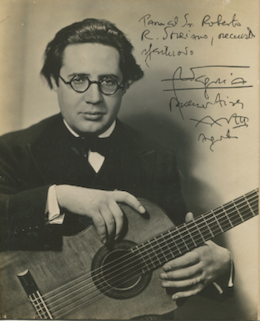 Distinguishing characteristics of nylon-string classical guitars include:
• Small body: Classical guitars are light, and easy to carry and hold, which makes them an ideal student guitar.
• Less tension: Nylon string tension (75-100 pounds) is about half that of steel strings. This makes classical guitars easier to fret, especially for beginners.
• Classical guitars have lighter internal structural bracing, and consequently should never be restrung with steel strings. Metal strings can pull the bridge away from the body, or bow or break the neck.
• Wide neck: Classical guitars aren't ideal for strumming with a pick, but the broad string spacing leaves more room for intricate fingerpicking. The fingerboard is typically 2-inch wide compared to 1¾-inch or less standard on steel string acoustics.
• Scale length: A slightly longer neck length from saddle to nut gives classical guitars a bass and sustain boost over similarly-sized steel string guitars.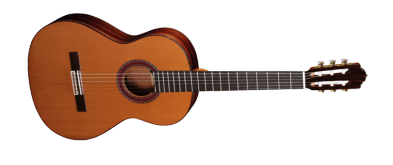 Short scale and student-size guitars

For young students, or those with smaller hands, the 2-inch wide neck on a classical guitar can be more difficult to grasp than a thinner-neck steel string acoustic guitar.
If this is an issue, but either you prefer the nylon string sound, or your ultimate goal is to play classical music, don't despair! There are guitars built especially to help with this.
In addition to full-size classical guitars with thinner necks, there are 1/4, 1/2, and 3/4-scale guitars available for any student from toddler to teenager. The following chart indicates the most appropriate guitar for a given age or height.

Try before you buy
When looking for a new guitar, nothing can replace checking out a variety of different models to experience how they sound, and most importantly, feel in your hands.
Long & McQuade stocks a wide range of classical guitars in every price range for both rent and purchase.
To help find the right guitar for you, stop by any of our music store locations to speak with guitar experts who can offer their suggestions and input.
Long & McQuade also offers music lessons for guitar and most other musical instruments with skilled, professional instructors at competitive rates, and with no registration fees.