Play Along Recordings for Jazz
| More in Band Instruments, Bass Guitars, Brass and Woodwinds, Drums, Education, Performing
If I could, I'd practice every day with a live rhythm section, but this is impossible so I settle for the next best thing: Play along recordings.
I began collecting play along books and discs decades ago and now I have a large collection of them - large enough that if someone suggests a song I don't know for a gig, chances are I have a play along recording of the song in my collection that I can use to help learn the tune. This is not only handy but also a fun way to learn and practice tunes.
Although these books and recordings have been around for a long time, I still meet a lot of musicians who are either unaware of the existence of these things, or have negative assumptions about the quality of the rhythm sections (usually excellent) or the recordings (great), or aren't aware of the scope and variety of music on them (huge, and growing).
How good are the rhythm sections? A few years ago I sent a recording of myself to a friend of mine who teaches at one of the famous American jazz colleges. The track I was playing with was an up tempo tune from one of the Hal Leonard, Miles Davis play alongs. He wrote back saying something like: "Man that's an amazing rhythm section you've found yourself up there in Halifax!" Unfortunately he didn't have much to say about the flute playing, but clearly he was impressed with the rhythm section. For the record: There are plenty of excellent rhythm section musicians in Halifax.
In 1967, a jazz saxophone player and music educator named Jamey Aebersold released his first jazz play along LP. The play along record wasn't an entirely new concept , but it was new to jazz and provided a fabulous new way to learn jazz tunes and practice improvising with accompaniment from a first rate rhythm section.
The Aebersold recordings now consist of more than 120 volumes - most of them based on the music and compositions of well-known jazz artists. These days the LPs have been replaced by CDs, but the recordings are the same. Most of them use a standard piano / bass /drums rhythm section with the piano on one side and the bass on the other, so that by panning the playback all the way to each side you can get just bass and drums, or piano and drums.
In addition to the specific artist volumes, there are general study collections such as major and minor in every key, II -V -I in every key and blues in every key. There are also genre-based volumes such as: Be-Bob, Bossa Nova, and Jazz Standards.
Aebersold volume I and volume III
Hal Leonard is also in the jazz play along business, with over 180 volumes in their collection. The Hal Leonard approach is slightly different in that each song (on most of the series) is presented twice: the first recording includes a horn player playing the melody; this version is handy if you haven't heard the tune before. These first takes of each tune are also split so that you can pan the bass or piano out. The second version of each song is a stereo recording of the rhythm section without the horn player playing the melody. These tracks are beautifully recorded and the rhythm sections vary between excellent and even better – the rhythm section on the Jaco Pastorious volume is so good that it makes great listening even without the lead instrument added.
Like the Aebersold collection, the Hal Leonard material is mostly based on artist-specific collections. Not surprisingly, both collections include the works of jazz icons such as Duke Ellington, Miles Davis, Charlie Parker, John Coltrane, Sonny Rollins and more.
Charlie Parker Aebersold , Duke Ellington Hal Leonard, John Coltrane Hal Leonard
The Hal Leonard collection also includes some rock/fusion titles including Jimmy Hendrix, Jeff Beck, Steely Dan and many more.
As useful as these books and recordings are for practice and study, it's also worth pointing out that they can be great fun to play with. I often drop the recordings into my multi-track recorder and overdub myself, sometimes with multiple parts. Here's a link to a video I posted playing the Charles Mingus composition: Good Bye Pork Pie Hat from the Jeff Beck play along (Hal Leonard) to give you an idea: https://www.youtube.com/watch?v=yXigtyvvsC0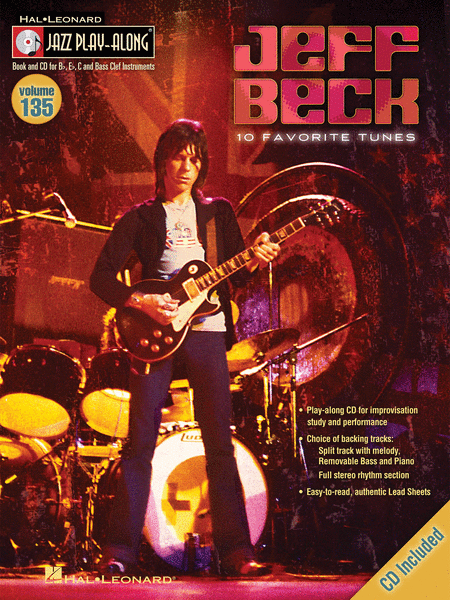 Both Aebersold and Hal Leonard collections include music that is relatively easy, and others representing varying degrees of difficulty all the way to very advanced. If you have an interest in improvising, there is almost certainly something for you in these collections.
Jazz musicians often depend on 'fake books' to reference melodies and chord changes for standard jazz repertoire. There are many fake books available but the most popular is a book called The Real Book.
The Real Book is a collection of about 400 songs that has been around since the 1970s. Originally it was illegally published –that is to say no royalties went to the composers – but in 2004, Hal Leonard published the first legal installment of the book – which is great because now the books are easy to find, the composers get paid, and they corrected the mistakes.
The Real Book is available in C, Bb, Eb, and Bass Clef as well as high and low versions for vocalists. This is an essential reference for jazz musicians - but not just jazz musicians, as the excellent assortment of American Songbook songs included makes it easy to recommend for all musicians.
The Real Book has grown into a series of books that includes three jazz volumes and several genre-specific books such as The Real Pop Book and The Real Bluegrass Book.
More Play Along Tracks
Hal Leonard has also produced a collection of play along CDs to go with The Real Book Volume I and The Real Book Volume II. The CDs are sold in three-packs and there are 24 discs covering (most) of the songs in each book for a grand total of 48 discs and hundreds of songs! More recently the real book is packaged with a USB stick with play along tracks for 240 of the tunes.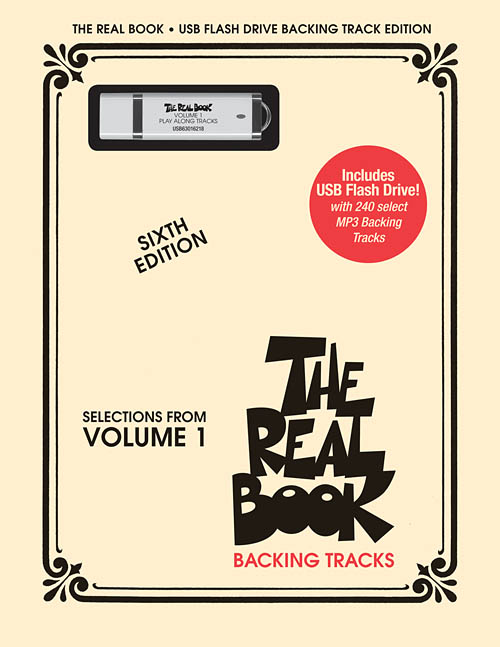 Real Book Vol I with USB stick
With all of the options now available, chances are next to excellent that anyone can find something of interest to at least give the wonderful world of play along media a try!
***
Following a career in the instrument and equipment side of the music business Brian now spends his time playing jazz and writing and recording original music.
Reverbnation.com/brianmcconnell3