Learning Series 2021 - Virtual Edition
| More in Lessons, Livestream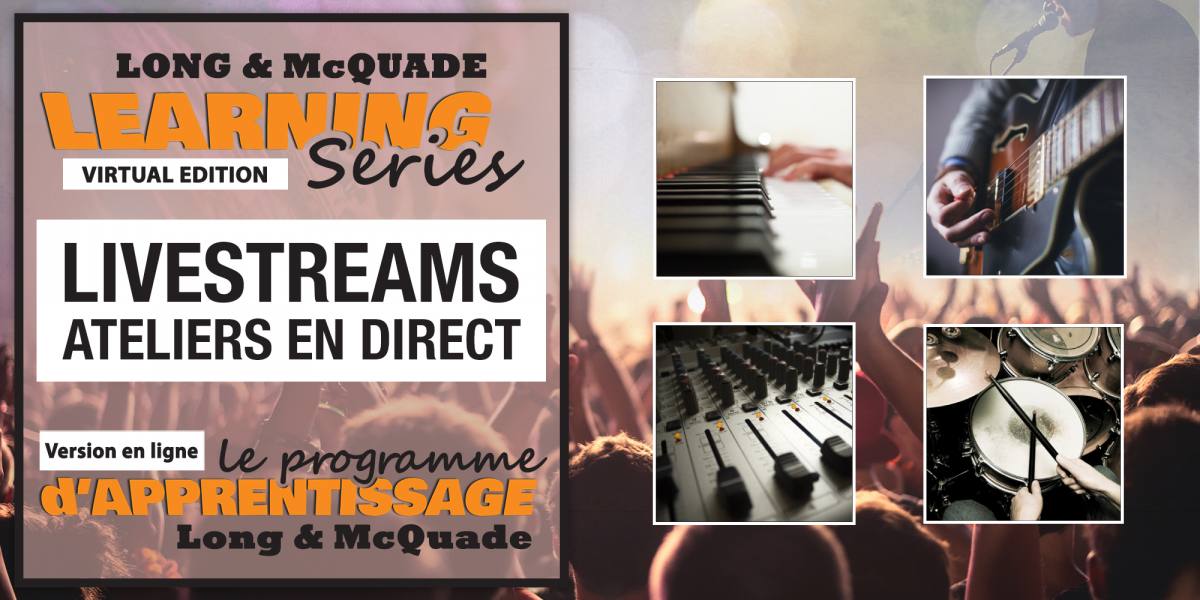 Social Media for Musicians with SAMURAIGUITARIST
This Winnipeg musician and online superstar will discuss tips on how to make it big in the digital world:
What you need to get started
How to create engaging content
How to "go viral"
How to use YouTube and social media to promote yourself and your music
And more!
Samuraiguitarist's multi-instrumental musical prowess and entertaining delivery are on full display to the 722,000 subscribers to his YouTube channel.
Get Organized Behind the Drums! with LARNELL LEWIS
Figuring out what to practice can be a challenge. Even understanding how to support a song, a moment, or even what kit piece to hit at any particular moment can be a frustrating experience. Larnell believes that the key to freedom with expressiveness is finding ways to organize your thoughts and your options when you're at your instrument. In this clinic, Larnell will share his approach to organizing his thoughts and playing when he's at the kit!
Larnell Lewis, best known as the drummer for Snarky Puppy, is a Grammy Award winning musician, composer, producer, and educator. Based in Toronto, he has established himself among the most diverse and in-demand drummers in the world.
Co-sponsored by Yamaha Music Canada.
Don't be an Airhead: Common Myths Regarding Breathing (Trumpet Clinic) with WAYNE BERGERON
Many brass teachings put all (or the lion's share) of emphasis on air. While air or wind is obviously a major component of making sound, there are other components that are more vital to producing the desired results.
Wayne will also address other important factors such as:
Warm up
Aperture (the reed) vs. embouchure
Recovering from injury
Range (Discovering your falsetto endurance)
Musical styles and sounds
Selecting the right tool for the job
Why one mouthpiece does not fill all
Wayne Bergeron is a Grammy-nominated artist who has played with everyone from Beyonce to Burt Bacharach. He's worked on over 400 TV and movie soundtracks, and was principal trumpet at Los Angeles' Pantages Theatre for a decade.
Co-sponsored by Yamaha Music Canada.
DJ clinic with SKRATCH BASTID
Join us for an evening where Skratch Bastid will discuss his sources of inspiration, how he builds a set using different scratch techniques, and the common pitfalls for aspiring DJs.
Skratch Bastid is a Canadian DJ and record producer. He is a three-time Scribble Jam DJ Battle winner, and is the first-ever Canadian DJ to be nominated for a Juno Award for Producer of the Year. He's known for his versatility in styles from hip hop to disco to rock.
Co-sponsored by Panasonic, distributor of the Technics SL-1200MK7 turntable
Guitar clinic with "CAPTAIN" KIRK DOUGLAS
As the guitarist with The Roots, the beloved house band for The Tonight Show with Jimmy Fallon on NBC, "Captain" Kirk Douglas has developed a well-earned reputation as a stellar player. Kirk will take us on a ride to teach us some tricks of the trade in regards to his playing technique as well as incorporating his playing into hit songs by today's most popular artists.
Co-sponsored by Gibson Guitars.
Producer/Engineer Roundtable with DAVID BOTTRILL, RICHARD CHYCKI, KAREN KOSOWSKI and EDDIE KRAMER
Moderated by Dave Dysart, a 35-year veteran of the Canadian Professional Audio industry. Dave has worked as National Sales Manager at Studer Canada, President of HHB Communications Canada, and is currently Director of Sales at YSL Pro.
David Bottrill is a 3-time Grammy Award winning producer and mixer who has worked with Peter Gabriel, Smashing Pumpkins, Tool, Muse, Silverchair and more.
Richard Chycki is a multi-platinum mixer and engineer whose clients include Rush, Aerosmith, Dream Theater, Mick Jagger, Alice Cooper, Pink and more.
Karen Kosowski is an award-winning Nashville-based producer and songwriter who has worked with Tim Hicks, Brett Kissel, Mickey Guyton, and more.
Eddie Kramer is a Grammy- and Emmy-winning producer and engineer, best known for his long-term associations with KISS, Led Zeppelin and Jimi Hendrix.
How to Fit In! with CHRIS GORMLEY
Join Chris as he unveils his secret method to successfully joining an already established band. He discusses the art of learning material, internalizing tempos, familiarizing oneself with an artist's entire catalogue and delving deep into their personal influences.
Chris Gormley fronted his own band Daylight for Deadeyes for 15 years until joining Big Sugar. He now plays with The Trews.
Preparing for a Performance with DONNA GRANTIS
In this workshop designed for aspiring musicians, Donna will explore her approach to playing guitar with an emphasis on technique, feel and tone. Drawing from her varied experiences as an artist, band member and session musician, she will offer insight to anyone curious about the process of preparing for a performance.
Donna Grantis is best known for performing and recording with Prince. As a member of his bands 3RDEYEGIRL and New Power Generation, Donna toured the world and spent countless hours rehearsing and recording with Prince at his legendary Paisley Park studio in Chanhassen, Minnesota. As a bandleader and eOne recording artist, Grantis' debut album, DIAMONDS & DYNAMITE, reached #1 on iTunes Canada (Jazz). "Donna Grantis was born to play guitar." – CBC Radio
Songwriting in the Virtual Age with GREG JOHNSTON (Moderator), TROY KOKOL, SATE, ROB WELLS and MERNA
Get insight into the craft and business of a songwriter living in the virtual age; see how things have changed and how to use the tools music creators are currently using in the virtual world from a panel of seasoned songwriters and industry pros.
Co-sponsored by Songwriters Association of Canada.
A respected songwriter, producer, composer, and session musician, Greg Johnston has composed music for CTV and CBC, and has written, recorded, or produced for such artists as Ron Sexmith, Olivia Newton-John, Backstreet Boys, Haydain Neale and more.
Troy Kokol is a Canadian singer, producer, video director and award-winning songwriter with over 200 cuts to his name in a variety of music genres. Troy is a recipient of the SOCAN Award for Country Music and a 2-time CCMA Songwriter of the Year nominee. As a songwriter, Kokol has written for Brett Kissel, Tenille Townes, Don Amero, Chris Henderson and Shane Yellowbird and more.
Toronto vocalist and songwriter - and daughter of the legendary Salome Bey - SATE has forged her own path in the Canadian music scene with her unique brand of hard rock and gritty funk.
Rob Wells is a multi-platinum, award-winning music producer and songwriter who has worked with Ariana Grande, Justin Bieber, Selena Gomez, Adam Lambert, Serena Ryder, Cyndi Lauper, Bobby Bazini, Matt Dusk and many others.His work has been featured in numerous films, television shows, commercials and video games worldwide.
MERNA is a multi-disciplinary artist who can be found producing, writing, mixing her latest offerings Sans, and The Skies, They're Bluer Than Me. She has also penned songs for the likes of Charlotte Day Wilson, Jojo, Demi Lovato, Syd, Ebhoni, and more.
Through the Creative Lens: A Songwriter's Masterclass with Christopher Ward
Join renowned Canadian songwriter, artist, and much-loved TV personality Christopher Ward for a live and interactive YouTube take-over event with Long & McQuade Musical Instruments.
Following the April release of the award-winning single, "Black Velvet" as reimagined by the songwriter himself, featured on his new autobiographical album Same River Twice launching May 28, 2021, on Wardworks/Warner Music Canada. The session will include the story of the creation of the international hit and #1 Billboard Top 100 single, "Black Velvet" and discussion on the song writing process, including:
opening lines, deadlines, inspiration and collaboration
how to recognize a good idea and take it to the next level
the joy of experimentation and the importance of daydreaming
Plus, personal anecdotes including highlights from Christopher's interviews with some of the greatest songwriters in history and a live post-session Q&A.