Three Great – and Affordable – Acoustic Performance Guitars
| More in Acoustic Guitars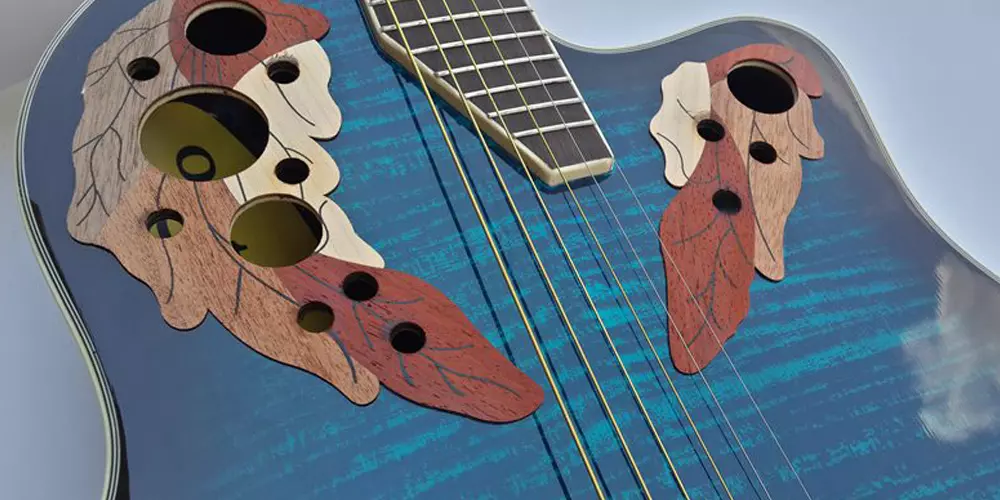 In my experience, when buying a guitar, I have found that you don't have to spend a mint to get a great instrument. Most of the guitars in my own collection cost less than a thousand dollars – and many of them are gems.
I want to focus on three guitars that, in my opinion, are top contenders in the affordable performance acoustics price category.
What I mean by "performance acoustics" is that these are guitars designed for use on stage. They all feature a factory-installed pickup system. They also all have a cutaway, meaning that a piece of the guitar's body has literally been cut away in order to make room for your hand to move higher up the fretboard, into solo territory. Since the point of these guitars is to plug in, you won't suffer much from loss of acoustic tone created by cutting away a piece of the body – and you may occasionally have a need to hit those high notes.
Taylor 214CE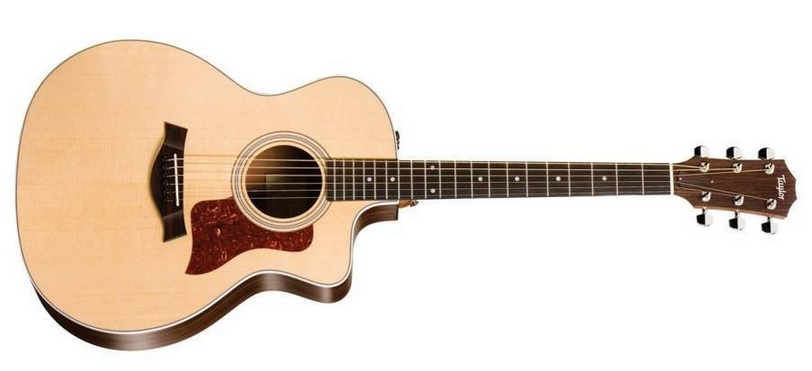 This model is made inexpensively in Taylor's Mexican factory. The main features are its solid spruce top, laminate rosewood sides and back, and the ES-T© electronics. What makes this guitar a great buy is: first, the Grand Auditorium (GA) shape is very comfortable to hold. My first high-end guitar was a Taylor GA and I played it on stage for years. Its curviness and narrow profile mean that it's comfortable to play standing up (this is important for long gigs). Second, the electronics – although not as advanced as Taylor's flagship Expression© system – are easy to use and sound very good. There are three knobs: volume, bass and treble - easy as pie to figure out. Having too many knobs to turn and tweak can be a nuisance for the player who wants to perform without fiddling around for hours. Lastly, the Taylor 214 looks great: it has a simple style that manages to turn heads. There is nothing phony-seeming about the laminate sides or the faux ebony bridge and board. The white binding is dead sexy. It looks and feels like the real thing – not the technological wonder that it is.


Martin GPCPA5K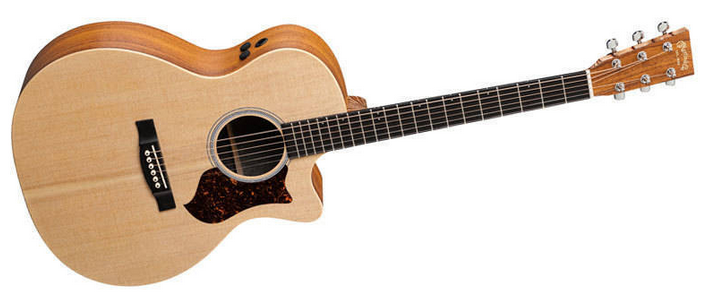 There are several models in this series, but for some reason this "Koa" (photo-finish) model seems to be the most popular. Martin Guitars – famous for being arguably the best traditional American guitar makers of all time, have completely broken with tradition here and given you a computer's estimation of a perfect guitar. And you know what? It works. Everything about this guitar other than its solid spruce top is untraditional. The sides and back are made from the same technology as your laminate hardwood flooring. The neck is plywood. The bridge and fretboard are made from condensed sawdust. It has all the potential for being the guitar world's Frankenstein's monster. All that being said, everyone who picks up this guitar falls in love with it and is amazed at its low price. These guitars sound huge, bright and clear, and the electronics are more than up to the task of projecting the great tone from the stage out into the audience. In this case, tradition be damned! Make sure to try one of these out when you are looking for an inexpensive performance acoustic.
Either of these guitars will get you through a gig and boast a venerable name on the headstock. When selling a performance acoustic, and it comes down to a choice between these two, I usually stand back and let the customer decide. For me, the Taylor looks a little better, but many people like the look of the Martin, and as far as huge sound goes, the Martin often wins out. Taylors are very pretty sounding and responsive as a rule.
Now, for my top choice for performance guitar in the affordable price range!
Introducing the Canadian equivalent (or is it?) …
Seagull's Performer Cutaway Flame Maple QI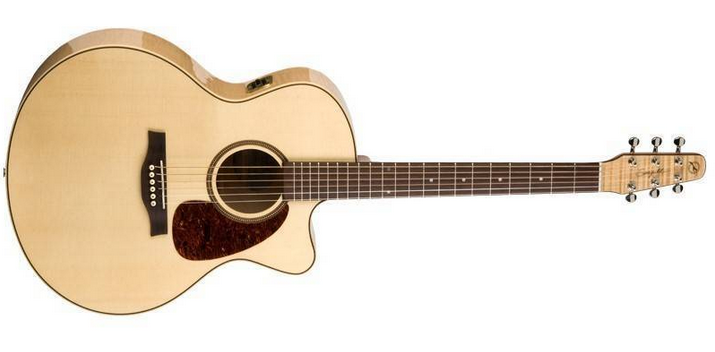 Out of these three guitars, I would, hands-down, take the Seagull. First off, it's made in Canada! Seriously, what Canadian isn't going to take some pride in the fact that their guitar was made in their own country?
Seagull (part of the Godin family) has been keeping up with tradition and making wonderful guitars with low prices for Canadians since the '70s (they cost considerably more in other parts of the world). Unlike the other two in this list, there is nothing technologically advanced about this guitar. It has a traditional rosewood board and bridge, solid spruce top, laminate maple sides and back and, Quantum I electronics. Every time I pick one of these guitars up, I feel like I am holding a $1500+ guitar, but because you can get one for about half that, I feel like selling it to my best friend. It's true that the laminate sides and back will only develop in tone marginally over the years, but, in my opinion, the fact that maple is a harder wood than mahogany or rosewood means that very little tone is lost in Seagull's high-quality laminate. It still sounds like a maple guitar, and even shares certain tonal qualities with a Gibson J-200 or Dove, both very expensive guitars.
A great attraction of the Seagulls is that they come in three sizes: the Dreadnought, the Folk size, and the Mini Jumbo. Basically, the size depends on how big the player is physically. Again, for performance purposes, comfort is more important than having a big acoustic sound. My favourite for all purposes has always been the Mini Jumbo. This is a body shape particular to Godin – similar to Taylor's Grand Auditorium, but not identical. This is a slim body with a large face that manages to coax acoustic tone out of every corner. It is comfortable for most players (though some still prefer the smaller folk size), it looks great, sounds amazing, and every one I have played has been immaculate.
Finally, the Seagull is a pretty guitar. The first thing you will notice about it is its stunning good looks. The flamed maple sides, back and headstock cap are an immaculate blonde with great-looking figuring. The only complaints I have heard about them is that some folks don't like the high-gloss finish, or find the maple caps a bit gaudy. Some Canadians seem to like plain guitars with boring satin finishes; maybe it's part of our self-deprecating national identity or maybe we are cheap – I don't know. But I think the beautiful workmanship here should be applauded – especially because you get so much for so little. Remember: this is a Performance Guitar. I would be seen on stage carrying the Seagull Performer in any town in the country, no problem.
I hope you have an opportunity to check out some of these guitars next time you are at your local Long & McQuade. Any one of them will make you smile, turn your head, and maybe even inspire you to play it at your next gig.