NAMM 2016: Mapex Drums – Storm and Saturn V Series Kits.
| More in Drums, NAMM 2016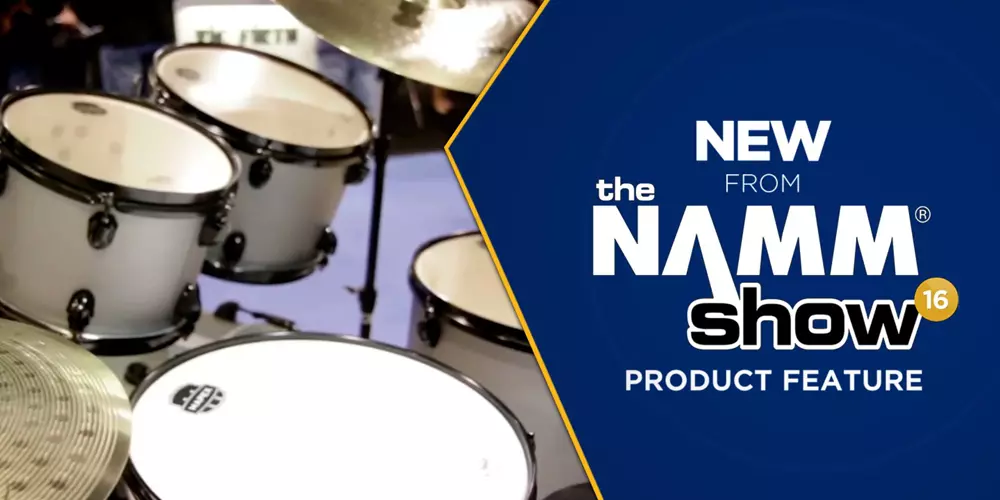 David Lawrence of Mapex talks about the company's latest Storm Series poplar drum kits, which replaces the Voyager series.


Hi there, everybody. My name's David Lawrence, I am the Product Specialist from Mapex Drums from Yorkville Sound, Canada. Here with the guys today from Long & McQuade and we're going to show you some new kits.
What I have here to my right is what's now called the Storm Series Drum Set. It is a 7.2 mm. poplar shell drum kit. It is going to be replacing what was the Voyager Series. If you have a look at it too, this particular kit features the SONIClear Bearing Edge. The SONIClear Bearing Edge … allows you to keep your drums in tune for longer and it allows ease of tuning as well too.
For all the novice or new players coming up, want to try out a new kit and be able to actual start playing with the tuning of their drums and adjusting the tuning, this is the ideal set for you to actually start learning that process.
It comes complete with a snare drum, optional for either black or chrome hardware. As you can tell, the one that we have featured here today comes in a black hardware. This is a 400 series hardware and actually comes included with this particular drum set. The Storm Series also comes in four different finishes. We have a wood grain type, a flat matte black, which is also textured such as this finish here. All of these will be available as of January in Canada through the Long & McQuade chain.
MAPEX SATURN SERIES 5
Will Calhoun, drummer of Living Colour, talks about what he loves about his Mapex Saturn V drums.
TEXT OF VIDEO:
My name's Will Calhoun. How's you guys doing? I'm here to talkabout the Saturn Series 5. A drum kit for everything. Beautiful shells, beautiful sound for playing jazz, playing rock 'n roll, doing recording sessions.
Basically, the sound's built off how hard or soft I play the drum. Clean articulation, a real gorgeous look. Very good on the low end. Nice for recording, great to play live. I'm a huge fan and it allows me to be Will Calhoun.
Check out the Saturn 5, it's a beautiful series drum kit for all your musical endeavors, whether you go with a smaller bass drum, larger one, short toms, long toms, it's a fantastic sound that I've invested the last six years of my career in.
All the best to you. Thank you very much.