NAMM 2016: New E-Drums from Alesis
| More in NAMM 2016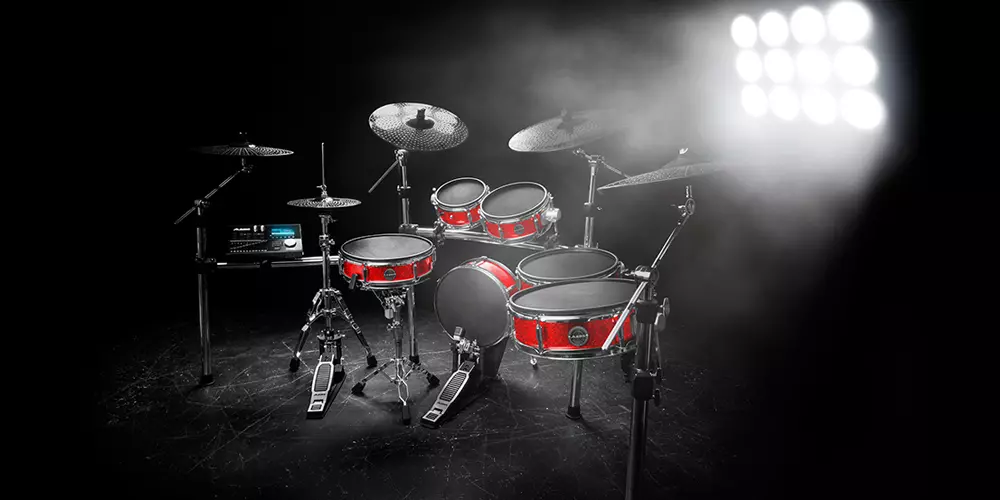 ALESIS STRIKE PRO
Hey, I'm Dan Recchia with Alesis. We're at the Alesis Drum booth here at NAMM 2016 with Long & McQuade, and I'm happy to show you our new Alesis flagship drum kit.
This is the Strike Pro kit. As you can see, we have a beautiful looking drum set. Looks like a real drum set and that's because in many ways it is. We have real nine-ply wood shells, our Alesis mesh head, real drum sizes, eight inch, 10 inch, 12 inch, 14 inch toms, 14 inch snare. The only electronic kit with a 14 inch snare on here, and also a 14 inch kick. Then we're got 14 inch crashes. There's three of them, and they're all dual zone. A 12 inch high hat and a 16 inch triple zone ride. That's all mounted on a beautiful, durable, four post chrome rack. Oversized tubes on here to accommodate the large kit.
The feel on these drums is just like a real drum set. It just has an amazing response. It responds favorably, like electronic drum sets do, but it kind of feels like home for a drummer who's had an acoustic kit for awhile, which is very, very important.
Everything plugs into the new Strike module. This is going to have over a thousand sounds, a hundred new kits, a hundred user kits so you can make edits to it. You can navigate on the four-point-three inch color screen here. Navigation is super easy. You have your own mix you can make with the mixer faders right here. You have eight individual audio outputs on the back of the module, to separate all the mixing for a live or studio engineer who needs individual instruments. Twelve trigger inputs.
One of the more exciting things on this is the fact that you'll be able to take, with our software editor that will come with it, assemble your own kits from your own sounds, assemble your own instruments and kits, put it on an SD card and then put that card into the module. Load all your own sounds into it, in addition to the thousand instruments and 100 kits that it comes with.
Very, very excited for the new Strike Pro kit. Thank you very much.

FORGE AND COMMAND E-DRUMS
:
Here we have an 8-piece drum kit with 3 cymbals, high hat, crash with a choke, ride with a choke, 8-in single zone toms, 8-inch kick pad, which comes with a kick pedal, high hat stand, a dual zone 11-inch rubber pad on the snare, all on a four post heavy duty chrome rack, and all plugging into the new Alesis Forge module, with over 600 sounds, 70 kits ... moving over the the Command kit, with same drum module and cybals, but with all dual-zone drums. And best of all, mesh-head kick and snare drums, with super-realistic feel, and fast response.

SAMPLE PAD 4
:
What's up everyone? Walt here at Alesis at winning Namm 2016 and we're here with the Long and McQuade guys. We're showing off some awesome new sample pads. Right here we have the Sample Pad 4, a sample playback instrument, meaning you can load in your own sounds via SD card but there's also 25 sounds built in and you can have up to 99 kits. What's great, it's fully velocity sensitive, and you can plug in an acoustic drum trigger or an electronic drum pad.
Put this on an acoustic drum kit, and have a complete hybrid setup. If you want 808 kicks, claps, all that good stuff for putting a little electronic music in your acoustic kit ... it's really nice.
This is the 4-pad version but we also have the big-8 pad version that we released last year, the Sample Pad Pro, with over 200 built in sounds, extensive i/o, you can hook up to two additional pads, kick pedal ... this could actually be a really nice practice kit for your apartment.
Once again, you can load your cards via, load your sounds via the SD card slot and if you register online, you actually get an extra 500 or so sounds. Really giving you a lot to just get started and go with your samples. It's a really, really great product. They're really, really reasonably priced and we're really proud of it. Once again, this is Walter winning Namm 2016 with Long and McQuade. It's a great, thanks for spending the time to be with us. I appreciate it, thank you.